Are you ready to experience some of the most epic Puerto Escondido tours you can think of?
With its stunning beaches, exotic and unique marine life, and delicious food and Tequila, Puerto Escondido is teeming with so much adventure.
From beachcombing and snorkeling to exploring striking lagoons and taking part in unique cultural experiences – you will never get bored here.
BEST TOUR IN PUERTO ESCONDIDO
Puerto Escondido in Mexico is the paradise beach location you've been dreaming of.
With its stunning landscape and crystal-clear waters, the Puerto Escondido beaches are among some of the best you've ever seen.
In this ultimate guide, I'll go through 15 of the best tours in Puerto Escondido Oaxaca that you should consider joining this year.
Of course, given the diversion in the region, you'll find many day trips from Puerto Escondido that you should check out, as they're all different from each other.
3 QUICK PICKS: PUERTO ESCONDIDO TOURS
In case you don't have time to go through the whole list with all the details, here are the absolute best tours in Puerto Escondido that will make the perfect vacation:
Best Overall Puerto Escondido Tour
Transfers to the lagoon and back
Swim in the illuminated lights with plankton
The lagoon is one of the Puerto Escondido highlights
Best Tour in Puerto Escondido for Culture
Private transportation

Mezcal degustation with fresh fruits

Learn the history and processes behind Mezcal
Best Tour in Puerto Escondido for Activities
Transportation included
Learn to make Mexican tortillas with locals
Horse ride and a visit to hot springs
BEST TOURS IN PUERTO ESCONDIDO
Puerto Escondido is a stunning beach town located on Mexico's Pacific Coast and offers amazing opportunities for adventure.
From surfing to horseback riding and snorkeling, there are plenty of Puerto Escondido tours to enjoy.
So without further ado, let me tell you everything about the best tours in Puerto Escondido, and the best day trips from Puerto Escondido!
🕛 Duration: 3 hours | ⭐ Rating: 4.5/5 | Group Tour
Starting this list of best tours in Puerto Escondido is a natural phenomenon that you can only enjoy in a few places around the world – seeing the bioluminescent plankton.
And can you think of a better place to go for such an exciting adventure?
Join this 3-hour tour to Parque Nacional Lagunas de Chacahua from Puerto Escondido and get there in a comfortable, air-conditioned van.
Once you get to the National Park, head out and witness glowing plankton as they transform into vibrant bioluminescent lights.
Plus, jump in for an unforgettable experience and take a swim in the illuminated waters.
Get closer to nature and be amazed by the spectacular night sky. Needless to say, it is one of the best Puerto Escondido tours you should book!
This was by far one of the most magical experiences I've ever had! I would go again and again, could never get old.

Amber, Viator
🕛 Duration: 2 hours | ⭐ Rating: 5/5 | Small Group Tour
One of the activities you can't skip in Puerto Escondido is surfing, and this 2-hour class is exactly what you need, no matter your level.
The small class size of 8 people ensures personalized attention for your skill level, plus you can choose from several start times.
Catch the waves in the early morning with no tourists, at 10 am for a warmer climate, or in the afternoon to work on your tan while learning!
What's more, in addition to the lesson per se, you can add GoPro footage to bring awesome (and maybe funny) memories back that'll last a lifetime!
Great experience! Ari was an awesome teacher, I did not expect to be able to stand up on the surf on my first lesson but I could thanks to him! Extremely recommend!

Mariella, Viator
🕛 Duration: 3 hours | ⭐ Rating: 5/5 | Group Tour
I'm pretty confident one of the reasons why you chose Mexico for your vacation is food, and I seriously can't think of a better Puerto Escondido tour than this one!
Join this 3-hour trip to explore the local flavors of Puerto Escondido and authentic Oaxacan food, which is among the best in the country.
On this walk through the city, your guide will take you to local joints and eateries to try mouth-watering Oaxacan food.
And while there are great restaurants in Puerto Escondido, your guide will take you to hidden gems that you have no idea about!
As a small group tour, you'll receive personalized attention as your guide gives you all the details on each dish. Plus, all food and refreshments are included – so make sure to come hungry!
Loved the tour. One of the best we've taken. Guide is so nice and knowledgeable. Food you can't find on your own at traditional family businesses. Would definitely do again. We'll done!

Sondra, Viator
🕛 Duration: 2.5 hours | ⭐ Rating: 5/5 | Small Group Tour
Ready to take your taste buds on a wild ride? Then check out this journey to the Mezcal distillery just outside Puerto Escondido.
Learn about this traditional distilled drink's history and production process as you tour their facility and taste different varieties with a guided group.
Discover the traditional Mezcal distillation process, get yourself a classic Oaxacan lunch at a local spot, and enjoy the ride back to your hotel.
While this tour is all about Mezcal, it's worth noting that the guide is very experienced and knows the history behind the beverage as well as funny anecdotes around Puerto Escondido, and I'm sure you'll have a great time!
Get ready to embark on an extraordinary experience like no other – book now and be prepared to enjoy the spirits of Mexico!
Really cool to see how it's all made and how the tastes change based on the process! Antoine was a great host and the family running the place were very welcoming

Anna, Viator
🕛 Duration: 2 hours | ⭐ Rating: 5/5 | Small Group Tour
Willing to discover Mexican nature like nowhere else? I've got what you need, and you'll love it – This baby turtle release is one of the more unique Puerto Escondido tours to join.
Connect with nature while preserving the turtle species as you liberate baby turtles onto the beach.
Of course, the local guides will teach you how to pick them and where to leave them, which is much better than doing it on your own and the wrong way!
Transportation is also included, making it as comfortable as possible. Lastly, don't forget to take your camera, as these are probably the nicest moments of your trip!
A must-do in puerto escondido! We did this our first night and it was a great way to start the trip. We loved our driver too!

Kate, Viator
🕛 Duration: 9 hours | ⭐ Rating: 5/5 | Group Tour
Calling all thrill-seekers! Puerto Escondido isn't only famous for its beaches and delicious food.
You see, one of the best things to do in Puerto Escondido is ziplining, and I can't recommend it enough.
Surrounded by stunning landscapes, you'll take the zipline to the hiking spot, where you'll roam around for 45 minutes until you arrive at a jaw-dropping 40-meter waterfall.
Here, you'll be able to take a dip in the natural pool and chill for a while before flying your way back to town with 5 different 500-meter zip lines. You read that right – 5 different ziplines!
And if that's not enough, the tour guide will take photos regularly on tour for you, allowing you to enjoy the activities rather than finding the perfect angle.
Don't miss out on this unique and unforgettable experience – book now and experience the wonders of nature like never before!
Our tour guide was awesome! He was very personable and very courteous. He made a stop at El Cafecito before the long drive. He even had water, mosquito repellent, and Mezcal available for us! He took several photos and videos that he later shared with us.

A Tripadvisor Traveler
🕛 Duration: 5 hours | ⭐ Rating: 4/5 | Group Tour
Saddle up for one of the best ultimate adventure tours Puerto Escondido has to offer!
This horseback riding and hot springs visit tour takes you on a journey through the beautiful countryside of Oaxaca, Mexico.
What I like about this tour is that it's a private tour, so you can at your own pace discover the area, and you'll get personalized attention from your guide, which is a massive bonus.
First and foremost, you'll visit the village of San Jose Manialetepec, where you'll see local farms and take in the local environment – how unique!
After that, you'll spend some time in a local house where you'll learn how to make tortillas before riding your horse for 50 minutes to the hot spring.
Before going back, you'll get a chance to swim in both cold and warm water, which is definitely needed after such a cool day!
Amazing experience. Incredibly friendly and some of the best views I have ever seen in my life! I would recommend this to anyone. Horse was very calm and friendly too.

Imran, Viator
🕛 Duration: 1.5 hours | ⭐ Rating: 5/5 | Private Tour
Treat yourself to a one-of-a-kind experience taking this Puerto Escondido tour, featuring a healing session in the water to indulge in luxury and relaxation.
Apart from floating on the water, you'll receive a massage that will release any stress and blockage you may have to continue your adventure as peacefully as it you can.
Of course, the session has endless therapeutic benefits, and this is precisely what I like about it.
After that, take a dip into the pool, where the staff will give you the utmost attention while they lead you on this blissful healing journey.
You'll feel rejuvenated and relaxed, which is excellent after a few days of ziplining or horseriding!
Never been more relaxed, nor had such a unique experience. JoJo was incredible, taking the time to learn about me and my comfort around water, then using that to create a one-of-a-kind experience. I'll never forget it!

Sarah, Viator
🕛 Duration: 3 hours | ⭐ Rating: 4.5/5 | Small Group Tour
As adventurous souls, we know that one of the best ways to explore a new place is on two wheels – mountain bikes, to be exact!
And I can't think of a better tour to go on this journey, as they take you on a wild and fun ride!
This 15 km mountain bike tour takes you through the heart of Puerto Escondido. You'll start pedaling bright and early at 6 am, as your guide wants you to experience the cool breeze and crisp air of the morning.
Once you make your way into the mountains, you'll be blown away by the panoramic views of the valleys and rivers.
Keep your eyes peeled for some of the most exotic crops you've ever seen – we're talking peanuts, papaya, mangoes, watermelon, and so much more.
Of course, you'll definitely be stopping to take some epic Insta-worthy shots along the way.
This is one of the top-rated Puerto Escondido tours suited to anyone who wants to get outdoors, feel the thrill of adventure, and soak up some of the most breathtaking scenery in the world.
So book now, this popular Puerto Escondido tour sells out quickly!
We went on a 15km mountain bike ridge on dirt roads through remote villages. It was a lot of fun with plenty of ups and downs and great views of the mountains nearby. We ended at a remote farmhouse and had a nice traditional Oaxacan breakfast.

Timothy, Viator
🕛 Duration: 3 hours | ⭐ Rating: 5/5 | Group Tour
If you want to hang out with some of the coolest mammals in the ocean while basking in the sun, you must take a dolphin-watching tour in Puerto Escondido.
This unique tour will allow you to see 4 species of wild dolphins that roam around Puerto Escondido's coastline.
The best part? You'll get to jump in the water and swim with them, as well as snorkel.
It goes without saying that this is one of the best tours in Puerto Escondido you can take!
Whether you're a snorkeling pro or have never tried it before, the guides will teach you how to do it, which is very cool.
All in all, when in Puerto Escondido, the ultimate dolphin-watching experience is a must-do! Hop onboard and go on an adventure to meet your new friends!
We saw everything, hundreds of dolphins, manta rays, sea turtles and a Humpback whale! Several participants jumped in the water with the dolphins. It was such a special experience.

Mary, Viator
🕛 Duration: 3.5 hours | ⭐ Rating: 5/5 | Group Tour
Another of the active day trips from Puerto Escondido is this kayaking tour, and I can't wait to tell you about it!
Rise and shine early to explore the three sections of the Manialtepec – ocean, lagoon, and river – for some top-notch birdwatching and awesome views.
That's right, this tour is filled with activities and includes not only kayaking but also birdwatching, all of this while enjoying the sunrise.
You'll be able to see rosetta spoonbills, herons, parrots, and many more, and before returning to the mainland, you'll stop by the river and the sandbar to take in the stunning views of the Oaxacan countryside.
Overall, there's quite no other tour that offers this setting, so make sure to book now!
We had a beautiful sunrise paddle in a warm and very calm laguna. Our knowledgeable and friendly guide pointed out the many types of birds we saw, and a few iguanas too. It was great that the transportation to and from was also included.

Anne Marie, Viator
🕛 Duration: 8 hours | ⭐ Rating: 4.5/5 | Private Tour
An unmissable day trip from Puerto Escondido I recommend is to Chacahua National Park, and believe me when I say you'll have the time of your life!
This private tour will take you on a boat ride through the lagoons, where you'll come face-to-face with the region's unique flora and fauna, including crocodiles, iguanas, and mangroves.
But don't worry, your expert guide will keep you safe with their knowledge of the park.
After lunch, you'll have free time to explore the island, snorkel in the crystal-clear waters, or take a dip in the ocean.
And if you're lucky, you might even catch a glimpse of some dolphins or sea turtles!
Book today, grab your swimming gear and your sense of adventure and come see why the Chacahua National Park tour is quickly becoming one of the best tours in Puerto Escondido.
Antonio was an excellent guide! He was super friendly and accommodating. I appreciated the roadside stops to try regional food. The boat ride to and from Chacahua was magical. Thank you!

Rachel, Viator
🕛 Duration: 4 hours | ⭐ Rating: 5/5 | Group Tour
Have you ever gone birdwatching? No, not just the occasional sighting of a seagull while strolling around the city.
I'm talking about a true birdwatching experience in Puerto Escondido's Manialtepec lagoon, where you'll encounter an impressive array of species in their natural habitat.
As you embark on this half-day guided tour, you can snap some Instagram-worthy shots of ibises, spoonbills, herons, and even parrots.
The tour guide will regale you with fascinating facts about the region's flora and fauna, so you'll not only see but also learn about them and their natural habitat.
To make things even better, you'll be treated to complimentary bottled water and snacks to keep you fueled for this exciting adventure!
We really enjoyed our experience and first bird tour! The day does start early but so worth it, since we visited during the slower tourist season we had the boat all to ourselves and enjoyed a private tour of the lagoon and home to so many different species of birds.

A Tripadvisor Traveler
🕛 Duration: 4 hours | ⭐ Rating: 5/5 | Small Group Tour
Are you ready for an adventure unlike any other in Puerto Escondido? Get ready for a sunset horseback riding tour that will have you feeling like a true cowboy!
This tour takes you through the gorgeous landscapes of the Oaxacan coast, showing the local agricultural production and the culture of the community.
You'll cover rivers, lagoons, and beaches, seeing firsthand the skills our trusty horses possess as they navigate the varying terrain.
But that's not all – you will also visit the estuary where the Manialtepec lagoon meets the Pacific Ocean, giving you the perfect opportunity to witness the bioluminescence that lights up the lagoon at night.
This was one of the most breathtaking tours we had. It couldn't get more romantic (if your into that). Just perfect sunset, local food, some whale watching, and amazing guides. Truly unforgettable experience.

Rashad, Viator
🕛 Duration: 10 hours | Group Tour
The last tour on our list is a perfect combination of history, passion, and fun, and you'll be heading straight to Copalita Archaeological Site.
This day trip from Puerto Escondido is the perfect way to explore the rich cultural heritage of the Oaxaca region while also soaking up some serious Vitamin D.
First, go wander around Copalita's three pyramidal bases, pre-Hispanic lighthouse, and other fascinating ruins.
After that, you'll head to the on-site museum to learn about the 16 incredible ethnic groups that call Oaxaca home.
But the fun doesn't end there! After you've had your fill of history, it's time to relax on a stunning beach, swim in the sparkling Pacific, and snorkel amongst some of the world's most vibrant marine life.
I can't stress it enough – it's one of the best tours Puerto Escondido has to offer, and I highly recommend you book your spot now!
TOURS IN PUERTO ESCONDIDO – FAQ
Below you'll find some quick answers to the most frequently asked questions from first-time visitors.
IS IT WORTH BOOKING A TOUR IN PUERTO ESCONDIDO?
Definitely! While you can visit the town and the beach on foot or rent a car in Puerto Escondido and travel further, booking a tour provides an exceptional experience.
With a tour guide, you'll get to hear unique stories and historical facts and make friends on the way, and everything is more fun combining different activities!
BEST TIME TO VISIT PUERTO ESCONDIDO?
Puerto Escondido has only two seasons, the wet season and the dry season.
The wet season in Puerto Escondido is typically between June and October and the dry season is between November and May.
Puerto Escondido can be visited year-round as the average temperature during the day is 27°C and it rarely goes below 20°C at night.
The high season in Puerto Escondido is during the winter (the dry season) between November and May, which sees many tourists, and prices are usually inflated during this time.
I recommend visiting Puerto Escondido during the summer (the wet season) between June and October when there are fewer tourists, prices for food and accommodation are lower, and it's sunny every day with the occasional downpour in the evening.
HOW TO GET TO PUERTO ESCONDIDO?
The most popular ways of reaching Puerto Escondido are by bus, by rental car, and by plane.
BY BUS:
The most common route for the majority of people traveling by bus is from Oaxaca City to Puerto Escondido, which takes between 7 and 10 hours, depending on which bus you take.
The roads are windy with many hairpin turns that can be gut-churning, so you may want to take a motion sickness tablet before setting off.
The larger, more comfortable buses between Oaxaca City and Puerto Escondido cost around 300-400 pesos, which takes up to 10 hours.
There are overnight buses available which are common among backpackers to save money on 1-night's accommodation.
Click here to check all routes, timetables, and ticket prices online, and book ahead of time to secure your seat.
Alternatively, you can ride in a shared minivan from Oaxaca to Puerto Escondido, which is a little more cramped inside though it's a shorter journey that takes around 7 hours and costs only 200-250 pesos.
How to get from A to B, stress-free!
Compare and easily book buses, ferries, trains, or private transfers around the world on Bookaway!
With discounted ticket prices and a free app, Bookaway is a one-stop shop for all your ground transportation needs!
RENT A CAR:
It's also possible to rent a car in Oaxaca City and make the drive at your own pace down to Puerto Escondido.
Having your own wheels also gives you the freedom to explore the other towns and beaches to the north and to the south of Puerto Escondido before returning to Oaxaca.
Car Rental – Search, Compare & Save!
Discover Cars are one of the world's largest online car rental platforms with vehicles in 10,000+ locations.
Find the right car, in the right place, for the best price guaranteed!
BY PLANE:
Arriving in Puerto Escondido by plane is also an option, and the airport is conveniently located just 10 minutes drive from the center of town.
The most common flight route is from Mexico City to Puerto Escondido, which takes around 1 hour and 15 minutes and there are daily flights available for as little as $50 one way.
HOW TO GET AROUND PUERTO ESCONDIDO?
The easiest, cheapest, and best way to get around Puerto Escondido is on foot.
Depending on which part of town you end up staying, all of the beaches, bars, restaurants, and shops are within 1-hours walking distance.
If your legs are painted on, it's possible to rent a bicycle or a motorized scooter for the day and make your way around all of the tourist spots in Puerto Escondido at your own pace.
Bicycle rentals are around 50 MXN per hour, and scooter rental is around 400 MXN per day, both options can typically be booked through your accommodation.
Taxis are another option for getting around Puerto Escondido, which costs as little as 30-40 MXN for a 10-minute drive from one end of town to the other.
And last but not least are the Collectivo's (shared taxi vans), which zip around town daily from dawn to dusk for as little as 7 pesos.
WHERE TO STAY IN PUERTO ESCONDIDO?
Puerto Escondido has hundreds of accommodations to choose from so I have narrowed it down to a few of the best places to stay in Puerto Escondido to suit the needs of luxury travelers and budget backpackers.
See the list of accommodations below that I personally recommend:
One of the best luxury resorts in Puerto Escondido!
Located right on the beachfront with a private beach club, 2 restaurants, 3 bars, 2 outdoor pools, a tennis court, mini-golf, a games room, and water sports facilities.
The rooms are air-conditioned with ocean and garden views, large comfortable beds, spacious living, cable tv, a coffee maker, and a private bathroom.
Perfect for couples, families, and friends.
I personally stayed at Casa Losodeli and can't recommend this place enough!
Centrally located and within walking distance to the beaches, bars, restaurants, and cafes. Featuring an outdoor pool, co-working space, free wifi, cafe, communal area, shared kitchen, bar, beautiful gardens, and free bicycle rental.
Choose from a dorm room, private room, or fully equipped apartment with a kitchen and flat-screen tv.
Perfect for solo travelers, couples, friends, and families!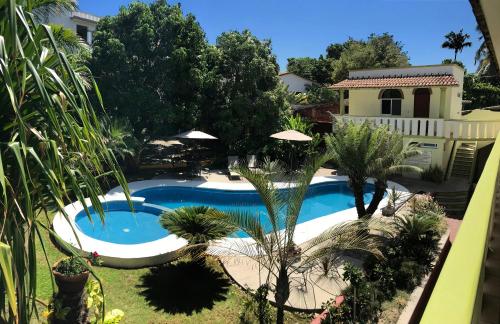 Casa Daikiri is rated as one of the best budget accommodations in Puerto Escondido.
Just a stone's throw from the famous Zicatela Beach, this vibrant hostel features an outdoor swimming pool, free wifi, a shared kitchen, a tour desk, a sun terrace, and well-kept gardens.
Choose from either a dorm room, triple room, or a double suite each with air conditioning, seating area, patio, and pool views.
Perfect place to stay for solo travelers, couples, and friends!
THINGS TO DO IN PUERTO ESCONDIDO
If you're planning on spending a few days in PE, there are plenty of fantastic things to do other than tours Puerto Escondido.
I have put together a separate guide on everything there is to do in PE, click on the link below to read.
PUERTO ESCONDIDO MAP
WHAT TO PACK FOR PUERTO ESCONDIDO
When visiting Puerto Escondido, here is a list of items I highly recommend bringing with you:
Must-Have Travel Essentials
Keep your cash and other valuables safe with this anti-theft hidden money wallet!
---
The GRAYL GeoPress is the best reusable bottle that allows you to purify water from anywhere!
---
---
---
FINAL THOUGHTS – TOURS PUERTO ESCONDIDO
I hope you enjoyed reading this article and if you have any questions, please drop me a comment below this post and I will get back to you as soon as I can.
For a quicker response, be sure to join Jonny Melon's Travel Tribe on Facebook and post your questions or recommendations to our awesome community.
TRAVEL RESOURCES FOR YOUR NEXT TRIP
Whether you're a seasoned traveler or it's your first trip overseas, here are some useful travel resources to help you kick-start your next adventure!
THANKS FOR READING
Hey friend, thanks for reading this guide!
Please know this post may contain affiliate links. When making a purchase through one of my links, I earn a small kickback at no extra cost to you and it's a big help to keep the site up and running. Rest assured, I only promote products and services that I personally use and recommend.
Many thanks!