Puerto Escondido Beaches are by far some of the best beaches to be found in Mexico!
Puerto Escondido has made its mark on the map for its world-renowned surf beaches at Playa Zicatela but also plays home to some more calm and secluded beaches such as Playa Bacocho.
To avoid any confusion, Playa is the Mexican word for Beach.
I have put together this Ultimate Guide of the 5 Best Puerto Escondido Beaches including where to find them and what to expect.
Also in this guide, I have included some useful information on how to get to Puerto Escondido, where to stay, how to get around, and the best time to visit!
OVERVIEW
Here is a quick overview of the 5 Best Beaches In Puerto Escondido that you will find in this post:
Playa Zicatela
Playa Carrizalillo
Playa Bacocho
Playa Coral
Playa Angelito
Puerto Escondido Beach
5 BEST BEACHES IN PUERTO ESCONDIDO
So without further ado, here is the ultimate guide to the 5 Best Beaches In Puerto Escondido that are not to be missed during your visit.
PLAYA ZICATELA
Zicatela Beach is the most famous Puerto Escondido beach and the perfect place to start your adventures in this laid-back surf town on Mexico's southwest coast.
Playa Zicatela boasts a whopping 3km stretch of white sand beach lined with coconut palms, beach bars, hotels, restaurants, and markets!
The best time to visit Zicatela Beach is in the late afternoon when the beach bars come alive, the water temperature is perfect for swimming and witnessing an unforgettable sunset over the horizon!
Mirador Romance de Verano can be found at the northern end of Zicatela Beach and is easily accessed by a set of concrete steps leading up to the top of the hill.
This epic panoramic viewpoint overlooks the entire bay at Zicatela Beach and you can also get beautiful views of the nearby Playa Principal.
Playa Zicatela is sometimes referred to as the Mexican Pipeline boasting large barrelling waves that wrap into the bay on a left-hand point break.
On a decent-sized swell, Playa Zicatela can see up to 10ft waves breaking into the bay and is recommended for experienced surfers only.
On a small swell, Playa Zicatela is perfect for beginners and intermediate surfers when the waves are more mellow. If you don't have your own surfboard, it's possible to rent one from the surf shacks located down on the beach for around 150 MXN per hour.
Playa Zicatela
Beach bar at Playa Zicatela
Mirador Romance de Verano
Zicatela Beach Puerto Escondido
BEST TOURS IN PUERTO ESCONDIDO
PLAYA CARRIZALILLO
Playa Carrizalillo is the second-most popular Puerto Escondido Beach after Playa Zicatela. Featuring a secluded cove filled with lively beach bars, vibrant umbrellas, soft golden sands, medium-sized waves for surfers, and swaying coconut palms along the shoreline!
Sheltered by lush greenery in a secluded cove that is no more than 300 meters in length makes Carrazlillo one of the most idyllic Puerto Escondido Beaches.
The wide beach and shallow blue waters are the perfect combination for beach bumming and swimming in the ocean to cool off.
Once you're done, you can seek shade under one of the many straw-thatched beach huts dotted along Playa Carrizalillo to grab a bite to eat and wash it all down with a cold Cerveza or a fresh coconut!
Playa Carrizalillo is not just for the everyday beachgoers, it's also a very popular spot for surfing, especially for beginners and intermediate surfers!
You can rent surfboards from one of the many surf shacks located down on this Puerto Escondido beach which costs 150 MXN per hour. There are shortboards, longboards, foamies, and bodyboards available to rent upon arriving at Playa Carrizalillo.
For beginner surfers, you can book surf lessons at Playa Carrizalillo with an experienced surf coach.
Playa Carrizalillo really is a hard-to-beat destination and it's one of the best beaches in Puerto Escondido to add to your list.
Playa Carrizalillo
Carrizalillo Beach in Puerto Escondido
Best Beaches In Puerto Escondido
PLAYA BACOCHO
Playa Bacocho is hands-down my favorite beach in Puerto Escondido! Featuring an almost endless strip of glistening white sands and bluish-green waters makes Bacocho the longest and one of the most idyllic beaches in the region!
This long stretch of white sand beach in Puerto Escondido is the perfect spot for sunbaking and beach bumming, long walks along the sloping sandbank, and of course, swimming in the ocean to cool off.
The waves and currents at Playa Bacocho can be quite strong at times so just be mindful of this before going for a dip. It's best to ask the lifeguard on duty when you arrive to advise you where the safest spot is for swimming.
Apart from soaking up some sun on the shoreline, there are a couple of awesome beach clubs down on Playa Bacocho that welcome outside guests.
Villa Sol and Club de Cocos are the most popular beach clubs at Bacocho, both of which feature a palm tree fringed beach area, outdoor swimming pools, straw beach umbrellas, a restaurant, and a bar that overlooks the ocean. All they ask is that you spend a minimum of 200 MXN when visiting.
Another one of the best things to do at this beach in Puerto Escondido is to book the turtle releasing tour which is a daily activity between 4:00 pm and 6:00 pm on the main beach.
The cost of the Playa Bacocho turtle releasing is around $30 USD per person which can be booked online in advance.
You can pick your own baby turtle hatchling to set free as you watch them scramble down the sandbank and take their first strokes in the ocean.
Just when you thought Playa Bacocho couldn't get any better, every Wednesday night Villa Sol plays host to an open-air movie night down on the sands of Playa Bacocho.
The best thing about these beachfront movies on Playa Bacocho is that it's completely FREE!
The movie typically kicks off at 7:00 pm so you can do the turtle releasing in the afternoon, watch the sunset from down on the beachfront and then end the night with a movie under the stars.
Playa Bacocho
Club de Cocos on Bacocho Beach
Playa Bacocho
Glistening sands at Playa Bacocho
Turtle releasing
Have you got travel insurance for Mexico? We all know accidents can happen and having World Nomads Insurance will save you thousands of dollars if something goes wrong.

PLAYA CORAL
Playa Coral is one of the most untouched beaches along this stretch of coastline and it's not to be missed.
Featuring a secluded bay with calm waters, sugary soft sands and lush green surrounds. I think it's safe to say that Playa Coral Puerto Escondido is a slice of paradise!
Playa Coral features a tucked-away little cove surrounded by lush greenery and what seems to be an abandoned hotel.
There are fewer waves breaking in the cove at Playa Coral which makes it an ideal spot to go swimming, snorkeling, and beach bumming on the edge of the shoreline.
Playa Coral is known as the nude beach in Puerto Escondido, so just bear this in mind when taking photos. If you do feel like getting your kit out then this is the perfect spot to do it!
Do note that there are currently no beach bars or restaurants at Playa Coral, so it's best to pre-pack lunch and some drinks if you plan to spend a bit of time down on the beach.
Empty shores at Playa Coral
Aerial perspective of Playa Coral
Playa Coral
PLAYA ANGELITO
Puerto Angelito is another top favorite of mine and definitely not to be missed on your list of Puerto Escondido beaches to see!
Featuring a small idyllic cove filled with a few fishing boats, a dozen beach bars, and calm waters making it the perfect location for a day of beach bumming, swimming, and snorkeling!
There are not one but two epic beaches that lie in the same crescent-shaped bay at this location. One is, of course, Playa Angelito and the other is Playa Manzanillo. Depending on what you feel like doing, each end of the bay offers something different for everyone.
Playa Puerto Angelito is good for grabbing a bite to eat and drink from one of the beachfront restaurants, exploring the rocky headland on the northern end, swimming in the calm waters in the bay, or joining in on a boat tour along the coastline of Puerto Escondido.
There are a number of boat operators offering tours up and down the coastline and to other nearby beaches for around 150 MXN per person and also banana boat rides for 80 MXN per person. So if you're up for a fun-fuelled adventure, this is the perfect opportunity to get your fix!
Need a travel money card?

Wise

offers multi-currency debit cards which can be used worldwide and you'll save hundreds on transaction fees.

Get your Wise card today for free!
Snorkeling and free-diving are also popular activities to do at Puerto Angelito boasting beautiful corals, an abundance of marine life, warm waters, and great visibility underneath the surface.
From Puerto Angelito, walk to the southern end of the bay and around the rocky outcrops to reach Playa Manzanillo. Featuring another secluded cove lined with swaying coconut palms and a few beach shacks serving up ice cold beers, local cuisine and boasts the ultimate laid-back beach vibes!
There are fewer boats in the cove at Playa Manzanillo and it's more ideal to go swimming here as opposed to Playa Angelito. There are no waves, the water is calm and it's one of the best beaches for taking a dip to cool off.
Playa Angelito
Golden sands at Playa Angelito
Manzanillo Beach
WHERE TO STAY IN PUERTO ESCONDIDO
Puerto Escondido has hundreds of accommodations to choose from so I have narrowed it down to a few of the best places to stay in Puerto Escondido to suit the needs of luxury travelers and budget backpackers.
See the list of accommodations below that I personally recommend:
Luxury: Posada Real Puerto Escondido
One of the best luxury resorts in Puerto Escondido! Located right on the beachfront with a private beach club, 2 restaurants, 3 bars, 2 outdoor pools, tennis court, mini-golf, games room, and water sports facilities. The rooms are air-conditioned with ocean and garden views, large comfortable beds, spacious living, cable tv, a coffee maker, and a private bathroom. Perfect for couples, families, and friends.
Mid Range: Casa Losodeli
I personally stayed at Casa Losodeli and can't recommend this place enough! From the moment you step in the door, you will feel like family. Centrally located and within walking distance to the beaches, bars, restaurants, and cafes. Featuring an outdoor pool, co-working space, free wifi, cafe, communal area, shared kitchen, bar, beautiful gardens, and free bicycle rental. Choose from a dorm room, private room, or fully equipped apartment with a kitchen and flat-screen tv. Perfect for solo travelers, couples, friends, and families!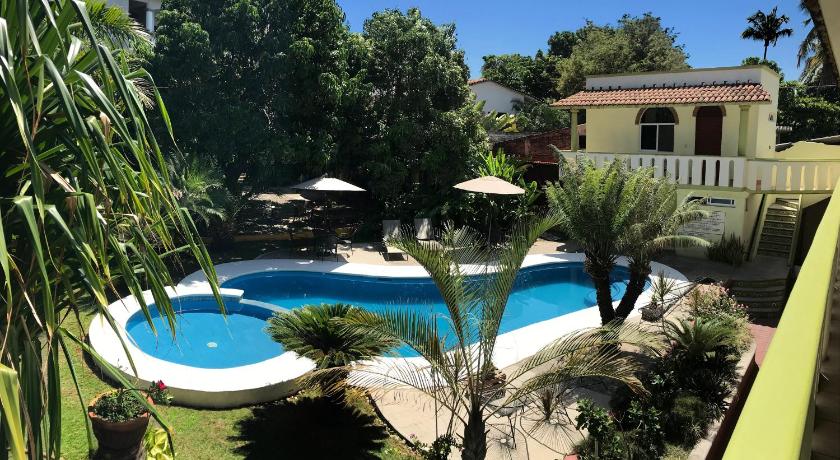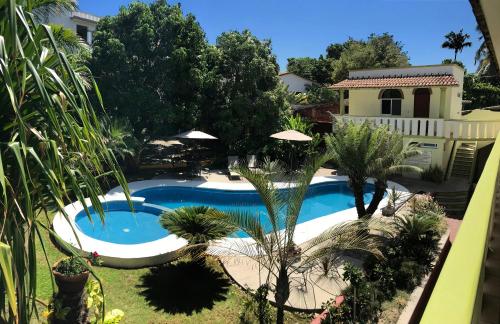 Budget: Casa Daikiri
Casa Daikiri is rated as one of the best budget accommodations in Puerto Escondido. Just a stone's throw from the famous Zicatela Beach, this vibrant hostel features an outdoor swimming pool, free wifi, a shared kitchen, tour desk, sun terrace, and well-kept gardens. Choose from either a dorm room, triple room, or a double suite each with air conditioning, seating area, patio, and pool views. Perfect place to stay for solo travelers, couples, and friends!
FOR ALL OTHER PLACES TO STAY IN PUERTO ESCONDIDO, SEARCH ON BOOKING.COM
BEST TIME TO VISIT PUERTO ESCONDIDO
Puerto Escondido has only two seasons, the wet season and the dry season.
The wet season in Puerto Escondido is typically between the months of June and October and the dry season is between November and May.
Puerto Escondido can be visited year-round as the average temperature during the day is 27°C and it rarely goes below 20°C at night.
The high season in Puerto Escondido is during the winter months (the dry season) between November and May which sees a large number of tourists and prices are usually inflated during this time.
My recommendation is to visit Puerto Escondido during the summer months (the wet season) between June and October when there are fewer tourists, prices for food and accommodation are lower and it's sunny every day with the occasional downpour in the evening.
HOW TO GET TO PUERTO ESCONDIDO
The two most popular ways of reaching Puerto Escondido are by bus and by plane.
BY BUS:
The most common route for the majority of people traveling by bus is from Oaxaca City to Puerto Escondido which takes between 7 and 10 hours depending on which bus you take. The roads are windy with many hairpin turns that can be gut-churning so you may want to take a motion sickness tablet before setting off.
The larger, more comfortable buses between Oaxaca City and Puerto Escondido cost around 300-400 pesos and this journey takes up to 10 hours. There are overnight buses available which are common among backpackers to save money on 1-night's accommodation.
Click here to check all routes, timetables, and ticket prices online and book ahead of time to secure your seat.
Alternatively, you can ride in a shared minivan from Oaxaca to Puerto Escondido which is a little more cramped inside though it's a shorter journey that takes around 7 hours and costs only 200-250 pesos.
Last but not least is to rent a car in Oaxaca City and make the drive yourself down to Puerto Escondido. Having your own wheels also gives you the freedom to explore the other towns and beaches to the north and to the south of Puerto Escondido before returning to Oaxaca.
BY PLANE:
Arriving in Puerto Escondido by plane is also an option and the airport is conveniently located just 10 minutes drive from the center of town.
The most common flight route is from Mexico City to Puerto Escondido which takes around 1 hour and 15 minutes and there are daily flights available for as little as $50 one way.
GETTING AROUND PUERTO ESCONDIDO
The easiest, cheapest, and best way to get around Puerto Escondido is on foot. Depending on which part of town you end up staying, all of the beaches, bars, restaurants, and shops are within 1-hours walking distance.
If your legs are painted on, it's possible to rent a bicycle or a motorized scooter for the day and make your way around all of the tourist spots in Puerto Escondido at your own pace. Bicycle rentals are around 50 MXN per hour and scooter rental is around 400 MXN per day, both options can typically be booked through your accommodation.
Taxis are another option for getting around Puerto Escondido which costs as little as 30-40 MXN for a 10-minute drive from one end of town to the other.
And last but not least are the Collectivo's (shared taxi vans) which zip around town on a daily basis from dawn to dusk for as little as 7 pesos.
PUERTO ESCONDIDO MAP
WHAT TO PACK FOR PUERTO ESCONDIDO
When visiting Puerto Escondido, here is a list of items I highly recommend bringing with you;
If you're interested in taking awesome photos and videos on your travels, this is the camera gear that I use and recommend;
MORE MEXICO TRAVEL GUIDES
TRAVEL RESOURCES FOR YOUR NEXT TRIP
Whether you're a seasoned traveler or it's your first trip overseas, here are some useful travel resources to help you kick-start your next adventure!
Looking for more? Check out my Travel Resources page for further help with your trip planning!
FINAL THOUGHTS
I hope you found this article useful and if you have any questions at all about the Best Beaches In Puerto Escondido, please leave me a comment below and I will get back to you as soon as I can.
For a quicker response, be sure to join Jonny Melon's Travel Tribe on Facebook and post your questions or recommendations to our awesome community.
THANKS FOR READING
Hey friend, thanks for reading this guide!
Please know this post may contain affiliate links. When making a purchase through one of my links, I earn a small kickback at no extra cost to you and it's a big help to keep the site up and running. Rest assured, I only promote products and services that I personally use and recommend.
Many thanks!
PIN IT FOR LATER