Puerto Angelito Oaxaca is one of my favorite beaches in Puerto Escondido and definitely not to be missed during your visit!
Featuring a small idyllic cove filled with a few fishing boats, a dozen beach bars, and calm waters making it the perfect location for a day of beach bumming, swimming, and snorkeling!
I have put together this complete guide of Playa Puerto Angelito including how to get there, the best time to visit, and what to expect when you're there!
Want cheap flights to Mexico? Check out CheapOair to book now and travel for less!
Have you got travel insurance for Mexico? We all know accidents can happen and having World Nomads Insurance will save you thousands of dollars if something goes wrong. 

WHERE IS PUERTO ANGELITO?
Puerto Angelito Oaxaca is located in the heart of Puerto Escondido and it's easily accessible by a tar-sealed road that leads right down to the jump-off point at the edge of the cliffs.
Click here to see the location on google maps.
HOW TO GET HERE
If you have your own car or scooter rental, it's a 10-minute drive or a 1-hour walk to Angelito Beach from the main tourist area of Zicatela.
The entrance is situated at the end of the parking lot which is where you will find a dirt trail leading down the hill, emerging on the golden sands of Puerto Angelito Oaxaca.
Golden sands
Playa Angelito Puerto Escondido
BEST TOURS IN PUERTO ESCONDIDO
WHAT TO EXPECT AT PUERTO ANGELITO
There is not one but two epic beaches that lie in the same crescent-shaped bay at this location. One is, of course, Puerto Angelito Oaxaca and the other is Playa Manzanillo. Depending on what you feel like doing, each end of the bay offers something different for everyone.
Playa Angelito is good for grabbing a bite to eat and drink from one of the beachfront restaurants, exploring the rocky headland on the northern end, swimming in the calm waters in the bay, or joining in on a boat tour along the coastline of Puerto Escondido.
There are a number of boat operators offering tours up and down the coastline and to other nearby beaches for around 150 MXN per person and also banana boat rides for 80 MXN per person. So if you're up for a fun-fuelled adventure, this is the perfect opportunity to get your fix!
Snorkeling and free-diving are also popular activities to do boasting beautiful corals, an abundance of marine life, warm waters, and great visibility underneath the surface.
Exploring the headland
An serial perspective
PLAYA MANZANILLO
From Angelito Beach, walk to the southern end of the bay and around the rocky outcrops to reach Playa Manzanillo. Featuring another secluded cove lined with swaying coconut palms and a few beach shacks serving up ice cold beers, local cuisine and boasts the ultimate laid-back beach vibes!
There are fewer boats in the cove at Playa Manzanillo and it's more ideal to go swimming here as opposed to Playa Angelito. There are no waves, the water is calm and perfect for going for a dip to cool off!
The pathway to Playa Manzanillo
Playa Manzanillo
Taking a dip at Manzanillo Beach
Aerial shot of Playa Manzanillo
Beach bars
BEST TIME TO VISIT
Puerto Angelito Beach can be visited at any time of the day, though around lunchtime is at its peak with crowds of people filling the cove and the beach bars. It can be quite hard to find an empty beach umbrella in the shade at this time of day.
My recommendation would be to get down to the beach between 8:00 am and 9:00 am to score a good spot along the beachfront and enjoy it before the crowds hit. Also, late afternoon around 4:00 pm is a nice time to visit as it won't be so hot under the midday sun. 
WHERE TO STAY IN PUERTO ESCONDIDO
Puerto Escondido has hundreds of accommodations to choose from so I have narrowed it down to a few of the best places to stay to suit the needs of luxury travelers, budget backpackers, and everyone in between.
See the list of Puerto Escondido accommodations below that I personally recommend:
Luxury: Posada Real Puerto Escondido
One of the best luxury resorts in Puerto Escondido! Located right on the beachfront with a private beach club, 2 restaurants, 3 bars, 2 outdoor pools, tennis court, mini-golf, games room, and water sports facilities. The rooms are air-conditioned with ocean and garden views, large comfortable beds, spacious living, cable tv, coffee maker, and private bathroom. Perfect for couples, families, and friends.
Mid Range: Casa Losodeli
I personally stayed at Casa Losodeli and can't recommend this place enough! From the moment you step in the door, you will feel like family. Centrally located and within walking distance to the beaches, bars, restaurants, and cafes. Featuring an outdoor pool, co-working space, free wifi, cafe, communal area, shared kitchen, bar, beautiful gardens, and free bicycle rental. Choose from a dorm room, private room, or fully equipped apartment with a kitchen and flat-screen tv. Perfect for solo travelers, couples, friends, and families!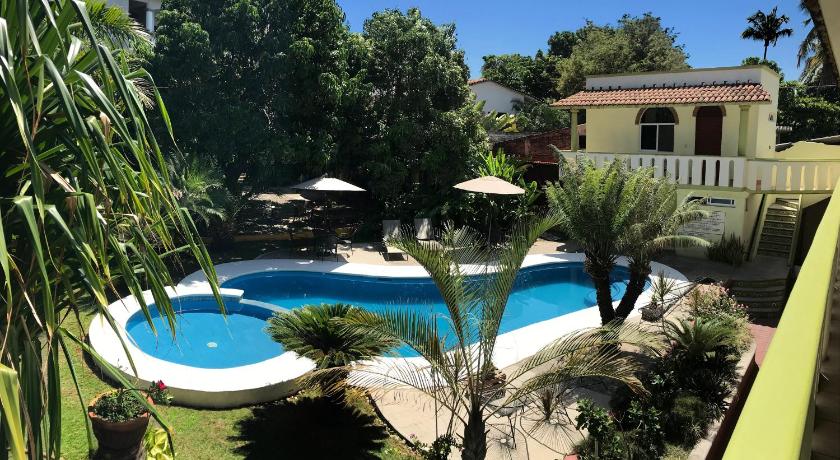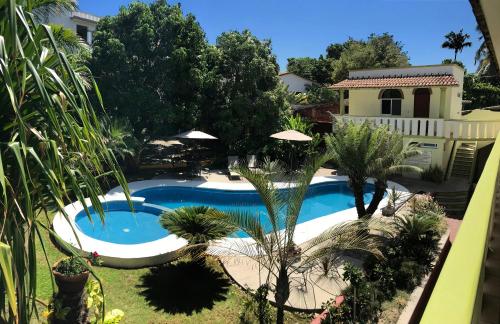 Budget: Casa Daikiri
Casa Daikiri is rated as one of the best budget accommodations in Puerto Escondido. Just a stone's throw from the famous Zicatela Beach, this vibrant hostel features an outdoor swimming pool, free wifi, shared kitchen, tour desk, sun terrace, and well-kept gardens. Choose from either a dorm room, triple room, or a double suite each with air conditioning, seating area, patio, and pool views.  Perfect place to stay for solo travelers, couples, and friends!
FOR ALL OTHER PLACES TO STAY IN PUERTO ESCONDIDO, SEARCH ON BOOKING.COM
AIRBNB PUERTO ESCONDIDO
Another option for accommodation is to stay in an Airbnb, which generally has some great deals!
BEST TIME TO VISIT PUERTO ESCONDIDO
Puerto Escondido has only 2 seasons, the wet season and the dry season.
The wet season in Puerto Escondido is typically between the months of June and October and the dry season is between November and May.
Puerto Escondido can be visited year-round as the average temperature during the day is 27°C and it rarely goes below 20°C at night. 
The high season in Puerto Escondido is during the summer months of June to August which sees a large number of tourists and prices are usually inflated during this time. 
My recommendation is to visit Puerto Escondido during the winter months between November and March when there are fewer tourists, prices for food and accommodation are lower and it's sunny every day!
GETTING AROUND PUERTO ESCONDIDO
The easiest, cheapest, and best way to get around Puerto Escondido is on foot. Depending on which part of town you end up staying, all of the beaches, bars, restaurants, and shops are within 1-hours walking distance.
If your legs are painted on, it's possible to rent a bicycle or a motorized scooter for the day and make your way around to all of the tourist spots in Puerto Escondido at your own pace. Bicycle rentals are around 50 MXN per hour and scooter rental is around 400 MXN per day, both options can typically be booked through your accommodation.
Taxis are another option for getting around Puerto Escondido which costs as little as 30-40 MXN for a 10-minute drive from one end of town to the other.
And last but not least are the Collectivos (shared taxi vans) which zip around town on a daily basis from dawn to dusk for as little as 7 pesos.
LONELY PLANET MEXICO
One of the best books to take on your trip is the Lonely Planet Mexico Guide!
BUY NOW ON AMAZON → LONELY PLANET MEXICO
MORE MEXICO TRAVEL GUIDES
JOIN MY FACEBOOK COMMUNITY
Do you have any questions about this beach?
Join my Facebook Community and send me a message at any time for a quick response!
ONLINE ENGLISH TEACHING
Do you want to travel full-time and get paid along the way?
Teaching English online is one of the easiest and most flexible jobs out there! Become a Digital Nomad, choose your own hours, and work remotely from anywhere in the world by teaching English online. All you need is a laptop, good WiFi connection, a TEFL certificate and you're good to go!
MY SHOP
Before you go, don't forget to check out My Online Shop!
I've got a wide range of digital products for sale and I'm sure you'll find something that will come in handy during your travels!
FINAL THOUGHTS
I hope you enjoyed reading this article and if you have any questions about Puerto Angelito Oaxaca, please leave me a comment below this post and I will get back to you as soon as I can.
Happy Travels!