The Promised Land Bellingen features remarkable natural rock pools and a crystal-clear stream that is surrounded by lush rainforest. It's the perfect place to spend an entire day swimming, exploring, and relaxing in nature with your friends and family.
I have visited Promised Lands Bellingen on a number of occasions and have put together this complete guide on how to get to Promised Land Bellingen, the best time to visit, things to know before you go and what to expect when you arrive at this beautiful vista.
Also, at the bottom of this Promised Lands Bellingen post, you will find my recommendations on where to stay in Bellingen and links to more of my Australia travel guides that you might like to check out.
Want cheap flights in Australia? Check out CheapOair to book now and travel for less!
Have you got travel insurance for Australia? We all know accidents can happen and having World Nomads Insurance will save you thousands of dollars if something goes wrong.
WHERE IS THE PROMISED LAND BELLINGEN?
The Promised Lands can be found on Never Never Creek near the town of Bellingen in northern New South Wales.
The town of Bellingen is located just 30 minutes drive southwest of Coffs Harbour, and Promised Land Bellingen is just 15 minutes drive inland from Bellingen town.
Click here to see the location on Google Maps.
HOW TO GET TO THE PROMISED LANDS BELLINGEN
There is no public transport to access the Promised Land Bellingen so you will need to have your own vehicle to make the drive out.
The road leading out to Never Never Creek Bellingen is unbelievably scenic, so I urge you not to rush and soak in the nature that surrounds this area.
Promised Lands Bellingen
On the way to Promised Land Bellingen
Cows grazing near the Promised Land NSW
Rainforest roads
BEST TIME TO VISIT PROMISED LANDS BELLINGEN
The best time to visit is from mid-morning to mid-afternoon when there is plenty of sunshine around to warm up the natural swimming hole at Never Never Creek.
The water temperature can be quite cold in the early mornings and late afternoons, just a heads up.
If you can time your visit for a weekday, chances are you will get to enjoy this epic spot almost completely to yourself with fewer people around.
Promised Lands in Bellingen are known to be very popular on weekends so you can expect it to be very busy with many families and groups of friends hanging out here.
Aerial perspective of Never Never Creek
THINGS TO KNOW BEFORE YOU GO
Before you leave home to visit Promised Land Bellingen, I recommend packing some swimmers, a towel, a hat, plenty of sunscreen, waterproof shoes, and insect repellent.
OTHER THINGS TO NOTE
This remarkable vista is the perfect place to have a picnic so be sure to bring something to eat and drink with you
There are no rubbish bins provided at Promised Land Bellingen, so if you do have any trash or see any trash around the area, please pick it up and make sure to take it home with you and dispose of it correctly
Never Never Creek flows to the ocean and we wouldn't want any trash ending up there
This area is extremely environmentally and residentially sensitive
The community relies upon this river for its drinking water
The community and the delicate ecosystem relies upon it being uncontaminated and pristine
There are no amenities or facilities here and it is not equipped to handle high-level-visitation
The area is surrounded by residential properties & dwellings so please consider the noise level and where you park
The area does not allow or provide for camping of any sort but there are a number of accommodation offerings on the usual holiday booking platforms
Promised Land Bellingen
Never Never Creek Bellingen
Tree swing into the rock pools
ARRIVING AT PROMISED LANDS BELLINGEN
When you arrive at the turnoff, you can either turn right on to Promised Land Road, which is the easiest and quickest access to Never Never Creek, or you continue driving straight to access Never Never Creek on the opposite side.
Whichever way you decide to go, Promised Land Road is a loop road so you can drive the entire way around Never Never Creek.
I would personally recommend taking the right-hand turn on to Promised Land Road (the easier access).
It's a short 5-minute drive down this road to where you will find car parking spaces available in a gravel parking lot, just on the other side of a wooden bridge that crosses over Never Never Creek.
If you decide to take the loop road and enter the Promised Lands Bellingen from the other side, the road is unsealed and only recommended for 4WD vehicles.
Once you have parked you're vehicle, you'll find many trails that lead down to the creek and from here you are free to explore at your own pace.
Arriving at Promised Lands Coffs Harbour
Exploring the trails
Never Never Creek Bellingen
Taking a refreshing dip
Turquoise pools
WHAT TO EXPECT AT PROMISED LAND BELLINGEN
The Promised Lands in Bellingen features a lush rainforest walk that leads around Never Never Creek, passing by pebbly islets and crystal clear rock pools which are far too inviting not to go for a swim!
Promised Land Bellingen has many natural swimming pools for taking a dip, large boulders in the middle of the creek for sunbathing, and a few rope swings that are scattered amongst the trees if you're up for an adrenaline rush.
Around the corner from the main swimming hole, you can find a parallel tunnel of trees where the stream runs directly beneath the canopy above. This is one of my favorite areas to explore.
If you simply want to sunbake in between taking swims, or wanting to have a picnic, there is a large pebbly area on the side of the swimming hole where you can hang out.
I recommend allowing at least 2 hours to fully explore Promised Land Bellingen.
Freshwater stream at Never Never Creek
Parked up at Promised Land Bellingen
Crystal clear waters
An aerial perspective
Plenty of pebbly areas to hang out
WHERE TO STAY IN BELLINGEN
There are dozens of accommodations in Bellingen to choose from so I have narrowed it down to a few of my recommended places to stay to suit the needs of budget backpackers, luxury travelers, and everyone in between.
See the list of accommodations below that I personally recommend:
LUXURY: PROMISED LAND RETREAT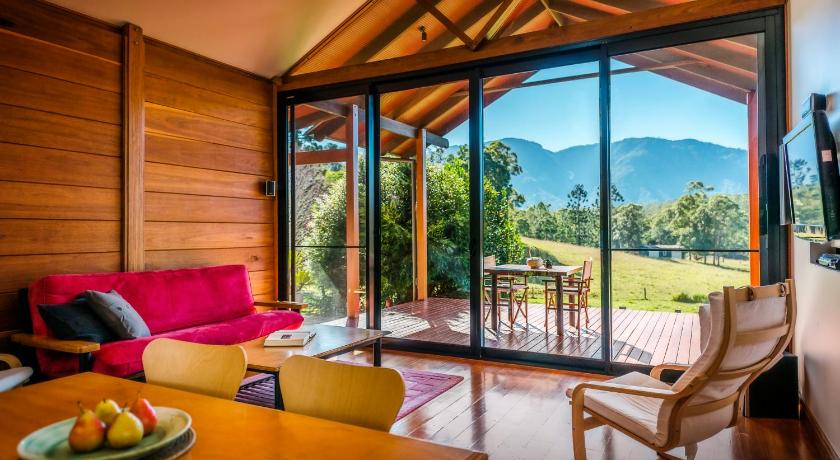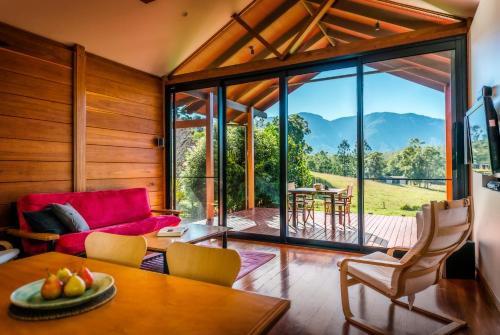 MID RANGE: BELLA VISTA BELLINGEN
BUDGET: BELFRY GUESTHOUSE YHA
AIRBNB BELLINGEN
Another option for accommodation in Bellingen is to stay in an Airbnb, which generally has some great deals!
MORE AUSTRALIA TRAVEL GUIDES
The coastline and hinterland areas along the east coast of Australia boast countless beaches, lakes, waterfalls, hikes, and many more fun-fuelled adventures waiting to be had!
This is what Australia is all about and what I love to share with you in my destination guides.
Click on the links below to see more related posts:
LONELY PLANET AUSTRALIA
One of the best books to take on your trip is the Lonely Planet Australia Travel Guide!
BUY NOW ON AMAZON → LONELY PLANET AUSTRALIA
JOIN MY FACEBOOK COMMUNITY
Do you have any questions about the Promised Lands in Bellingen?
Join my Facebook Community and send me a private message at any time for a quick response!
ONLINE ENGLISH TEACHING
Do you want to travel full-time and get paid along the way?
Teaching English online is one of the easiest and most flexible jobs out there! Become a Digital Nomad, choose your own hours, and work remotely from anywhere in the world by teaching English online. All you need is a laptop, good WiFi connection, a TEFL certificate and you're good to go!
MY SHOP
Before you go from this Waterfall Circuit Cairns post, don't forget to check out My Online Shop.
I've got a wide range of products for sale and I'm sure you'll find something that will come in handy during your travels.
FINAL THOUGHTS
I hope you have enjoyed reading this article on Promised Land Bellingen and if you have any further questions, please feel free to leave a comment below and I will reply as soon as I can.
Happy Adventuring!
PIN IT FOR LATER