Port Macquarie beaches are among some of the best beaches along the east coast of Australia and not to be missed during your visit to this beautiful coastal town in New South Wales. Conveniently, the beaches in Port Macquarie can be explored via an easy scenic coastal walkway which takes 2 hours one way.
Apart from the beaches, Port Macquarie is home to an abundance of wildlife and is known for having the highest koala population on the east coast of Australia!
I recommend spending anywhere between 2 days and 1 week to explore all the sights and, of course, the beautiful beaches.
In this guide, I have put together a complete list of the 7 Best Port Macquarie Beaches including where to find them and what to expect.
Also, at the bottom of this guide, I have included some useful information on where to stay in Port Macquarie, the best time to visit, and other points of interest on Australia's east coast.
Want cheap flights in Aussie? Check out CheapOair to book now and travel for less!
Have you got travel insurance for Australia? We all know accidents can happen and having World Nomads Insurance will save you thousands of dollars if something goes wrong.

WHERE IS PORT MACQUARIE
Port Macquarie is approximately a 7-hour drive south of the Gold Coast and around 4.5-hours drive north of Sydney.
Click here to see the location on Google Maps.
HOW TO GET HERE
It's best to have your own vehicle to visit Port Macquarie NSW as public transportation options are far and few between.
Search All → Car Rentals in Gold Coast
Search All → Car Rentals in Sydney
View of Town Beach Port Macquarie
7 BEST PORT MACQUARIE BEACHES
Please see below for an overview of the 7 Best Beaches in Port Macquarie that you will find in this post:
Town Beach
Oxley Beach
Rocky Beach
Flynns Beach
Nobbys Beach
Shelly Beach
Lighthouse Beach
#1 TOWN BEACH PORT MACQUARIE
Town Beach is the most northern beach in Port Mac and the perfect place to start your adventures!
Located near the town center, Town Beach features a large sandy shoreline with azure waters, grassy picnic areas, a skatepark, an outdoor gym, a beachside kiosk, and bathroom amenities.
At the northern end of Town Beach Port Macquarie, you can find the colorful break wall which has brightly painted rocks and artworks. A great spot to take some photos and enjoy the views of Town Beach.
The south end of Town Beach is where you'll find the trailhead for the Port Macquarie beaches coastal walkway. From this point, you can explore all of the beaches in Port Macquarie from north to south with the journey taking around 2 hours one-way to complete.
Town Beach
Town Beach Port Macquarie
Enjoying the view
Port Macquarie coastal walk
#2 OXLEY BEACH
Next up on this list of best Port Macquarie beaches is Oxley Beach which can be found right around the headland to the south of Town Beach.
On the way, be sure to stop into Flagstaff Lookout for an awesome view of Oxley Beach before continuing along the coastal walkway to reach the sandy shoreline.
Oxley Beach is a common spot for surfers and beachgoers who come here to avoid the crowds on the more popular beaches in Port Macquarie.
Oxley Beach
#3 ROCKY BEACH
Rocky Beach is another awesome spot worth adding to your list of beaches to visit in Port Macquarie.
Heading along the coastal walkway, Rocky Beach is the next beach along from Oxley Beach, featuring a rocky shoreline with tidal rock pools, blue waters, and golden sands.
The Rocky Beach Lookout can also be found on top of the hillside which boasts panoramic views of the beaches to the north and south.
Rocky Beach
Rocky Beach Lookout
The view from Rocky Beach Lookout
#4 FLYNNS BEACH PORT MACQUARIE
Flynns Beach is the most popular beach in Port Mac and for a good reason! Featuring a 500-meter long stretch of glistening white sands, azure blue waters, rideable waves, and grassy picnic areas.
You could easily spend an entire day down on Flynns Beach Port Macquarie with plenty of things to do such as sunbaking along the shoreline, swimming between the red and yellow flags, learning to surf in the bay, grabbing a meal at the Surf Club, BBQing by the beach and exploring the rocky headlands.
There is a parking lot located right down on the beachfront at Flynns Beach making it easy to access and it's suitable for people of all ages to come and enjoy this spectacular beach.
Flynns Beach – Photo: @meraki.pho
#5 NOBBYS BEACH
Next up on this list of best beaches in Port Macquarie is Nobbys Beach which is ideally located just a stone's throw from Flynns Beach.
The most unique feature of Nobbys Beach is Nobby Head, a rock formation covered in trees that sticks out into the ocean. Nobby Head is an iconic landmark in Port Macquarie which makes for an epic photo so be sure to have your camera at the ready. You can also hike to the top of Nobby Head to the Henry Gardiner monument and viewpoint.
Nobbys Beach is not patrolled but it's still possible to go for a swim if the sea conditions are calm. Nobbys Beach is also dog-friendly making it a perfect spot to take a stroll with your dog along this short stretch of sandy shoreline.
At the southern end of the beach is John Downes Park which boasts elevated views of Nobbys Beach from the lookout.
Sunset at Nobbys Beach – Photo: @meraki.pho
Nobbys Beach – Photo: @meraki.pho
View of Nobby Head
#6 SHELLY BEACH
Shelly Beach is my personal favorite and can be found on the southern side of Nobby Head. Just like Flynns Beach, there is a parking lot located along the shorefront making it very easy to access.
Surrounded by lush forest, Shelly Beach is a great place to go for relaxing in the sun, swimming in the tidal rock pools, or simply perching up on one of the beach-side park benches and marveling at the ocean.
Shelly Beach boasts a long stretch of golden sands, perfect for a casual beach stroll. I also recommend taking the bush trail to Harry's Lookout for extensive views of this epic beach from above.
Shelly Beach in Port Macquarie
The beautiful Shelly Beach
Harry's Lookout at Shelly Beach
View of Shelly Beach
#7 LIGHTHOUSE BEACH
Last but not least on this list of best Port Macquarie beaches is Lighthouse Beach.
Featuring a cement lighthouse on a grassy headland, a rocky cove on the north side and a long 9km stretch of golden sands on the south side, Lighthouse Beach in Port Macquarie is well worth the visit!
There are wooden stairwells on either side of the lighthouse which you can use to access both beaches. There is also a wooden viewing platform at Lighthouse Beach where you can spot humpback whales cruising along the coast.
If you can time your visit to Lighthouse Beach for sunrise, I guarantee you won't regret it.
Lighthouse Beach Port Macquarie
The stairs to Lighthouse Beach
Lighthouse Beach
Tacking Point Lighthouse
Viewing deck at Lighthouse Beach
WHERE TO STAY IN PORT MACQUARIE
There are countless accommodation options to choose from in Port Macquarie so I have narrowed it down to a few of the best places to stay to fit the needs of budget backpackers, luxury travelers, and everyone in between.
See below for a list of accommodations that I personally recommend:
Luxury: Flynns Beach Resort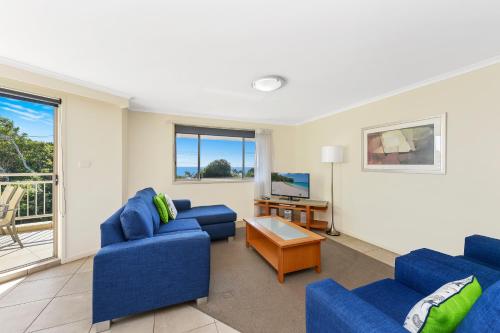 Mid Range: Waters Edge Port Macquarie
Budget: Beachside Backpackers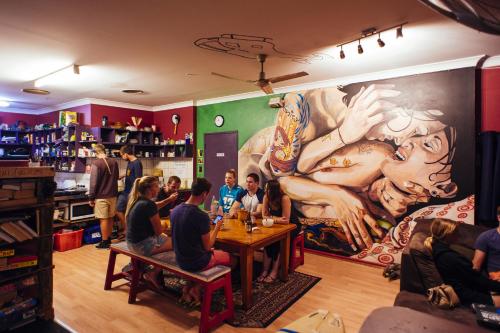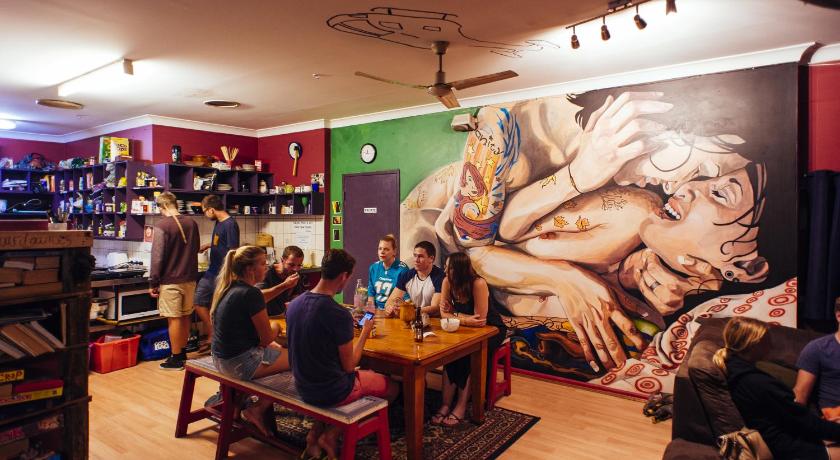 BEST TIME TO VISIT PORT MACQUARIE
Port Macquarie sees glorious sunshine almost all year round.
If you want the best of the best conditions weatherwise, I recommend visiting between May and October (Autumn, Winter, Spring) which is most ideal for beach bumming, nature walks, and water sports.
Summer in Port Macquarie is between December and February which sees hot temperatures and rainfall.
AIRBNB PORT MACQUARIE
Another option for accommodation in Port Mac is to stay at an Airbnb, which generally has some great deals!
MORE AUSTRALIA TRAVEL GUIDES
The East Coast of Australia boasts awesome beaches, lakes, waterfalls, hikes, and many more fun-fuelled adventures waiting to be had!
This is what Australia is all about and what I aim to share with you in my destination guides.
Click on the links below to see more related posts:
LONELY PLANET AUSTRALIA
One of the best books to take on your trip is the Lonely Planet Australia Guide!
BUY NOW ON AMAZON → LONELY PLANET AUSTRALIA
JOIN MY FACEBOOK COMMUNITY
Do you have any questions about these awesome beaches?
Join my Facebook Community and send me a private message at any time for a quick response!
ONLINE ENGLISH TEACHING
Do you want to travel full-time and get paid along the way?
Teaching English online is one of the easiest and most flexible jobs out there! Become a Digital Nomad, choose your own hours, and work remotely from anywhere in the world by teaching English online. All you need is a laptop, good WiFi connection, a TEFL certificate and you're good to go!
MY SHOP
Before you go from this post, don't forget to check out My Online Shop.
I've got a wide range of products for sale and I'm sure you'll find something that will come in handy during your travels.
I hope you enjoyed reading this article and if you have any questions about Port Macquarie Beaches, please leave a comment below this post and I will get back to you as soon as I can.
Happy Adventuring!