Playa Bacocho in Puerto Escondido features an almost endless strip of glistening white sands and blueish-green waters making it the longest and one of the most idyllic beaches in Puerto Escondido.
I have put together this complete guide to Bacocho Beach including where it is, how to get there, the best time to visit, and what to expect when you arrive.
PLAYA BACOCHO PUERTO ESCONDIDO – OVERVIEW
Let's start this guide with all the essentials you should know about Playa Bacocho, from its location to getting there and more.
WHERE IS PLAYA BACOCHO?
Playa Bacocho is located 4kms west of Puerto Escondido town center and it's easily accessible by a tar-sealed road that leads right down to the coastline.
Click here to see the location on Google Maps.
HOW TO GET HERE TO PLAYA BACOCHO?
If you have your own car or scooter rental, it's a 10-minute drive or a 1-hour walk to Playa Bacocho Puerto Escondido from the main tourist area of Zicatela.
To reach Bacocho from the other main tourist area of Carrizalillo, it's a short 5-minute drive or 15-minute walk from here.
Car Rental – Search, Compare & Save!
Discover Cars are one of the world's largest online car rental platforms with vehicles in 10,000+ locations.
Find the right car, in the right place, for the best price guaranteed!
WHAT TO EXPECT AT PLAYA BACOCHO
Complete paradise is ultimately what you can expect to find at Playa Bacocho Oaxaca!
This long stretch of white sand beach is the perfect spot for sunbaking and beach bumming, long walks along the sloping sandbank, and of course, swimming in the ocean to cool off.
The waves and currents can be quite strong at times so just be mindful of this before going for a dip. It's best to ask the lifeguard on duty when you arrive to advise you where the safest spot for swimming is.
Apart from soaking up some sun on the shoreline, there are a couple of awesome beach clubs that welcome guests outside.
Villa Sol Club Bacocho Puerto Escondido and Club de Cocos are the most popular beach clubs and accommodations, both of which feature a palm tree fringed beach area, outdoor swimming pools, straw beach umbrellas, a restaurant, and a bar that overlooks the ocean.
All they ask is that you spend a minimum of 200 MXN when visiting, or it's free to use the facilities if you're a guest of the hotel.
The BEST Hotel in Puerto Escondido
Need a place to stay? Posada Real Resort is conveniently located in Puerto Escondido.
Whether you're here to explore the sights or relax in comfort, Posada Real offers the best of both worlds.
If you're up for a bit of an adventure, you can find a sandy path at the southern end of Bacocho Beach that leads around the headland to Playa Coral.
You'll have to scramble around some large boulders but it's easy enough to do so and it takes no more than 5-minutes to reach the shores of Playa Coral.
This tucked-away little cove is surrounded by lush greenery and what seems to be an abandoned hotel.
Fewer waves break in the cove at Playa Coral, making it more of an ideal spot to go swimming if the waves on Bacocho Beach are too hectic.
I believe Playa Coral is known as the nude beach in Puerto Escondido, so bear this in mind when visiting and if you plan to take photos.
It's definitely worth taking the short walk to Playa Coral and going for a dip in the cove to cool off.
PLAYA BACOCHO TURTLE RELEASE
Another awesome thing to do is to book the turtle releasing tour which is a daily activity between 4:00 pm and 6:00 pm on the main beach.
You can pick your own baby turtle hatchling to set free as you watch them scramble down the sandbank and take their first strokes in the ocean.
The cost of the Playa Bacocho turtle releasing is $60 USD per person. Click here to book online in advance.
BEST TURTLE RELEASE TOUR
The best way to enjoy Playa Bacocho is to join a Turtle Release Tour!
It includes the national park fees, hotel transfers, and a fun guide to share the moment with!
OPEN AIR CINEMA ON PLAYA BACOCHO
Just when you thought this beach paradise couldn't get any better, every Wednesday night Villa Sol Beach Club plays host to an open-air movie night down on the sands of Bacocho Puerto Escondido.
The best thing about these beachfront movies is that it's completely FREE!
The movie typically kicks off at 7:00 pm so you can do the turtle releasing in the afternoon, watch the sunset from down on the beachfront and then end the night with a movie under the stars at Villa Sol. It's an incredible afternoon if you ask me!
Beach cinema
BEST TIME TO VISIT PUERTO ESCONDIDO
Puerto Escondido has only two seasons, the wet season and the dry season.
The wet season in Puerto Escondido is typically between the months of June and October, and the dry season is between November and May.
Puerto Escondido can be visited year-round as the average temperature during the day is 27°C and it rarely goes below 20°C at night.
The high season in Puerto Escondido is during the winter months (the dry season) between November and May which sees a large number of tourists and prices are usually inflated during this time.
I recommend visiting Puerto Escondido during the summer (the wet season) between June and October when there are fewer tourists, prices for food and accommodation are lower and it's sunny every day with the occasional downpour in the evening.
Forget plastic SIM Cards… Get an eSIM!
Say hello to eSIM – a virtual SIM card pre-loaded with mobile data so you can get online and stay connected around the world.
OneSimCard is the best eSIM for travel, with low-cost data packages available in 150+ countries.
Simply buy online, install it on your smartphone, and you're good to go!
GETTING AROUND PUERTO ESCONDIDO
The easiest, cheapest, and best way to get around Puerto Escondido is on foot. Depending on which part of town you end up staying, all of the beaches, bars, restaurants, and shops are within 1-hours walking distance.
If your legs are painted on, it's possible to rent a bicycle or a motorized scooter for the day and make your way around all of the tourist spots in Puerto Escondido at your own pace. Bicycle rentals are around 50 MXN per hour and scooter rental is around 400 MXN per day, both options can typically be booked through your accommodation.
Taxis are another option for getting around Puerto Escondido which costs as little as 30-40 MXN for a 10-minute drive from one end of town to the other.
And last but not least are the Collectivos (shared taxi vans) which zip around town daily from dawn to dusk for as little as 7 pesos.
BEST TOURS IN PUERTO ESCONDIDO
WHERE TO STAY IN PUERTO ESCONDIDO
Puerto Escondido has hundreds of accommodations to choose from so I have narrowed it down to a few of the best places to stay in Puerto Escondido to suit the needs of luxury travelers and budget backpackers.
See the list of accommodations below that I personally recommend:
One of the best luxury resorts in Puerto Escondido! Located right on the beachfront with a private beach club, 2 restaurants, 3 bars, 2 outdoor pools, a tennis court, mini-golf, a games room, and water sports facilities.
The rooms are air-conditioned with ocean and garden views, large comfortable beds, spacious living, cable tv, a coffee maker, and a private bathroom. Perfect for couples, families, and friends.
I personally stayed at Casa Losodeli and can't recommend this place enough! From the moment you step in the door, you will feel like family. Centrally located and within walking distance to the beaches, bars, restaurants, and cafes. Featuring an outdoor pool, co-working space, free wifi, cafe, communal area, shared kitchen, bar, beautiful gardens, and free bicycle rental.
Choose from a dorm room, private room, or fully equipped apartment with a kitchen and flat-screen tv. Perfect for solo travelers, couples, friends, and families!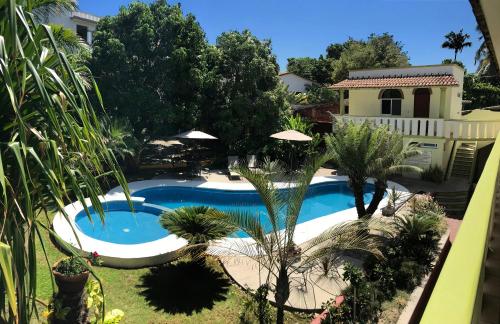 Casa Daikiri is rated as one of the best budget accommodations in Puerto Escondido. Just a stone's throw from the famous Zicatela Beach, this vibrant hostel features an outdoor swimming pool, free wifi,a  shared kitchen, tour desk, sun terrace, and well-kept gardens.
Choose from either a dorm room, triple room, or a double suite each with air conditioning, seating area, patio, and pool views.  Perfect place to stay for solo travelers, couples, and friends!
FOR ALL OTHER PLACES TO STAY IN PUERTO ESCONDIDO, SEARCH ON BOOKING.COM
WHAT TO PACK FOR PUERTO ESCONDIDO
When visiting Puerto Escondido, here is a list of items I highly recommend bringing with you:
Must-Have Travel Essentials
Keep your cash and other valuables safe with this anti-theft hidden money wallet!
---
The GRAYL GeoPress is the best reusable bottle that allows you to purify water from anywhere!
---
---
---
FINAL THOUGHTS – PLAYA BACOCHO
Before ending this article, I want to point out that the name is "Playa Bacocho" and not "Playa Bachoco" which causes some travelers to get confused.
If you have any questions at all about Bacocho Puerto Escondido, please leave me a comment below this post and I will get back to you as soon as I can.
For a quicker response, be sure to join Jonny Melon's Travel Tribe on Facebook and post your questions or recommendations to our awesome community.
TRAVEL RESOURCES FOR YOUR NEXT TRIP
Whether you're a seasoned traveler or it's your first trip overseas, here are some useful travel resources to help you kick-start your next adventure!
THANKS FOR READING
Hey friend, thanks for reading this guide!
Please know this post may contain affiliate links. When making a purchase through one of my links, I earn a small kickback at no extra cost to you and it's a big help to keep the site up and running. Rest assured, I only promote products and services that I personally use and recommend.
Many thanks!