Looking for the best Oaxaca Tours?!
If you're visiting Mexico then make sure you have Oaxaca on your list of places to see. It's often overlooked by travelers but I can tell you now that it's definitely not to be missed.
There are a number of awesome tours in Oaxaca that I highly recommend doing to make the most out of your time during your visit and ensure you get to experience everything in the little time you may have.
In this post, I have put together the ultimate list of the 7 Awesome Oaxaca Tours including where to book, how much they cost, and what to expect!
7 Awesome Oaxaca Tours
Zapotec Empire: Monte Alban & Villages
This full-day tour in Oaxaca takes you to the archaeological zone of Monte Alban to learn about the great Zapotec Culture. You get to visit the most impressive archaeological zones and explore the artisan villages, absorbing the culture as you go.
Declared a UNESCO site in 1987, Monte Alban is constructed 1940 meters above sea level and is one of the most representative archaeological sites in Mexico.
With pyramids, a court for the pre-Hispanic ball game, and many other mystical constructions, there is no question as to why I have included it on this list.
This tour in Oaxaca includes transportation in an air-conditioned vehicle, a bilingual guide, travel insurance, and entrance to the archaeological zone.
It's a 9-hour tour and it's advised to wear comfortable shoes, bring sunscreen and sunglasses as you'll be out in the heat all day.
It's not suitable for pregnant women, wheelchair users, or people suffering from their heart or back.
All this for less than $45 USD.
Book Now → Zapotec Empire: Monte Alban and Villages
The Most Functional Day Pack EVER!
The Nomatic 20L Travel Pack is perfect for everyday use and for those shorter 1-3 day adventures.
With 20+ innovative features and a minimalist design, this functional day pack gives you confidence for life on the move!
Oaxaca, Mitla, Hierve el Agua & Mezcal Factory
Another full-day Oaxaca tour through the most popular cultural attractions of Oaxaca. Wander around the Mitla archaeological sites, then move on to the incredible petrified waterfalls before learning about the manufacturing process at the Mezcal factory.
There is nothing quite like the sight of these insane petrified waterfalls at Hierve el Agua. It's something you just have to experience during your time here in Oaxaca and it's like nothing you would've ever seen before.
During your tour of the Mezcal factory, you'll also learn so much about the manufacturing process and learning the history behind this traditional drink, and sample a few of the different flavors.
Get picked up and dropped off at your hotel, with bi-lingual, professional guides and again, this Oaxaca tour is not suitable for anyone with mobility impairments.
All this for just $40 USD.
Book Now → Oaxaca, Mitla, Hierve el Agua & Mezcal Factory
Full Day Tour of Oaxaca
Embark on a day of adventure around the city of Oaxaca. Take in the sights, learn about the city and explore everything from historical monuments, traditional cultures, and the natural wonders this incredible city has to offer.
If you're short on time, this tour in Oaxaca is perfect for you. Cram absolutely everything Oaxaca has to offer, in just one day.
A few of the highlights en route include the petrified waterfalls, the Mezcal factory, and the archeological zone of Mitla.
Air-conditioned transportation is included as well as, a bilingual tour guide, entrance fees, travel insurance, and Mezcal tasting.
During this Oaxaca tour, you'll be spending a lot of time outside, so it's recommended to bring sunscreen, sunglasses, and water to avoid dehydration.
This Oaxaca tour costs around $56 USD.
Book Now → Full Day Tour Of Oaxaca
Have you got travel insurance for your trip?!
We all know accidents can happen and having SafetyWing Insurance will save you thousands of dollars if something goes wrong.
SafetyWing offers low-cost Travel Medical Insurance to keep you covered on all your adventures.
Guided City Walking Tour – Best Tours In Oaxaca
One of the shorter Oaxaca tours but a more in-depth one is the Guided City Walking Tour. Taking around 4 hours to complete, you'll be stopping by the Temple of Santo Domingo, you'll walk over the tourist's walkway as well as visiting markets to sample the local cuisine.
Take on the cobble walkways and explore the green quarry on this walking Oaxaca Tour.
You'll also have the opportunity to explore museums to learn about the history and marvel at the exhibits before arriving at the city center to enjoy bands and marimba music in the Constitution Garden.
It goes without saying, you'll be doing a lot of walking so make sure you're wearing comfortable shoes. It's also important to wear sunscreen and sunglasses and bring water to stay hydrated.
I'd also recommend bringing cash in case you want to purchase anything in the markets.
This tour in Oaxaca is $46 USD.
Book Now → Guided City Walking Tour
El Tule, Teotitlan Village & Mezcal Tour
This awesome Oaxaca tour encapsulates three of the best and biggest things to see in Oaxaca. Start off by marveling at the largest, widest, and one of the oldest trees in the world, The Tree Of Tule.
Move on to the Teotitlan village and learn about the development of wool rugs, bags and scarves before heading to taste the typical Oaxacan beverage, Mezcal.
This tour in Oaxaca is a great way to pick out three of the most popular things to do in Oaxaca and learn about each one individually. This is again great if you're short of time and only have time to check out the highlights of Oaxaca.
This tour lasts around 4.5 hours and is not recommended for anyone with mobility impairments. Pick-up is also included from the lobby of your hotel, with a bilingual guide and air-conditioned vehicle.
All this for just $52 USD.
Book Now → El Tule, Teotitlan Village & Mezcal Tour
The BEST Affordable Camera For Travel
If you're on the hunt for a professional camera for traveling, check out the Canon G7 X Mark II.
This tiny camera fits in your pocket, captures high-quality photos and videos, and has Wi-Fi so you can instantly transfer to your phone!
City Centre Day Tour
Embark on this 4-hour tour in Oaxaca of the city center, taking in this Mexican city's cultural charms including the cultural center of Santo Domingo as well as colonial architecture and vibrant markets.
Wander through the main streets of Oaxaca, learn about the history of the region, explore local markets and sample the delicacies then once you're done, soak up the panoramic views of the city, from the bus.
This Oaxaca tour includes pick-up and drop-off, a bilingual guide, and entrance tickets. If you're visiting between the months of May and October, be advised this is the rainy season so it's probably sensible to bring an umbrella or a raincoat.
The particular Oaxaca tour costs $54 USD.
Book Now → City Centre Day Tour
Monte Albán, Arrazola, Cuilapan & Coyotepec
Last but not least on this 'Oaxaca Tours' list, is a visit to the most famous pre-Columbian archaeological sites in Central America. Discover the indigenous villages of Arrazola, Cuilapan, and Coyotepec.
Take on this 8-hour Oaxaca tour visiting this mountain-top wonder, learn about its heritage, and then move on to the indigenous village of Arrazola, famous for its wood carving handicrafts known as 'Alebrijes'.
This has to be one of the top tours, with incredible views, unbelievable architecture, and a tour guide to teach you all about the woodcrafts and clay pottery, that this area is famous for.
This tour includes a qualified, bilingual tour guide, entrance tickets to all sites, and private transportation in air-conditioned vehicles.
Again, keep an eye out for the rainy season and if you do happen to be traveling between May and October, take a raincoat!
All this for just $53 USD.
Book Now → Monte Albán, Arrazola, Cuilapan & Coyotepec
Where To Stay In Oaxaca
Oaxaca City has hundreds of accommodations to choose from so I have narrowed it down to a few of the best places to stay in Oaxaca to suit the needs of luxury travelers, budget backpackers, and everyone in between.
See the list of Oaxaca accommodations below that I personally recommend:
LUXURY: QUINTA REAL OAXACA
Mid Range: Hotel Casa De La Tia Tere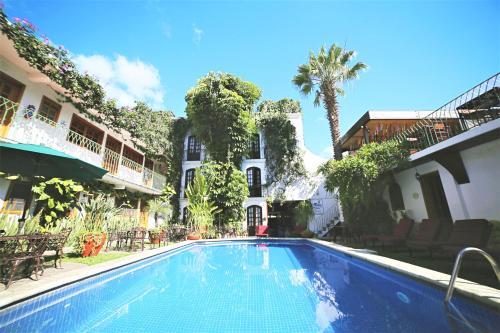 BUDGET: SELINA HOSTEL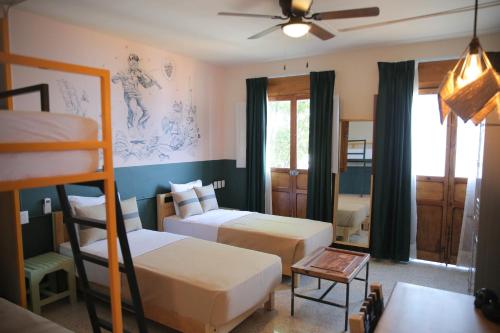 FOR ALL OTHER PLACES TO STAY IN OAXACA CITY, SEARCH ON BOOKING.COM
What To Pack For Oaxaca
When visiting Oaxaca, here is a list of items I highly recommend bringing with you:
Must-Have Travel Essentials
Keep your cash and other valuables safe with this anti-theft hidden money wallet!
---
The GRAYL GeoPress is the best reusable bottle that allows you to purify water from anywhere!
---
---
---
More Central & South America Travel Guides
Final Thoughts
I hope you enjoyed reading this article and if you have any questions at all about Oaxaca Tours, please leave me a comment below and I will get back to you as soon as I can.
For a quicker response, be sure to join Jonny Melon's Travel Tribe on Facebook and post your questions or recommendations to our awesome community.
Travel Resources For Your Next Trip
Whether you're a seasoned traveler or it's your first trip overseas, here are some useful travel resources to help you kick-start your next adventure!
THANKS FOR READING
Hey friend, thanks for reading this guide!
Please know this post may contain affiliate links. When making a purchase through one of my links, I earn a small kickback at no extra cost to you and it's a big help to keep the site up and running. Rest assured, I only promote products and services that I personally use and recommend.
Many thanks!