Looking for the best Oaxaca Tours?!
If you're visiting Mexico then make sure you have Oaxaca on your list of places to see. It's often overlooked by travelers but I can tell you now that it's a region that's definitely not to be missed.
There are dozens of awesome tours in Oaxaca to choose from, and I highly recommend booking at least one or two tours to ensure you get to experience as much as possible in the little time you may have.
In this post, I have put together the ultimate list of the 25 BEST Oaxaca Tours – I guarantee you'll find something to satisfy your interests!
Oaxaca is a city with a rich cultural heritage, beautiful architecture, and stunning natural landscapes.
It's impossible to fully appreciate and experience all that the city has to offer without taking a tour.
Before we jump into the main section, here are three tours you should seriously consider while vacationing in Oaxaca!
QUICK PICKS: 3 BEST OAXACA TOURS
Best Overall Tour in Oaxaca
Covers all the best areas in Oaxaca
Transportation to all spots and activities
Entrance fee to La Ventanilla National Park
Best Tour in Oaxaca City
Bike and helmet included
Coffee and tea to start the day properly
Small group for a fun, active day in Oaxaca!
Best Tour in Oaxaca for Culture
Fun tour in both English and Spanish
Insights into the Zapotec Empire and History
Entrance to the archaeological zone included
25 BEST Tours in Oaxaca
Get ready to discover a land full of vibrant colors, savory spices, and a culture that's as rich as the chocolate they produce – Oaxaca!
I've separated this blog post into two categories for you to see more clearly – the best tours in Oaxaca City and the best tours in Oaxaca State.
Best Tours in Oaxaca City
The best way to explore Oaxaca's hidden gems is through an expert-led tour, and lucky for you, I've compiled a comprehensive list of the top tours available in the city.
From walking tours through bustling markets to historic district tours that will enlighten you on the city's rich past, Oaxaca's tour offerings cater to every type of traveler.
Let's get started with the best tours in Oaxaca City!
🕛 Duration: 8 hours | ⭐ Rating: 4.4/5 | Group Tour
Embark on a day of adventure around the city of Oaxaca. Take in the sights, learn about the city, and explore everything from historical monuments, traditional cultures, and the natural wonders this incredible city has to offer.
If you're short on time, this tour in Oaxaca is perfect for you. Cram absolutely everything Oaxaca has to offer, in just one day.
A few of the highlights en route include the petrified waterfalls at Hierve el Agua, the Mezcal factory, and the archeological zone of Mitla.
Air-conditioned transportation is included as well as, a bilingual tour guide, entrance fees, travel insurance, and Mezcal tasting.
During this Oaxaca tour, you'll be spending a lot of time outside, so it's recommended to bring sunscreen, sunglasses, and water to avoid dehydration.
The entire day was well curated and excellent Romeo. Our driver was A+, Clemente, our guide was knowledgeable, helpful, and a real pleasure! This is a great day!

A GetYourGuide Traveler
WHAT'S INCLUDED:
Bilingual guide

Entrance fees
Mezcal tasting
Travel insurance
Transportation with air-conditioning vehicle
🕛 Duration: 6 hours | ⭐ Rating: 5/5 | Group Tour
One of the best activities you can do in this part of Mexico is biking, as Oaxaca state is bike-friendly, and this is precisely why I couldn't recommend this tour enough.
You see, this tour is perfect for those who want to experience a mix of culture, history, art, and gastronomy while getting some exercise. How cool does that sound?!
The tour starts at 8.00 AM, and the team will guide you through the charming town of Santa María El Tule.
Here, you will explore the vibrant gastronomy market and enjoy a delicious traditional breakfast before heading to the main attraction: the majestic ancient tree.
This tree is over 2,000 years old and holds the title of the widest tree in the world – it's so large that it takes 30 adults holding hands to circle its trunk!
Next up, you'll make your way to the picturesque Santo Domingo Tomaltepec to visit the town's dam and maybe even pop into a local leather craft or traditional bread workshop.
So grab your helmet, get your camera ready, and join this unforgettable bike tour through the best of Oaxaca!
I went on this bike trip with my 9 year old son , and it was a true highlight of our week in Oaxaca. Our guides were friendly, informative, and very attuned to keeping everyone safe. Overall this was an excellent trip, and being on bikes was a fun way to get to experience a bit more of the nature and culture of Oaxaca.

Joshua, Viator
WHAT'S INCLUDED:
Bike and helmet rental
Experienced guide
Stories and anecdotes along the way
🕛 Duration: 2 hours | ⭐ Rating: 5/5 | Group Tour
Embark on this 4-hour tour in Oaxaca of the city center, taking in this Mexican city's cultural charms including the cultural center of Santo Domingo as well as colonial architecture and vibrant markets.
Wander through the main streets of Oaxaca, learn about the history of the region, explore local markets, and sample the delicacies then once you're done, soak up the panoramic views of the city, from the bus.
This Oaxaca tour includes pick-up and drop-off, a bilingual guide, and entrance tickets.
If you're visiting between the months of May and October, be advised this is the rainy season so it's probably sensible to bring an umbrella or a raincoat.
Luis was a very interesting guide with an obvious passion for all things Oaxaca. He took us to various parts of the city and spoke with knowledge about many things that I just wouldn't have seen or heard about without exposure through this tour.

Lillianne, Viator
WHAT'S INCLUDED:
Knowledgeable guide
Traditional Oaxacan drink
🕛 Duration: 5 hours | ⭐ Rating: 5/5 | Group Tour
For foodies who are looking for an immersive experience into the heart of the Oaxacan food scene, taking part in this cooking experience is a must-do.
With this interactive tour, you can learn how to make traditional Oaxacan dishes with a local chef who is passionate about preserving this heritage.
During the tour, you'll get the chance to work with ancient utensils and learn ancient cooking methods passed down through generations.
The experience takes place in a wood stove, where you will make recipes from across the region, including empanadas, arroz con leche, mole, and more.
Can you think of a better way to have a meal in Oaxaca? As a foodie, I surely can't!
The chef and his staff we excellent. So knowledgeable. I would recommend this cooking class to anyone that comes to Oaxaca.

Nancy, Viator
WHAT'S INCLUDED:
Oaxacan brunch
Coffee and tea
Alcoholic drinks
Soda and pop
A friendly chef and host
🕛 Duration: 4 hours | ⭐ Rating: 5/5 | Small Group Tour
If you plan to stay fit while discovering Oaxaca, then I highly recommend taking this Oaxaca tour by bike and checking out all the street art in town.
This street art bike tour in Oaxaca is fabulous, catering to those who appreciate the finer things in life – like vibrant murals and funky stencil art.
You'll visit three neighborhoods where artists have left their mark, and get some exercise – all while learning about the rich culture and history of the area.
And don't worry, you won't go hungry or thirsty – snacks and bottled water are provided!
Note that this is an original tour, so it sells out quickly, and I recommend booking your bike as soon as possible.
Could not recommend this trip more! Loved exploring Oaxaca's colourful and character-filled streets from the bike and with a wonderful tour guide.

Mary, Viator
WHAT'S INCLUDED:
Bike and helmet rental
Coffee and tea
Bottled water
Experienced guide
Snacks along the way
🕛 Duration: 4 hours | ⭐ Rating: 5/5 | Group Tour
For an authentic and unique experience in Oaxaca, this Alebrije Painting class is by far the one that'll teach you the most!
Of course, it's also the perfect opportunity to get creative and learn about a traditional form of folk art.
Get ready to visit the charming village of Arrazola, where you'll meet the Jimenez family, who have been making alebrijes for decades (30 years, to be precise).
If you're wondering, Alebrijes are brightly-painted wooden sculptures, also known for being spirit guides, and represent traditional Mexican folklore and spiritualism.
Alebrijes often have characteristics of several different animals, such as a dragon's body with an eagle's wings or a dog's head with a squirrel's tail.
The details of the paintings can be quite intricate, making them unique and captivating pieces of art.
They'll guide you through the entire process, from carving the wood to making natural colors out of fruits, insects, and minerals.
And don't worry if you don't speak Spanish – the guide also speaks English, so you won't get lost in translation.
After you've seen how it's done, it's time for the fun part – painting your own animal figurine!
With brushes and colors provided, you'll have the chance to express your creativity and take home a unique souvenir of your time in Mexico.
My daughter (13) and I throughly enjoyed this. Armando is the real deal! I was so impressed by his story and craft. I highly recommend this experience.

Amanda, Viator
WHAT'S INCLUDED:
Snacks

Bottled water
Paint and brushes
Private transportation
Small animal figure to paint yourself
🕛 Duration: 4 hours | ⭐ Rating: 4.5/5 | Group Tour
One of the shorter Oaxaca tours but a more in-depth one is the Guided City Walking Tour.
Taking around 4 hours to complete, you'll be stopping by the Temple of Santo Domingo, you'll walk over the tourist's walkway as well as visit markets to sample the local cuisine.
Take on the cobble walkways and explore the green quarry on this walking Oaxaca Tour.
You'll also have the opportunity to explore museums to learn about Oaxaca's history and marvel at the exhibits before arriving at the city center to enjoy bands and marimba music in the Constitution Garden.
It goes without saying, you'll be doing a lot of walking so make sure you're wearing comfortable shoes. It's also important to wear sunscreen and sunglasses and bring water to stay hydrated.
I'd also recommend bringing cash in case you want to purchase anything in the markets.
Lovely guide full of enthusiasm!

A GetYourGuide Traveler
WHAT'S INCLUDED:
Bilingual tour guide

Air-conditioned transportation
🕛 Duration: 4 hours | ⭐ Rating: 4.5/5 | Group Tour
While I recommended a cooking class in this ultimate list of Oaxaca tours, this is a special one as it's for vegetarians. Needless to say, if you don't eat meat, you can't skip it!
Led by a knowledgeable and charismatic local, this class combines sightseeing with eating and will leave you feeling like a true insider.
The tour begins with a stroll through a picturesque neighborhood, where you'll visit churches, take in the architecture, and head to the market to select fresh organic produce for your cooking later.
But the real highlight of the tour is the cooking class itself. Once you've gathered your ingredients, you'll head to a local kitchen to learn the secrets of Oaxacan vegetarian cuisine.
From fragrant salsas to delicious salads, you'll learn to cook up a storm using the freshest, most flavorful ingredients available.
Of course, don't worry if you aren't a culinary expert – you'll have an expert guide to teach you everything you need to know!
Tired of the same old vegetarian dishes? Then this cooking class is the Oaxaca tour you need!
Martin our chef is very passionate about his craft and this showed in his enthusiasm in buying the ingredients, getting tje participants to do the prep and cooking. The dishes were varied and excellent. Definitely an activity to be recommended.

Rajasree, Viator
WHAT'S INCLUDED:
Lunch
Snacks
Alcoholic Beverages
Bottled water
Cooking materials
Kitchen equipment
Best Tours in Oaxaca State
On top of taking one of the tours in Oaxaca City above, going around Oaxaca State is also very cool, with ancient ruins and colonial architecture, as well as activities like surfing.
Without further ado, here are the best guided tours in Oaxaca State.
🕛 Duration: 12 hours | ⭐ Rating: 4.5/5 | Group Tour
Oaxaca is a magical place full of culture and natural wonders. One of the best ways to explore the region is through a tour that covers some of the most iconic spots, and this is the one!
The Hierve el Agua, Tule Tree, Mitla, and Mezcal Distillery Tour is a must-do for any traveler staying in Oaxaca, and you'll get to see unique spots around the state.
The comprehensive 10-hour tour starts with a visit to the legendary Tule tree, which is over 2,000 years old and considered one of the largest trees in the world.
Next, you'll stop at Teotitlán del Valle, a small village known for its traditional rug-making.
Here, you will not only witness but notice the incredible skill and artistry of the great rug artisans who live and work in the area.
The tour then continues to the Mitla Archeological site, an enigmatic place filled with beautiful ruins and historical significance.
The site is known for its intricate and decorative mosaics that have been meticulously preserved over the centuries.
Of course, the highlight of this tour is, without a doubt, the visit to the petrified waterfalls of Hierve el Agua.
Its natural beauty is breathtaking, and you have the opportunity to swim in the natural pools while enjoying the stunning scenery – How cool!
The guides were great, good energy and attentive. Very knowledgeable about the places and were ready with good tips and help.

Sanni, Viator
WHAT'S INCLUDED:
Air-conditioned vehicle
Transportation to all sites in Oaxaca
A glass of Mezscal at a local distillery
🕛 Duration: 7 hours | ⭐ Rating: 4.5/5 | Group Tour
One of the most beautiful places in Oaxaca State is Huatulco, with its stunning main bays and fantastic activities.
And this is exactly why you should try this day trip out of all the tours in Oaxaca.
On this Oaxaca day trip, you'll go to all these locations, which is very cool:
Santa Cruz Bay
Playa La Entrega
Huatulco National Park
Bahia Maguey y el Organo
Bahia de Cacaluta
Chachacual
Visit the famous beach of Cacaluta, where movies and television commercials have been filmed.
And let's not forget about the delicious seafood you can try at the restaurant, where the specialty is pineapple stuffed with seafood. Yum!
You'll have plenty of time to explore the national park and its bays, including the virgin bay of the "Organo" and the green-colored waters of the "Maguey."
Snorkel and swim in Chachacual, a pristine beach that was once a favorite spot for turtle fishermen before the activity was prohibited.
And if you're lucky, you might even spot some deer swimming from the beach to eat on the island of Cacaluta!
Let's face it, there's nothing you will lack on this tour in Oaxaca!
Great staff, well organized , very good boat, good info, great beaches. Second tour with this company as well as airport pickup and it could not have been handled better.

Charles, Viator
WHAT'S INCLUDED:
Soda/pop

Bottled water
Bilingual guide
Tour on a boat
Air-conditioned vehicle
🕛 Duration: 12.5 hours | ⭐ Rating: 4.5/5 | Group Tour
Experience the best of Oaxaca with this 4-in-1 tour – Mazunte, the chocolate factory of the Franco García family, the stunning Ventanilla, and even turtle spawn.
Begin your journey at a famous artisan chocolate factory and learn about the health benefits of cocoa.
Sample a range of products from raw honey infused with cocoa to chocolate spreads and organic hot chocolate powder made with traditional tools from this region.
Then explore Mazunte Co-Op, where local women have created a project to protect fauna and sell natural beauty products.
Get free time to explore Mazunte town, followed by a delicious traditional Mexican lunch.
Afterward, visit La Ventanilla National Park – a small fishing village on a stunning beach – full of red and white mangroves and an array of wildlife such as birds, crustaceans, turtles, and iguanas.
Finally, witness hundreds of turtles laying eggs on the beach in this magical natural phenomenon – turtle spawning!
All in all, this is one of the most comprehensive and cool tours in Oaxaca you can take, so make sure to book today.
We truly enjoyed this experience with an excellent guide. The highlights of the day were walking around Mazunte, Ventanilla National Park and turtle release

Nehal, Viator
WHAT'S INCLUDED:
Bottled water
Hotel pickup
Air-conditioned vehicle
Entrance fee to La Ventanilla
🕛 Duration: 4 hours | ⭐ Rating: 5/5 | Group Tour
Looking for a way to dig into Oaxaca's history without getting dirt under your nails? Look no further than the Monte Albán Guided Tour!
You'll get to explore the ancient ruins of this archaeological site without breaking a sweat, thanks to the air-conditioned vehicle that will take you around from one point of interest to another.
Not only will you get to soak up the rich history of the region, but you'll also get to enjoy the witty commentary of your expert guide.
And since this tour is only half a day long, you'll have plenty of time to grab a post-tour snack or siesta. Plus, it starts from only $30 per person – a real bargain!
This was one of the best tours I have been on in Mexico. Our guide Miguel was wonderful – knowledgeable, entertaining and engaging.

Thomas, Viator
WHAT'S INCLUDED:
Travel insurance
Air-conditioned vehicle
Hotel pickup and drop-off
Lots of stories from the tour guide
🕛 Duration: 3 hours | ⭐ Rating: 4.5/5 | Group Tour
For a typical and natural wonder like no other in Oaxaca, you can't beat this bioluminescence tour in the Manialtepec Lagoon.
Witness the magic of bioluminescent plankton as they light up the inky waters, creating a stunning underwater show.
And what's better than enjoying this incredible experience with only a small group of 10 people?
Snorkel and swim at your own pace without feeling like you're lost in a sea of strangers. Plus, stress-free pickup means you don't have to worry about finding a meeting point.
Just make sure to bring your swimsuit, sandals, and a towel, because this adventure is sure to get you wet!
So book it as soon as possible and discover the underwater wonders of the Manialtepec Lagoon.
The bioluminescent lagoon was beautiful. The guide was very knowledgeable. The whole experience was fabulous.

Alexia, Viator
WHAT'S INCLUDED:
Boat

ride
Tour Guide

Air-conditioned vehicle

Hotel pickup and drop-off
🕛 Duration: 9 hours | ⭐ Rating: 4/5 | Group Tour
This full-day tour in Oaxaca takes you to the archaeological zone of Monte Alban to learn about the great Zapotec Culture.
You get to visit the most impressive archaeological zones and explore the artisan villages, absorbing the culture as you go.
Declared a UNESCO site in 1987, Monte Alban is constructed 1940 meters above sea level and is one of the most representative archaeological sites in Mexico.
With pyramids, a court for the pre-Hispanic ball game, and many other mystical constructions, there is no question as to why I have included it on this list.
This tour in Oaxaca includes transportation in an air-conditioned vehicle, a bilingual guide, travel insurance, and entrance to the archaeological zone.
It's a 9-hour tour and it's advised to wear comfortable shoes, bring sunscreen and sunglasses as you'll be out in the heat all day.
It's not suitable for pregnant women, wheelchair users, or people suffering from their heart or back.
This was our favorite tour. Our guide, Antonio, was amazing, very knowledgable and spoke both Spanish and English perfectly. Communication with the agency was perfect, they reached out to us the night before with our pick-up time. The Mercedes Sprinter van was comfortable and had AC.

A GetYourGuide Traveler
WHAT'S INCLUDED:
Travel insurance
Bilingual tour guide
Entrances to the archaeological zone
Transportation in an air-conditioned vehicle
🕛 Duration: 9 hours | ⭐ Rating: 4.5/5 | Group Tour
Are you on the hunt for a special Oaxaca tour that allows you to take unforgettable memories back home? Then I highly recommend this trip, which you'll remember for a lifetime!
Not only will you get to witness the miracle of life as these hatchlings make their way to the sea, but you'll also experience the glow of bioluminescent plankton in the lagoon.
This tour is perfect for those who want to see three of Oaxaca's top natural attractions in one day without the hassle of booking separate activities or renting a car.
Also, you'll visit Playa Zicatela in Puerto Escondido and Santuario La Escobilla, which are some of the best sites Oaxaca has to offer.
And the best part? You don't have to worry about driving or finding your way back to your hotel, as stress-free pickup and drop-off are included.
So if you're ready for an adventure that's both educational and awe-inspiring, the Turtle Release and Bioluminescence trip is a must-do tour in Oaxaca – book now!
Edger Escobar, our guide, was so special. The turtle release was a fun, hart warming experience. But, Edgar's knowledge and experience added to the adventure. I highly recommend this tour.

Patricia, Viator
WHAT'S INCLUDED:
Bilingual guide
Air-conditioned van
Ticket to release turtles
Entrance to the Manialtepec Lagoon
🕛 Duration: 8 hours | ⭐ Rating: 5/5 | Group Tour
As a waterfall lover, I always get my fix when I visit Mexico, and this tour in Oaxaca is the exact reason why I keep on coming back!
Get lost in the lush greenery of the Sierra Mountains and discover pools of crystal-clear waters and cascading waterfalls that will leave you breathless.
Needless to say, you'll be able to take amazing photos, so don't forget your camera gear.
And what's better than enjoying a cup of coffee before exploring the jungle? Get a taste of the community's culture and learn about the healing properties of medicinal plants and products made from them.
Plus, I recommend coming hungry as you won't want to miss out on the delicious traditional meal of mole with chicken and handmade tortillas!
We had a lovely day under the wing of Edgar Escobar. He is an excellent guide and driver. Edgar provided a wealth of information about the surrounding communities and the local products available to purchase at a market near the waterfall. The local lunch was perfect after playing in the falls.

Christina, Viator
WHAT'S INCLUDED:
Air-conditioned van

Certified tour guide

Coffee and mezcal tasting
Entrance fees to the waterfalls
Round-trip transportation within the Bahías de Huatulco area
17. Zimatán River Canyoning Tour
🕛 Duration: 4.5 hours | ⭐ Rating: 5/5 | Group Tour | View Here
Despite Oaxaca being a great place to relax and chill, it's also a fantastic choice for an adventurous getaway, and this is what this 5-hour tour is all about – fun!
This tour is perfect for those who want to experience the thrill of canyoning in a beautiful natural setting.
The Zimatán River offers some of the best canyoning experiences in Oaxaca state, with plenty of natural slides, rock formations, and obstacles to keep you entertained.
No need to worry about equipment – unlike other tours, all necessary canyoning gear is provided for you. Plus, the tour is kept to a small group size to ensure personalized attention from the guide.
Once you're on the river, get ready for an adrenaline rush! You'll float downstream, slide down natural slides, abseil from rocks, and much more.
It's a fantastic way to get your blood pumping and enjoy the great outdoors at the same time. And after all that excitement, you'll be treated to a delicious lunch right on the riverbank.
Excellent adventure! Would definitely recommend doing this if you are in Huatulco. Our guide Christian was awesome.

Donald, Viator
WHAT'S INCLUDED:
Lunch
Experienced guide
Canyoning equipment
Transfers from and to your hotel
🕛 Duration: 2.5 hours | ⭐ Rating: 5/5 | Group Tour
Are you ready for some off-road adventure? The stop here – the ATV jungle and river tour in Oaxaca is a serious trip you should consider!
This 2.5-hour tour promises fun moments as you navigate rugged trails and explore the lush jungle on a quad bike.
You'll have the chance to cross several trails and even the Copalite River, with plenty of opportunities to splash around and cool off in the refreshing waters.
Don't worry about getting lost in the wilderness – all necessary equipment and instruction are provided, and a small group ensures that you'll get all the attention you need from your guide.
So if you're up for getting your heart pumping and adrenaline flowing, book this awesome for a dose of adventure you won't soon forget!
Really enjoyed the ride. Well organized. Would recommend. Company handled things with safety of the riders.

Jay, Viator
WHAT'S INCLUDED:
All equipment
Helmets and ATV rental
Transfer from the hotel

Certified and specialized guide
🕛 Duration: 10 hours | ⭐ Rating: 4.7/5 | Group Tour
This awesome Oaxaca tour encapsulates three of the best and biggest things to see in Oaxaca.
Start off by marveling at the largest, widest, and one of the oldest trees in the world, The Tree Of Tule.
Move on to the Teotitlan village and learn about the development of wool rugs, bags, and scarves before heading to taste the typical Oaxacan beverage, Mezcal.
This tour in Oaxaca is a great way to pick out three of the most popular things to do in Oaxaca and learn about each one individually.
This is again great if you're short of time and only have time to check out the highlights of Oaxaca.
This tour lasts around 10 hours and is not recommended for anyone with mobility impairments. Pick-up is also included from the lobby of your hotel, with a bilingual guide and an air-conditioned vehicle.
The tour was fantastic from start to finish. Picked up at my airbnb (not just rendezvous at a hotel) in a comfortable air-conditioned van. We were 8 in total, so the van was the perfect size – seats 14. All in all, 10 hours of great fun.

A GetYourGuide Traveler
WHAT'S INCLUDED:
Travel insurance

Certified guide
Mezcal tasting
Hotel pickup and drop-off
Transportation by air-conditioned vehicle
🕛 Duration: 4 hours | ⭐ Rating: 5/5 | Group Tour
Are you ready for a unique and unforgettable experience? Get ready to saddle up for this tour, where you'll see the sunset riding a horse!
This tour offers a chance to explore the Oaxacan coast and get up close and personal with the local culture.
As you ride along the Manialtepec River, you'll pass by fields of livestock and agriculture, giving you a glimpse of the economic and cultural foundations of the region. How authentic!
But the adventure doesn't stop there. Your horses will cross the lagoon and take you to the beach, where you'll ride along the shore and marvel at the stunning sunset over the Pacific Ocean.
To add to the fun, we'll also stop by a cabin owned by a local family, where you can sip on refreshing drinks and indulge in some delicious shrimp or fish.
And if that's not enough, this tour is also a great opportunity to learn about bioluminescence at the Manialtepec Lagoon, which is included too!
This was one of the most breathtaking tours we had. It couldn't get more romantic (if your into that). Just perfect sunset, local food, some whale watching, and amazing guides. Truly unforgettable experience.

Rashad, Viator
WHAT'S INCLUDED:
Horse rental
Bottled water

Air-conditioned van

Pick-up and drop-off from the hotel
🕛 Duration: 4.5 hours | ⭐ Rating: 4.5/5 | Group Tour
Last but not least on this 'Oaxaca Tours' list, is a visit to the most famous pre-Columbian archaeological sites in Central America.
Discover the indigenous villages of Arrazola, Cuilapan, and Coyotepec.
Take on this 8-hour Oaxaca tour visiting this mountain-top wonder, learn about its heritage, and then move on to the indigenous village of Arrazola, famous for its wood carving handicrafts known as 'Alebrijes'.
This has to be one of the top tours, with incredible views, unbelievable architecture, and a tour guide to teach you all about the woodcrafts and clay pottery, that this area is famous for.
This tour includes a qualified, bilingual tour guide, entrance tickets to all sites, and private transportation in air-conditioned vehicles.
Again, keep an eye out for the rainy season and if you do happen to be traveling between May and October, take a raincoat!
Our guide was very knowledgeable. He really was passionate about the history of Oaxaca and took his time to answer all of our questions.

Ripal, Viator
WHAT'S INCLUDED:
Travel insurance
Professional bilingual guide
Hotel pickup and drop-off
🕛 Duration: 3 hours | ⭐ Rating: 5/5 | Group Tour
Calling all dolphin lovers – Get ready to witness the beauty of nature's most playful creatures with this dolphin-watching tour in Puerto Escondido.
Being very familiar with Puerto Escondido myself, I can confidently tell you that it's one of the best spots to see dolphins.
The expert guide will share fascinating insights about these natural wonders and their significance to the local ecosystem.
But wait, it gets even better – you'll embark on an exciting adventure to spot not just one, but four different kinds of wild dolphins!
Get your cameras ready because you won't want to miss capturing these majestic creatures in their natural habitat.
And for those feeling adventurous, why not take a dip with the dolphins or even snorkel alongside them? It's the perfect opportunity to create unforgettable memories on your Mexican vacation.
We saw everything, hundreds of dolphins, manta rays, sea turtles and a Humpback whale! Several participants jumped in the water with the dolphins. It was such a special experience.

Mary, Viator
WHAT'S INCLUDED:
Swim with dolphins

Bottled water

Professional guide

Hotel pickup and drop-off
🕛 Duration: 2 hours | ⭐ Rating: 5/5 | Group Tour
A list of the best tours in Oaxaca wouldn't be complete without this surf class in Puerto Escondido, one of the coolest places to ride waves!
Booking this surf class, you'll get experienced and certified instructors that will ensure a safe and enjoyable time.
Don't worry if you're a complete beginner, they'll teach you everything you need to know to get up and ride the waves like a pro.
And even as a seasoned surfer, you'll get valuable feedback and tips to take your surfing to the next level.
It's worth noting that the classes have an attendance limit of 8 people only, to guarantee safety and personalized attention, and I recommend booking as soon as possible.
As you can understand, these classes sell out pretty quickly. Who knows, you might just discover a new passion and become the next Kelly Slater!
WHAT'S INCLUDED:
All surf equipment
Professional and certified instructor
🕛 Duration: 9 hours | ⭐ Rating: 5/5 | Group Tour
Are you tired of the same old tours? Those where you sit on a bus for hours and stare out the window at the passing scenery. Well, if that's the case, this incredible guided hiking tour on Sierra Norte is here to save the day.
This tour is not for the faint of heart, as it involves a 9-hour hike through the majestic mountains of Oaxaca.
But fear not, because the breathtaking views of pine trees, mountainscapes, and picturesque towns will make it all worth it.
You'll start by exploring the town and learning about its history and culture, and then embark on a stunning trail full of flowers, pines, oaks, and other sorts of interesting plants.
Not to mention, the villages along the way are both interesting and quiet, giving you a chance to appreciate the rural life of Oaxaca state.
When you're ready for a break, there's time for a relaxing picnic or some much-needed meditation. And if that's not your style, then there are plenty of other activities to partake in.
At the end of the hike, you'll be rewarded with an amazing hanging bridge at the top of the mountain, with one of the most beautiful landscapes you've ever laid eyes on.
What to say? It's simply one of the best tours in Oaxaca you can ever think of!
Ximena led an outstanding trip through old forests, craggy rock faces, and amazing viewpoints. Her thorough knowledge of the plant life added to a fantastic day! She was engaging, intentional, and passionate about sharing her love of mountain communities and wilderness. Everyone in the group had an amazing day, and I recommend Coyote and Ximena highly!

A Tripadvisor Reviewer
WHAT'S INCLUDED:
Snacks
Breakfast
Coffee and tea
Bottled water
Certified guide
Air-conditioned vehicle
Entrance to protected areas
🕛 Duration: 8 hours | ⭐ Rating: 3.8/5 | Group Tour | View Here
Another full-day Oaxaca tour through the most popular cultural attractions of Oaxaca.
Wander around the Mitla archaeological sites, then move on to the incredible petrified waterfalls before learning about the manufacturing process at the Mezcal factory.
There is nothing quite like the sight of these insane petrified waterfalls at Hierve el Agua.
It's something you just have to experience during your time here in Oaxaca and it's like nothing you would've ever seen before.
During your tour of the Mezcal factory, you'll also learn so much about the manufacturing process and learning the history behind this traditional drink, and sample a few of the different flavors.
Get picked up and dropped off at your hotel, with bi-lingual, professional guides, and again, this Oaxaca tour is not suitable for anyone with mobility impairments.
We visited the Tule tree, a bread and chocolate store, Hierve el Agua, the Mitla archeological area, a weaving store and a mezcal factory. Everything was really interesting and our guide Karla was really nice and accommodating.

A GetYourGuide Traveler
WHAT'S INCLUDED:
Professional guide
Hotel pick-up and drop-off
Where To Stay In Oaxaca
Oaxaca City has hundreds of accommodations to choose from so I have narrowed it down to a few of the best places to stay in Oaxaca to suit the needs of luxury travelers, budget backpackers, and everyone in between.
See the list of Oaxaca accommodations below that I personally recommend:
LUXURY: QUINTA REAL OAXACA
Mid Range: Hotel Casa De La Tia Tere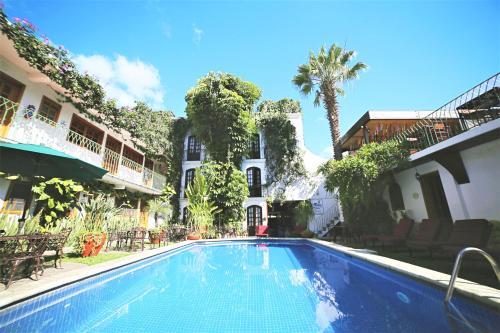 BUDGET: SELINA HOSTEL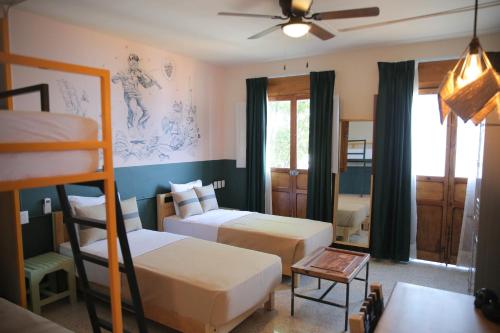 FOR ALL OTHER PLACES TO STAY IN OAXACA CITY, SEARCH ON BOOKING.COM
What To Pack For Oaxaca
When visiting Oaxaca, here is a list of items I highly recommend bringing with you:
Must-Have Travel Essentials
Keep your cash and other valuables safe with this anti-theft hidden money wallet!
---
The GRAYL GeoPress is the best reusable bottle that allows you to purify water from anywhere!
---
---
---
Final Thoughts – Oaxaca Tours
I hope you enjoyed reading this article and if you have any questions at all about tours in Oaxaca please leave me a comment below and I will get back to you as soon as I can.
For a quicker response, be sure to join Jonny Melon's Travel Tribe on Facebook and post your questions or recommendations to our awesome community.
Travel Resources For Your Next Trip
Whether you're a seasoned traveler or it's your first trip overseas, here are some useful travel resources to help you kick-start your next adventure!
THANKS FOR READING
Hey friend, thanks for reading this guide!
Please know this post may contain affiliate links. When making a purchase through one of my links, I earn a small kickback at no extra cost to you and it's a big help to keep the site up and running. Rest assured, I only promote products and services that I personally use and recommend.
Many thanks!