The Nine Arch Bridge, also known as The Bridge In The Sky, is a man-made masterpiece ideally located in the 'hill country' of Ella in Sri Lanka.
Over the past couple of years, Ella has become a tourist hotspot due to its profuse green scenery, hiking trails, epic waterfalls, historical caves, and of course, the 9 Arch Bridge!
I originally intended to stay in Ella for 2 days but I ended up staying 4 days. Believe me, once you arrive you won't want to leave this cute hillside village as it has a very peaceful and welcoming vibe about it.
I have put together this complete guide of Nine Arches Bridge including how to get there, the best time to visit, and what to expect when you arrive.
Want cheap flights to Sri Lanka? Check out CheapOair to book now and travel for less!
Have you got travel insurance for Sri Lanka? We all know accidents can happen and having World Nomads Insurance will save you thousands of dollars if something goes wrong.

WHERE IS THE NINE ARCH BRIDGE?
The Nine Arch Bridge is very close to the town of Ella. From the main street of Ella, it will take you about 30 minutes on foot, or alternatively, you can take a tuk-tuk directly to the bridge.
Click here to see the location on Google maps.
I recommend hiking down to the Nine Arches Bridge as you will pass through some tea plantations and it's more of an adventure to get there rather than sitting in the back of a tuk-tuk.
BEST TIME TO VISIT
If you want to get some great shots of the bridge and jungle surroundings, be sure to get up nice and early for a sunrise exploration. Chances are, you will be the only person around at this time… and walking along the tracks and across the bridge is an unforgettable experience in itself.
If you have the time to visit more than once, definitely get back down there for when a train is scheduled to pass over the bridge. I was there around 10:30 am and a train came through at 11 am. It's a lot busier at this time but you can still manage to get some great photos.
Again, if you are looking for something to do one afternoon in Ella, head down to the bridge a little before sunset to experience those soothing warm colors lighting up the bridge and tea plantations in the valley below.
Train passing over the bridge
Tea plantations
BEST TOURS IN SRI LANKA
WHAT TO EXPECT
Once you have had your fun exploring on top of the bridge, hike down the dirt track that leads underneath the bridge and into the tea plantation below. The dirt track is located on the side opposite to where the tunnel is.
I promise that you will get an amazing perspective of how tall and magnificent the Nine Arch Bridge actually is when you are standing under one of the 9 arches.
If you carefully walk through the tea plantation you can also get some great angles of the bridge from here.
Underneath the bridge
HISTORY OF THE NINE ARCH BRIDGE ELLA
In the history books, it's said that when construction work commenced on the bridge, World War I began between the empires of Europe, and the steel assigned for the bridge was reallocated to Britain's War-related projects.
As a result, the work came to a standstill, leading the locals to build the bridge with the only materials at hand being stone bricks and cement, but without steel. Human ingenuity I might add!
Understanding the rich history behind this monument definitely made me appreciate the experience even more… this is always something to keep in mind while traveling!
On top of the Nine Arches Bridge
Nine Arch Bridge Ella
WHERE TO STAY IN ELLA
Ella has hundreds of accommodation options to choose from, so I have narrowed it down to a few of the best places to stay to fit the needs of budget backpackers, luxury travelers, and everyone in between.
See the list of accommodations below that I personally recommend:
Luxury: 98 Acres Resort & Spa
Live like a celebrity in the best 5-star resort in Ella! Surrounded by stunning landscapes, 98 Acres Resort is within walking distance to the Nine Arches Bridge and Little Adam's Peak. The rooms are luxurious and spacious featuring free wifi, seating area, flat-screen tv, kitchenette, dining area, private bathroom, and spectacular mountain views. There is also an outdoor pool for guests to use on the property. Breakfast is included.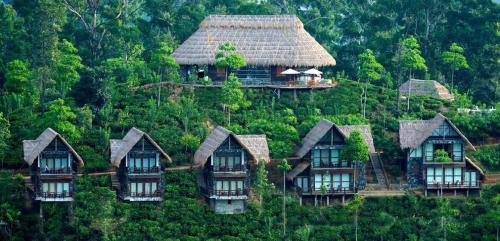 Mid Range: Ella's Edge Resort
This 3-star hotel is surrounded by tropical greenery and it's one of the most relaxing places to stay in Ella. The resort features a restaurant, gardens, and mountain views from all the rooms. There are double rooms, triple rooms, and family-sized rooms available featuring a modern interior, a private bathroom, spacious living, and free wifi. Perfect for family and friends visiting Ella.
Budget: Little Heaven Homestay
One of the best budget accommodations in Ella. Little Heaven Homestay is centrally located and within close proximity to the hot spot attractions in Ella. There are double, triple, and quadruple rooms to choose from featuring large beds, private bathrooms, balconies, and terraces. They also have a restaurant at the property and wifi is free for guests. Perfect for solo backpackers and friends.
AIRBNB ELLA
Another option for accommodation in Ella is to stay at an Airbnb, which generally has some great deals in Ella.
MORE SRI LANKA TRAVEL GUIDES
Sri Lank Travel Guide: 2 Week Sri Lanka Itinerary
Hikkaduwa Travel Guide: 7 Things To Do In Hikkaduwa
Unawatuna Travel Guide: 8 Things To Do In Unawatuna
Ella Travel Guide: Best Things To Do In Ella
Udawalawe Travel Guide: Udawalawe Safari Tour
LONELY PLANET SRI LANKA
One of the best books to take on your trip is the Lonely Planet Sri Lanka Guide!
BUY NOW ON AMAZON → LONELY PLANET SRI LANKA
JOIN MY FACEBOOK COMMUNITY
Do you have any questions about this stunning location?
Join my Facebook Community and send me a message at any time for a quick response!
ONLINE ENGLISH TEACHING
Do you want to travel full-time and get paid along the way?
Teaching English online is one of the easiest and most flexible jobs out there! Become a Digital Nomad, choose your own hours, and work remotely from anywhere in the world by teaching English online. All you need is a laptop, good WiFi connection, a TEFL certificate and you're good to go!
MY SHOP
Before you go, don't forget to check out My Online Shop!
I've got a wide range of digital products for sale and I'm sure you'll find something that will come in handy during your travels!
FINAL THOUGHTS
I hope you enjoyed reading this article and if you have any questions about Nine Arch Bridge Ella please leave me a comment below this post and I will get back to you as soon as I can.
Happy Adventuring!