At Nature's Window Western Australia, mama earth takes showing off her beauty one step further by literally framing her artwork for visitors.
When viewed from the right angle, the wind-eroded opening in the sandstone frames the Murchison River in the gorge below perfectly.
Natures Window is an iconic attraction within the famous Kalbarri National Park that definitely deserves to be on every WA travel bucket list.
If you have never visited the Kalbarri National Park in Western Australia before you are in for a treat.
The seemingly endless expanse of the scrub-spattered, red landscape is magical and it'll be hard to find something that feels more authentically 'Australian' than this.
WHERE IS NATURE'S WINDOW?
The famous Natures Window is located within the stunning Kalbarri National Park in Western Australia, between Shark Bay and Geraldton.
570km north of the state's capital city, Perth (roughly a 6-hour drive).
Click here to see the location on Google maps.
Kalbarri National Park offers a mix of inland and coastal landscapes.
From June to November people come for whale watching on the coastal side, whereas from July to early October spectacular wildflowers attract visitors.
Kalbarri Natures Window is only 1.5 kilometers from the latest and currently probably most popular addition to the park, the Kalbarri Skywalk – an impressive structure, consisting of two 100-meter-high lookouts that project 25 and 17 meters beyond the rim of the Murchison River Gorge and offers its visitors spectacular views.
HOW TO GET TO NATURE'S WINDOW KALBARRI
To get to Nature's Window from the little town of Kalbarri, it will take you about 30 minutes.
After paying the park entrance fee of $15 per vehicle with up to 12 people, you will follow the main road for roughly 20 minutes until you get to a T-junction where you will take a left turn to follow the signs for Natures Window / Skywalk.
Once you make it to the parking lot there will be plenty of spaces available for your vehicle and the walk down the trail to reach this natural rock arch only takes about 15 minutes each way.
Pssst! Check out this EPIC Hiking Backpack!
Perfect for shorter day hikes, the Osprey Stratos 24L is a tough pack made from sustainable materials.
With great internal organization, this is all you need for your next adventure, no matter the weather!
BEST TIME TO VISIT
The inland gorge sites at Kalbarri National Park are open from 6 am to 6 pm, 7 days a week. The coastal part of the national park can be visited free of charge 24/7, year-round.
The best time to visit is probably in the very early morning for sunrise. Watching the sun come up through a natural picture frame has something sheer magical about it.
During summer temperatures along the walk to Natures Window can easily reach around 50°C. Therefore a visit during the cooler months between May and October is advisable.
Due to the extreme heat, the loop trail is actually closed after 7 am between the months of November to March.
When possible always hike with a buddy and let someone know where you are going before you start the track.
Regardless of when you visit, come prepared – bring drinking water (at least 3-4 liters per person), adequate sun protection (hat, loose clothing, sunscreen), and comfortable, sturdy footwear enough.
KALBARRI NATIONAL PARK ENTRANCE FEE
Upon arriving, you will have to pay the Kalbarri National Park entrance fee of AUD $15 per vehicle carrying up to 12 people. This fee allows you access to all of the attractions inside the park.
The road is well maintained, a 4-wheel drive is not necessary and campervans are welcome.
If you are towing a caravan or trailer you will be asked to unhitch after you've passed the park office and park it in one of the reserved bays while you are in the National Park.
There are only a limited number of spots available so if possible try to arrive without a caravan in tow.
Have you got travel insurance for your trip?!
We all know accidents can happen and having Heymondo Insurance will save you thousands of dollars if something goes wrong.
Heymondo offers low-cost Travel Insurance to keep you covered on all your adventures.
WHAT TO EXPECT AT NATURE'S WINDOW WESTERN AUSTRALIA
Nature's Window is the beginning and end of a loop trail that leads through the fascinating area around the gorge.
The thinly bedded, red and white rocks that can be seen through most of the river gorge were deposited millions of years ago on tidal flats.
All around the Kalbarri Natures Window, rippled surfaces that were formed during ancient times by waves moving over the tidal flats can be seen.
The trail that leads up to the stunning views through the natural arch is a moderate one-kilometer return walk that will take around half an hour.
It begins with a flight of stairs from the lookout at the car park. Parts of the gorge are visible from the sealed path and some lookouts before the final, rocky section.
If you choose to hike the whole loop, from and back to Nature's Window, be prepared for a challenging 8km trail that leads you along steep, sandy, and quite strenuous paths down to the rocky river bed and back up.
The rock in and above the window is pretty fragile and climbing around should be avoided, so be careful when posing for that perfect Instagram shot.
If you are fairly fit and well equipped with water, sun protection, and proper footwear I highly recommend this hike, as it will offer you a ton more unforgettable, spectacular views of this part of the beautiful Kalbarri National Park.
For those of you who are not much of a hiker, no problem! Head over to the newly opened Kalbarri Skywalk. Keep scrolling for more details.
The BEST Affordable Camera For Travel
If you're on the hunt for a professional camera for traveling, check out the Canon G7 X Mark II.
This tiny camera fits in your pocket, captures high-quality photos and videos, and has Wi-Fi so you can instantly transfer to your phone!
KALBARRI SKYWALK
Looking for more awesome things to do in Kalbarri National Park?
Be sure to head over to Kalbarri Skywalk just a couple of minutes drive down the road from Kalbarri Natures Window.
Kalbarri Skywalk is perched right on the cliff top, a short and easy walk from the car park.
This impressive structure boasts two 100-meter-high lookouts projecting 25 and 17 meters beyond the rim of the Murchison River Gorge.
The views of the 400 million-year-old sandstone that formed the gorge and all of its surrounding environment are even more spectacular than you could imagine.
If you have the time, I highly recommend visiting this phenomenal attraction – I guarantee you won't regret it!
BEST TOURS IN KALBARRI
There are a number of awesome tours in Kalbarri that you might like to check out!
WHERE TO STAY IN KALBARRI
Unfortunately, there are no camping or accommodation options inside the National Park itself, so your best bet is to head to the coastal town of Kalbarri located just 35 km (30 minutes drive) west of the national park.
There are numerous accommodations to choose from including caravan parks, motels, hotels, and apartments.
See the list of Kalbarri accommodations below that I personally recommend.
LUXURY: STARBOARD VIEWS APARTMENT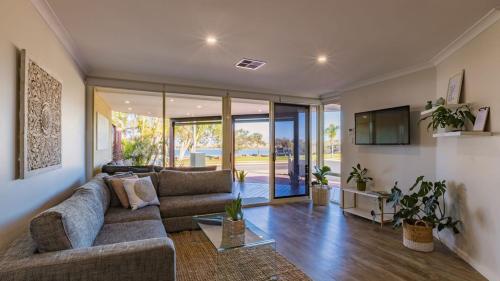 MID-RANGE: KALBARRI PALM RESORT
BUDGET: KALBARRI BACKPACKERS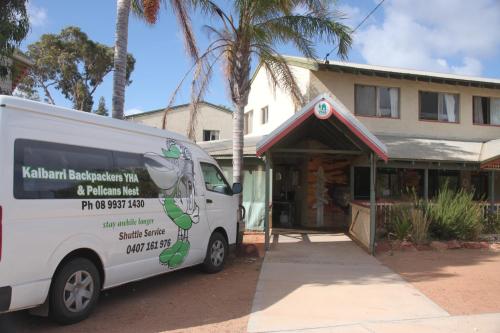 WHAT TO PACK FOR WESTERN AUSTRALIA
When visiting WA, here is a list of items I highly recommend bringing with you:
Must-Have Travel Essentials
Keep your cash and other valuables safe with this anti-theft hidden money wallet!
---
The GRAYL GeoPress is the best reusable bottle that allows you to purify water from anywhere!
---
---
---
FINAL THOUGHTS – NATURES WINDOW
I hope you enjoyed reading this article and if you have any questions about Natures Window Western Australia, please leave a comment below this post and I will get back to you as soon as I can.
For a quicker response, be sure to join Jonny Melon's Travel Tribe on Facebook and post your questions or recommendations to our awesome community.
TRAVEL RESOURCES FOR YOUR NEXT TRIP
Whether you're a seasoned traveler or it's your first trip overseas, here are some useful travel resources to help you kick-start your next adventure!
THANKS FOR READING
Hey friend, thanks for reading this guide!
Please know this post may contain affiliate links. When making a purchase through one of my links, I earn a small kickback at no extra cost to you and it's a big help to keep the site up and running. Rest assured, I only promote products and services that I personally use and recommend.
Many thanks!
This trip was in association with Tourism WA and Backyard Bandits.