Mt Tapyas is arguably the best viewpoint in Coron reaching 210 meters above Coron Town.
If you're up for a bit of exercise and want to witness an incredible sunset in Coron, Mount Tapyas is a must-see location on your next trip to Busuanga Island in Palawan.
I have put together this easy guide to visiting Mt Tapyas Coron including how to get there, how much it costs, a thorough Mt. Tapyas description, and what to expect when you arrive.
QUICK ANSWERS – MT TAPYAS CORON
Let's start this guide with some essentials you should know before visiting, such as Mount Tapyas' location, how to get there, and more.
HOW TO GET TO MOUNT TAPYAS?
The only way to get to Mount Tapyas is on foot and the starting point can be found right next to 'Davens Palace' in Coron Town Proper.
From the center of Coron Town, it's no more than a 10-minute walk to reach the Tapyas stairway.
Click here to see the location on Google maps.
If your accommodation is a little out of town, you can ride in the back of a tricycle to the jump-off point for Mt Tapyas Coron.
For a 10 to 15-minute ride on a tricycle, you can expect to pay around 30 to 50 pesos.
I recommend visiting Mount Tapyas in the early morning or late afternoon when the temperatures are much cooler.
If you were to climb the stairs during the middle of the day it would be a battle in the heat for sure.
HOW MUCH IS MT TAPYAS ENTRANCE FEE?
Unlike most Coron tourist spots, the entrance fee is FREE. The only thing you may need to pay for is a bottle of water to keep you hydrated on the incline to the top.
Pssst! Check out this EPIC Hiking Backpack!
Perfect for shorter day hikes, the Osprey Stratos 24L is a tough pack made from sustainable materials.
With great internal organization, this is all you need for your next adventure, no matter the weather!
MT TAPYAS STEPS
The unforgiving part about reaching the Mt Tapyas view deck is the infamous 724 steps to get there.
It's definitely a sweat-fest, though every step is worth it when you reach the summit.
Depending on your level of fitness, it will take around 20 to 30 minutes for the average person to reach the top.
There are no uneven surfaces, just staircase after staircase leading up the mountainside.
Dotted along the steps are many local vendors selling cold water, soft drinks, ice creams, and fresh coconuts if you need some refreshing fluids to aid you on the way up to the top.
About three-quarters of the way, you'll catch the first glimpse of Coron Bay and also the famous 'CORON' sign that resembles the Hollywood sign in California.
I always smile when I see these sorts of signs on random mountaintops around the world and wonder who had the idea first…
BEST TOUR OF CORON
The BEST way to visit is to join a Coron Ultimate Tour!
It includes transportation, all entrance fees, lunch and drinks, and a fun guide!
MT TAPYAS VIEW DECK
When you finally reach the top of the stairs, you'll be graced with a panoramic view of Coron Town, the bay, and other beautiful islands off in the distance.
Mount Tapyas view deck is a large concrete slab with a handrailing right the way around the mountain edge which isn't that appealing in my opinion.
It's worthy enough to take a couple of photos here but there is more to be seen.
The better photo spots can be found around the backside of the mountain, boasting views of rolling hills, grassy trails, and a front-on view facing west where the sunsets.
The BEST Hotel in Coron
Need a place to stay? Bacau Bay Resort Coron is conveniently located in Coron.
Whether you're here to explore the sights or relax in comfort, Bacau Bay Resort is a great choice.
MOUNT TAPYAS SUNSET
As I mentioned before, be sure to walk over to the opposite side of the view deck to check out the epic scenes of rolling hills and grassy trails that stretch across the valley. I love this Coron viewpoint!
Continue around to where you'll see the sun setting over the bay and find a nice spot to perch up on the side of the hill.
This is by far the best spot to catch the last few rays of light spreading across the region.
WHERE TO STAY IN CORON
Coron has countless accommodation options to choose from, so I have narrowed it down to a few of the best places to stay in Coron to fit the needs of budget backpackers, luxury travelers, and everyone in between.
See the list of accommodations below that I personally recommend before or after visiting mt. tapyas coron Palawan.
Bacau Bay Resort is a beautiful 4-star accommodation close to the town.
Featuring an outdoor swimming pool, on-site restaurant, bar, fitness center, kids club, a relaxation spa, and free wifi throughout the property.
Choose from a deluxe room or premier suite which is fitted with air conditioning, flat-screen tv, seating area, wardrobe, kitchenette, private bathroom, spacious living, and large comfortable beds.
It's the perfect place to stay in Coron for couples, families, or friends.
One of the best mid-range accommodations in Coron is Vienna Hotel.
Centrally located in Coron town, featuring a swimming pool, massage services, in-house restaurant, bar, free wifi, and a rooftop terrace overlooking Coron Bay.
The rooms are fitted with a desk, flat-screen tv, fridge, seating area, private bathroom, outside balcony, and large comfortable beds.
American, Asian, Continental, English, or buffet breakfast is included for all guests. Recommended for couples, families, or friends.
Hop Hostel is one of the best and most popular hostels in Coron, perfect for couples, friends, or solo travelers on a budget.
Centrally located in Coron town near cafes, restaurants, bars, and public markets.
Choose from either a Dorm room, Queen room, or Quadruple room with air conditioning and comfortable beds.
The private rooms are fitted with a fridge, microwave, coffee machine, and wardrobe. There's also free WiFi, a shared kitchen, a lounge area, and a rooftop bar/terrace with incredible views of Coron Bay.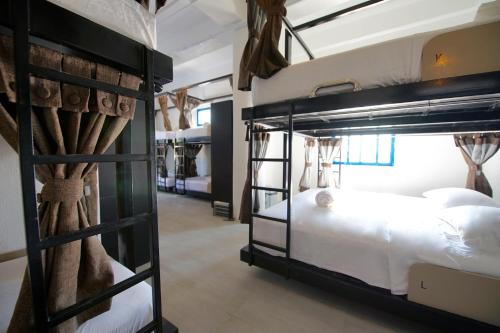 BEST CORON TOURS
Looking for the best Coron Tours?!
Visit the Viator website to see all of the top-rated tours in Coron. Be sure to book online in advance to be guaranteed the best rates!
WHAT TO PACK FOR THE PHILIPPINES
When visiting the Philippines, here is a list of items I highly recommend bringing with you.
Must-Have Travel Essentials
Keep your cash and other valuables safe with this anti-theft hidden money wallet!
---
The GRAYL GeoPress is the best reusable bottle that allows you to purify water from anywhere!
---
---
---
FINAL THOUGHTS – MOUNT TAPYAS
I hope you enjoyed reading this article and if you have any questions, please leave me a comment below and I will get back to you as soon as I can.
For a quicker response, be sure to join Jonny Melon's Travel Tribe on Facebook and post your questions or recommendations to our awesome community.
TRAVEL RESOURCES FOR YOUR NEXT TRIP
Whether you're a seasoned traveler or it's your first trip overseas, here are some useful travel resources to help you kick-start your next adventure!
THANKS FOR READING
Hey friend, thanks for reading this guide!
Please know this post may contain affiliate links. When making a purchase through one of my links, I earn a small kickback at no extra cost to you and it's a big help to keep the site up and running. Rest assured, I only promote products and services that I personally use and recommend.
Many thanks!