Lahangan Sweet is one of Bali's newest attractions boasting an epic viewpoint that treats you to the best far-reaching views of Mount Agung.
Following a short path, you'll find the viewpoint on a cool mountain ridge where you can marvel at the stellar Mt Agung volcano and Mt Rinjani on Lombok Island on a clear day.
I've put together this ultimate guide to visiting Lahangan Sweet Karangasem to help you plan your adventure.
Make sure to read until the end to see all the Lahangan Sweet photos you could take yourself!
QUICK ANSWERS: LAHANGAN SWEET
Let's start this guide with all the essentials you should know before visiting, such as the Lahangan Sweet location, the best time to visit, and more.
WHERE IS LAHANGAN SWEET?
Lahangan Sweet is located in the Karangasem region in the eastern part of Bali.
You can simply search for the Lahangan Sweet location on Google maps which will lead you all the way to the mountain ridge.
As you get closer, keep your eyes peeled for the small wooden signs pointing you in the right direction.
BEST TIME TO VISIT?
Lahangan Sweet Karangasem draws in travelers from near and far to experience an unforgettable view of the mesmerizing landscape.
To be here at the best time possible, I'd definitely recommend visiting either at sunrise or sunset. You can witness a great sunrise around 6 am on top of the mountain.
If you're more into a golden hour experience, I'd advise you to get to the viewpoint around 5:30 pm.
Either way, you'll have a great overview of the island and a breathtaking view of Mt Agung.
Keep in mind that during the wet season (December – February) it can be a bit wild visiting this attraction due to its mountaintop location.
Still, it's a great time to visit the spot because the scenery all around the region will be entirely green.
If you want unspoiled views with no clouds, being there during the dry season may be a better option (March – November).
The area is a lot dryer and a great chance to see the surrounding islands in the distance.
HOW TO GET TO LAHANGAN SWEET?
The cheapest way to get to Lahangan Sweet Bali is by scooter or by car.
If you are staying in the Canggu, Seminyak, Kuta, or Ubud region, I recommend renting a scooter and making the 3-hour drive out to Karangasem in East Bali.
Don't feel confident riding a scooter? Another great option for getting around Bali is to hire a private car and a driver for the day and experience all that the island has to offer.
Includes:
Experienced driver and guide
Hotel pick-up and drop-off
Drinking water
Petrol
The driver will also take you all the way back from Lahangan Sweet to Ubud or other areas in Bali where you're staying.
WHAT IS THE LAHANGAN SWEET ENTRANCE FEE?
Upon arriving, you'll see a small wooden shack that acts as the ticket office and a bamboo entrance gateway.
Locals get free entry to the viewpoint, and foreigners will have to purchase an entry ticket for 20,000 IDR at the ticket office.
There are no official opening hours, so you can visit anytime and spend as much time here as you want!
WHAT TO EXPECT AT LAHANGAN SWEET BALI
For some, navigating to the spot can be tricky so keep an eye on the directions. The road leading up the mountain is sometimes slippery and challenging.
I'd advise you to be cautious when you're arriving by scooter and make sure to have a full tank of gas that takes you all the way up the hill.
You'll also pass the turnoff for Pura Lempuyang Temple on the way up the hill, another unmissable spot to check out while you're in the area!
I also highly recommend purchasing travel insurance, especially when riding on the roads in Asia. Safety first!
If you're not a confident rider, you can park your scooter near the wooden sign and continue on foot. The 10-minute walk is short but steep, so expect a small workout.
Luckily you'll be rewarded with one of the most incredible sights Bali has to offer.
THE VIEWPOINTS AT LAHANGAN SWEET KARANGASEM
You'll find several viewpoints at Lahangan Sweet Bali that will treat you to an excellent panoramic view of Amed and the Karangasem region.
When you walk down the path for about a minute, you'll see the most famous treehouse platform.
This platform is wrapped around a tree and you need to climb up the ladder to get on top of it.
Looking to the left, you can see the southern part of Bali, with unbeatable views of Mt Abang and Mt Batur in the far distance.
Above anything else, the number one reason why this viewpoint is so astonishing is the view of Mt Agung.
Another viewpoint can be found near the big tree. It's a square palm terrace built on poles on the side of the hill.
There is also a small platform with a roof, located on the ground, accompanied by wooden benches to rest your legs and take in the gorgeous scenery.
The BEST Hotel Near Lahangan Sweet
Need a place to stay? Griya Villas & Spa is conveniently located near the viewpoint.
Whether you're here to explore around or relax after coming to Lahangan Bali, you're in for a treat.
BEST PHOTO OPPORTUNITIES
With a view this stunning, it's no surprise that Lahangan Sweet Karangasem is excellent for great photo opportunities.
You can climb the tree to get some nice shots from the tree platform.
Close-up photos of people sitting or standing on the edge overlooking the landscape are one way to get awesome visual content.
The other platforms are great too if you're looking for good silhouette photos or panoramic shots with Mt Agung in the background.
I recommend spotting the Lahangan Sweet sunrise early in the morning.
Alternatively, the Lahangan Sweet sunset is just as impressive, but remember that you'll be shooting in low light.
In that case, I'd highly recommend increasing your ISO. Set the aperture to F4 or higher to get those extra crispy shots.
For the best photo opportunities, it's always good to do some research in advance.
There are a lot of Lahangan Sweet photos taken already, so it's cool to try new things and get a unique perspective!
TIPS FOR VISITING LANGAHAN SWEET AMED
When visiting, the steep hike can sometimes be wet and muddy. Be sure to wear solid shoes for the climb so you'll get there easily.
Also, it's a good idea to dress warmly as it can be cold at the top of the mountain.
Furthermore, there are no food vendors in the area so I'd recommend bringing a bottle of water and some snacks so you're all set for the trip.
EAST BALI TOUR
Another alternative when planning a visit to East Bali is to book a full-day tour to see all the highlights.
The Best Of East Bali Tour is the most top-rated tour with great reviews and hundreds of bookings.
This tour covers some of the best highlights in East Bali including Pura Lempuyang Temple, Ujung Water Palace, Tirtagangga, and more!
LAHANGAN SWEET CAMPING
Do you wish to stay a bit longer than just sunrise or sunset hours?
If your answer is yes, then I'd highly recommend camping! There is a camping area available and a generator you can use.
You can either camp with your own gear or hire camping gear on location. It's definitely a once-in-a-lifetime experience to wake up here and enjoy a beautiful sunrise from your tent.
Lahangan Sweet Bali is an unmissable location to experience some of the most expansive views in the east.
After a short hike, you'll be rewarded with views of the northern coastline, Lombok and the Gili Islands, and of course the crown jewel, Mt Agung.
Depending on your plans, the best time to visit is during sunrise or sunset. The light will be perfect for getting those sweet panoramic shots or close-up photos on the famous tree platform.
For a small entrance fee of 20,000 IDR, you can enjoy a breathtaking overview of the island.
Make sure to bring your own food and beverages and some warm clothes when it gets cold after sunset.
Either hike up the hill for a small tour or set up a tent on the camping ground to experience one of the best sunrises in your life!
WHERE TO STAY NEAR LAHANGAN SWEET VIEWPOINT
I would recommend spending a couple of days in the small coastal town of Amed when visiting East Bali.
From Amed to Lahangan Sweet Viewpoint Bali, it's approximately a 30-minute drive.
Amed has hundreds of accommodations to choose from so I have narrowed it down to a few of the best places to stay to suit the needs of luxury travelers, budget backpackers, and everyone in between.
See the list of accommodations near Lahagan Sweet below that I personally recommend:
LUXURY: GRIYA VILLAS & SPA
MID RANGE: BAYU COTTAGES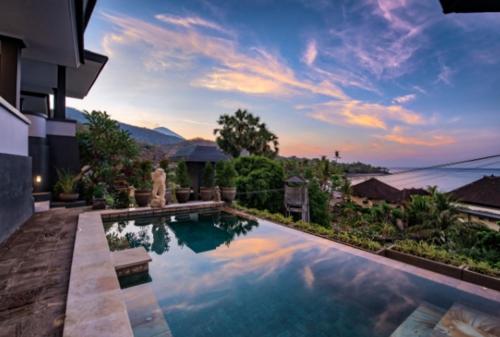 BUDGET: TITI SEDANA HOMESTAY
WHERE TO NEXT?
Ubud is not too far away from this location and boasts many amazing things to do such as rainforest yoga retreats, traditional arts and crafts, other-worldly rice terraces, and more.
Ubud is the perfect place to immerse yourself in nature for a few days away from the rat race.
Whether you want to unwind and relax or adventure and explore, Ubud offers the best of both worlds.
Click on the links below to discover awesome things to do in and around Ubud:
WHAT TO PACK FOR BALI
When visiting Bali, here is a list of items I highly recommend bringing with you.
Must-Have Travel Essentials
Keep your cash and other valuables safe with this anti-theft hidden money wallet!
---
The GRAYL GeoPress is the best reusable bottle that allows you to purify water from anywhere!
---
---
---
BEST TOURS IN BALI
FINAL THOUGHTS
I hope you enjoyed reading this article, and if you have any questions, please leave me a comment below this post and I will get back to you as soon as I can.
For a quicker response, be sure to join Jonny Melon's Travel Tribe on Facebook and post your questions or recommendations to our awesome community.
TRAVEL RESOURCES FOR YOUR NEXT TRIP
Whether you're a seasoned traveler or it's your first trip overseas, here are some useful travel resources to help you kick-start your next adventure!
THANKS FOR READING
Hey friend, thanks for reading this guide!
Please know this post may contain affiliate links. When making a purchase through one of my links, I earn a small kickback at no extra cost to you and it's a big help to keep the site up and running. Rest assured, I only promote products and services that I personally use and recommend.
Many thanks!