Hpa An is an adventure-filled region in the south of Myanmar and one of my favorite destinations that I visited during my 2-week journey throughout Myanmar.
I have put together this complete guide of the 3 best hikes in Hpa An which are Zwegabin, Taung Wine, and Hpan Pu Mountain.
ZWEGABIN MOUNTAIN
The hardest, the longest, but the most rewarding hike in Hpa An Myanmar is the famous Mount Zwegabin hike!
I arrived at the base of Mount Zwegabin at 4:30 am, parked my scooter, and paid a 4,000 Kyat entrance fee to a monk at the beginning of the hike. He wrote me a ticket and I was on my way.
There was no easing into the Zwekabin Mountain hike, especially at 4:30 in the morning. There are concrete stairs that zigzag steeply all the way to the summit of Mount Zwekabin.
The majority of the hike is dimly lit with hanging lights and safety railings are in place where needed. I would recommend packing a torch to aid you in the darker areas along the Mount Zwegabin trail.
The Mount Zwegabin hike took me 1 hour and 15 minutes from bottom to top. This was with around 3 or 4 short breaks to sip on some water and catch my breath.
I arrived at the summit at 5:45 am with 30-minutes to spare before sunrise. However, I would recommend allowing 2-hours for the average person to hike to the top of Zwekabin Mountain.
At the summit of Mt Zwegabin
THE VIEWPOINTS AT MOUNT ZWEGABIN
There are two epic viewpoints not to be missed at the top of Mount Zwegabin which are;
Viewpoint 1:
When you arrive at the Mount Zwegabin Monastery (gold pagoda) take a left-hand turn down the concrete stairs towards another pagoda below, but at about halfway down there is a dirt trail leading off to the right and this will take you to a rocky hillside with insane views facing east where you'll find the best spot to watch the sunrise.
Viewpoint 2:
The second best viewpoint is on the opposite side of Zwekabin Mountain, only a 5-minute walk from the sunrise viewpoint. Look for the toilet block on the right-hand side of the Mount Zwegabin Monastery and you can actually climb on the roof for incredible west-facing views of Hpa An.
Drone shot of Mount Zwegabin
TAUNG WINE MOUNTAIN
Next on the list of best hikes in Hpa An is Taung Wine Mountain.
If you are an adventure enthusiast like myself and looking for a bang-for-buck hike in Hpa An, then you can't go past an unforgettable journey to the summit of Taung Wine Mountain!
I left my accommodation (Keinnara Lodge) at 4:30 am and arrived at the base of Taung Wine Mountain at 5 am to begin the 45-minute ascent to make it to the summit for sunrise.
The hike does not ease you in at all. From the get-go the stairs are steep and the humidity is intense. I broke out in a sweat from head to toe about 15-minutes into the hike and my quads were already starting to burn.
However, I was so determined to make it to the top before the sun popped up over the horizon.
Taung Wine Mountain
I would recommend giving yourself at least one hour to hike Taung Wine Mountain, allowing for short breaks on the trail up to catch your breath and rehydrate.
I arrived at the summit of Taung Wine Mountain about 15-minutes before sunrise, so it was nice to have a breather before getting out my camera gear to get some shots.
As the sun started to rise and light up the Hpa-An region I was in complete awe of the insane panoramic views from the Taung Wine Pagoda!
The steel stairway on Taung Wine Mountain has a slight resemblance to the Stairway to Heaven stairs in Hawaii and this is the best spot to take photos.
Mount Taung Wine
HPAN PU MOUNTAIN
Last but not least in this guide is the hike to the top of Mount Hpan Pu for the sunset!
Hiking Hpan Pu Mountain was low-key one of the best experiences I had in Myanmar! The short 20 to 30-minute hike is steep, sweaty, and thirsty work but more than rewarding once you reach the summit!
On the trail to the top of Hpan Pu Mountain, you can expect overgrown shrubs, loose gravel, sharp rocks, and bamboo ladders, so your full attention is recommended during the hike so as to not have any slips.
Need a travel money card?

Wise

offers multi-currency debit cards which can be used worldwide and you'll save hundreds on transaction fees.

Get your Wise card today for free!
Hpan Pu Mountain
Sunset at Hpan Pu Mountain
At the summit of Hpan Pu Mountain is the Pha Bhu Taung Pagoda, offering 360-degree views of Hpa-An, the Thanlyin River, and distant mountain ranges.
The awe-inspiring views of the incredible landscapes in the region had me jaw-dropped and smiling from ear to ear. The fiery sunset on this day was the icing on the cake!
I recommend having at least 2 liters of drinking water for the Mount Hpan Pu hike as the humidity is quite intense. Believe me, it was thirsty work getting to the summit and back.
If you are hiking Mt Hpan Pu at sunset, you may want to pack a torch or phone light to aid you on the way back down the trail as it gets dark very quickly.
Epic viewpoint at Hpan Pu Mountain
Sunset over Hpa An – Hiking in Hpa An
Have you got travel insurance for Myanmar? We all know accidents can happen and having World Nomads Insurance will save you thousands of dollars if something goes wrong.

WHERE TO STAY IN HPA AN
Hpa An has dozens of accommodations to choose from, so I have narrowed it down to a few of the best places to stay in Hpa-An to suit the needs of luxury travelers, budget backpackers, and everyone in between.
See the list of accommodations below that I personally recommend:
Luxury: Keinnara Lodge Hpa An
Mid Range: Hotel United Hpa An
Budget: Galaxy Motel Hpa An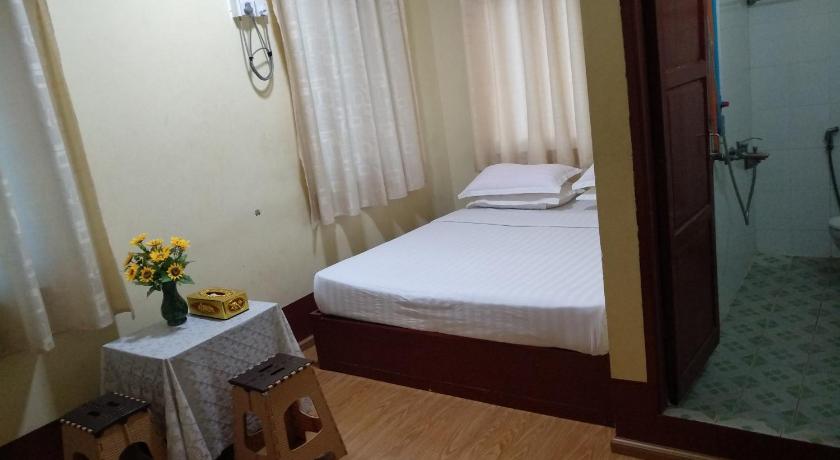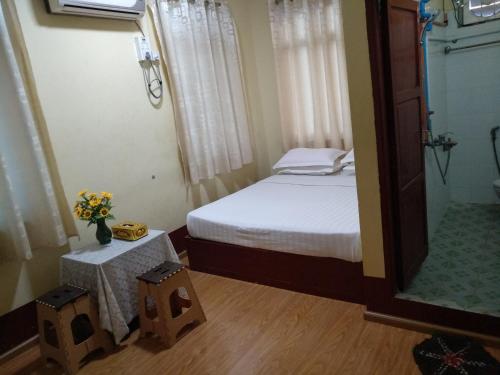 WHAT TO PACK FOR MYANMAR
When visiting Myanmar, here is a list of items I highly recommend bringing with you;
If you're interested in taking awesome photos and videos on your travels, this is the camera gear that I use and recommend;
GoPro HERO10 – the most popular camera on the planet for action-packed adventures.
Canon EOS R – perfect for traveling, this is the most affordable, compact camera on the market.
DJI Mini 3 Pro – take your photos and videos to new heights with this user-friendly drone camera.
BEST MYANMAR TOURS
MORE MYANMAR TRAVEL GUIDES
TRAVEL RESOURCES FOR YOUR NEXT TRIP
Whether you're a seasoned traveler or it's your first trip overseas, here are some useful travel resources to help you kick-start your next adventure!
BOOKING.COM – search and book accommodation worldwide
SKYSCANNER – compare and book cheap flights to anywhere
VIATOR – find tickets, tours, and experiences around the world
BOOKAWAY – book buses, trains, and transfers online in advance
RENTAL CARS – search all rental cars in your next destination
GROUP TRIPS – join one of my epic small group trips
TRAVEL INSURANCE – purchase World Nomads travel insurance
TRAVEL MONEY CARD – get a Wise card today for free
Looking for more? Check out my Travel Resources page for further help with your trip planning!
FINAL THOUGHTS
If you have any questions about hiking in Hpa An, please leave me a comment below and I will get back to you as soon as I can. For a quicker response, be sure to join Jonny Melon's Travel Tribe on Facebook and post your questions or recommendations to our awesome community.
THANKS FOR READING
Hey friend, thanks for reading this guide!
Please know this post may contain affiliate links. When making a purchase through one of my links, I earn a small kickback at no extra cost to you and it's a big help to keep the site up and running. Rest assured, I only promote products and services that I personally use and recommend.
Many thanks!
PIN IT FOR LATER