Hamelin Bay is bursting with white sand beaches, turquoise waters, and beautiful cliff walks making it a must-see on any holiday to Western Australia!
Located in Southwest WA, it really is a mecca for the everyday beachgoer and boasts an incredible corner of paradise that you simply must visit.
I have put together this complete visitor's guide giving you the rundown including how to get there, the best time to visit, what to do, where to stay, and more!
WHERE IS HAMELIN BAY?
Hamelin Bay is nestled in the very far southwest corner of Western Australia, just 30 minutes drive south of Margaret River, and 15 minutes drive north of Augusta.
Click here to see the location on Google maps.
Looking out to the Indian Ocean, it's located perfectly for those who want a little slice of paradise, during their tour of Western Australia.
HOW TO GET TO HAMELIN BAY
The most common way would be to fly into Perth and take the long drive south.
Located around 300 kilometers south of Perth, this 3-hour drive along the coast makes for the perfect road trip.
Following State Highway 2 all the way along the coast, and onto State highway 10, will take you all the way into Hamelin Bay Western Australia.
This picture-perfect drive is an awesome way to start your holiday.
Car Rental – Search, Compare & Save!
Discover Cars are one of the world's largest online car rental platforms with vehicles in 10,000+ locations.
Find the right car, in the right place, for the best price guaranteed!
BEST TIME TO VISIT
Being that Hamelin Bay is Western Australia's answer to paradise, it's important to time your trip right and to try and avoid the crowds.
Depending on what you're wanting to do when you arrive, I would suggest heading here early morning.
This way you'll miss the crowds, and the traffic and your trip will certainly become a little more relaxing.
Also, make sure to head here in the summer (December – February). It's a destination that's famed for its beaches and outdoor activities, so you'll want to go when the sun is shining and the waters are a bit warmer.
WHAT TO EXPECT AT HAMELIN BAY WA
Well, there is only one word to describe it really… PARADISE.
Upon arriving, you're going to be welcomed by the whitest sand, the bluest water, and the most spectacular views.
With plenty of beach activities available, a little town to shop around in, and cafes to enjoy, Hamelin Bay Western Australia is quite literally a slice of heaven.
All the locals will be more than happy to help you, show you around, and welcome you into their town.
You'll be spoilt for a choice of things to do, especially if water sports are up your alley.
Whether you want to get out and explore the open ocean or you just want to snorkel around the shallows, there is something for everyone.
Capture All Your Adventures!
I'm sure y'all know by now that GoPro's are arguably the best action cameras on the planet!
The new GoPro HERO 11 boasts 5.3K video, 27MP photo, HyperSmooth stabilization, and waterproof up to 10m!
HAMELIN BAY STINGRAYS
If you're wanting to take part in swimming with the famed Hamelin Bay stingrays, it's key to plan your trip around the time when they're most likely to be seen and about.
Summer is the best time to visit if swimming with the Hamelin Bay stingrays is high on your priority list. They like to bask in the shallow, warmer waters around this time.
With some of the clearest, bluest waters I've ever seen, the sea life here will be pretty easy to spot, especially the Hamelin Bay stingrays measuring almost 2 meters across.
The resident stingrays
If you're confident in the water and feeling a little more adventurous, as well as the ever-expansive sea life, you'll also be treated to a few shipwrecks and caves.
If you're feeling confident and have the right gear, definitely check them out!
For those of you that aren't feeling the water or you simply want to vary up your time, then why not head out on a walk?
This coastal area is part of the Cape to Cape Track where you can enjoy and experience the views of Cosy Corner and the observation deck.
This place is also great if you're a keen bird spotter as you'll find some unique species of birds dotted around the lake by the holiday park.
The Most Functional Day Pack EVER!
The Nomatic 20L Travel Pack is perfect for everyday use and for those shorter 1-3 day adventures.
With 20+ innovative features and a minimalist design, this functional day pack gives you confidence for life on the move!
HAMELIN BAY HOLIDAY PARK
One of the best places to stay during your visit is the Hamelin Bay Holiday Park.
With beachfront cabins and cottages available, and located in a Nature Reserve, Hamelin Bay Holiday Park is a popular place to stay among travelers.
It comes equipped with free parking, direct beach access, air-conditioning, and fridges in all the rooms.
As well as both powered and unpowered camping sites for those traveling in campervans, caravans, or tents.
To book a stay here at Hamelin Bay Holiday Park, visit their website to book online in advance or give them a call using the details below.
WHERE TO STAY IN AUGUSTA
If the holiday park is all booked out, your next best bet is the nearby town of Augusta, a short 15 minutes drive south.
There are dozens of accommodation options to choose from in Augusta so I have narrowed it down to a few of the best places to stay to fit everyone's needs.
See below for a list of accommodations in Augusta that I personally recommend:
ALOUARN APARTMENTS
This one is definitely for those of you looking for a little more luxury during your stay.
Alouarn Apartments are located a little further south in Augusta. They're two, luxury self-contained apartments with balconies, courtyards, hot tubs, and free wifi.
These ultra-modern apartments don't come cheap, but if you and your family are looking for luxury, then grab one whilst you can.
Ocean views, a BBQ, and a fully equipped kitchen are just some of the other features of this insane accommodation.
Although you're a little further from Hamelin Bay Western Australia, you are only a 5-minute walk from Augusta Beach.
WRENWOOD CHALETS
With just three cabins on-site, right on the beach, and a 24-hour front desk, you have everything you could need for a few nights' stay.
Wrenwood Chalets is located on Highway 250 on Caves Road, you're just a very short drive into town.
These are powered, self-contained chalets with a full-sized fridge freezer, microwave, and stovetop. They also have free wifi and are pet-friendly… bonus!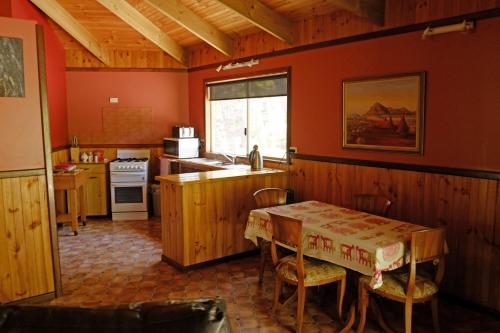 WHAT TO PACK FOR WESTERN AUSTRALIA
When visiting WA, here is a list of items I highly recommend bringing with you:
Must-Have Travel Essentials
Keep your cash and other valuables safe with this anti-theft hidden money wallet!
---
The GRAYL GeoPress is the best reusable bottle that allows you to purify water from anywhere!
---
---
---
FINAL THOUGHTS – HAMELIN BAY BEACH
So there you have it, a complete guide to this beautiful bay in Western Australia. It might be a very small destination but it certainly has a lot going for it.
I hope you enjoyed reading this article and if you have any questions, please leave a comment below this post and I will get back to you as soon as I can.
For a quicker response, be sure to join Jonny Melon's Travel Tribe on Facebook and post your questions or recommendations to our awesome community.
TRAVEL RESOURCES FOR YOUR NEXT TRIP
Whether you're a seasoned traveler or it's your first trip overseas, here are some useful travel resources to help you kick-start your next adventure!
THANKS FOR READING
Hey friend, thanks for reading this guide!
Please know this post may contain affiliate links. When making a purchase through one of my links, I earn a small kickback at no extra cost to you and it's a big help to keep the site up and running. Rest assured, I only promote products and services that I personally use and recommend.
Many thanks!