Gembleng Waterfall (Air Terjun Gembleng) is a beautiful little waterfall on the less-touristy side of Bali.
It's not a huge waterfall but the infinity-style rock pools that you can plunge into and enjoy the breathtaking views make it well worth visiting.
I have put together this complete guide to help plan your adventure including how to get here, the best time to visit, and what to expect when you arrive at these stunning falls.
WHERE IS GEMBLENG WATERFALL
Gembleng Waterfall is located in the Karangasem region, and in the village of Sidemen on the east side of Bali.
Click here for the exact pin location on Google maps.
From the main tourist hubs of Canggu, Seminyak, and Kuta, it's approximately a 2.5-hour drive. If you happen to be staying in Ubud, it's a shorter distance which takes around 2 hours.
I can also recommend spending a couple of days at Hideout Bali, an incredible bamboo home in Sideman, and from here, it's only a 30-minute drive to reach the waterfall.
HOW TO GET TO GEMBLENG WATERFALL
The best and easiest way to get to east Bali is by scooter or by car.
If you are staying in the Canggu, Seminyak, Kuta, or Ubud region, I recommend renting a scooter and making the 2.5-hour drive out to Karangasem in East Bali.
Don't feel confident riding a scooter? Another great option for getting around Bali is to hire a private car and a driver for the day and experience all that the island has to offer.
Includes:
Experienced driver & guide
Hotel pick-up & drop-off
Drinking water
Petrol
BEST TIME TO VISIT
This is one of the few waterfalls in Bali where, in my opinion, any time of the day is a good time to visit.
It's way less busy here compared to other waterfalls on the island and the extensive view and backdrop are absolutely stunning no matter what time you visit.
On rare occasions, there are still religious ceremonies performed at Gembleng Waterfall. During these times the waterfall is closed to the public.
GEMBLENG WATERFALL ENTRANCE FEE
This particular waterfall is a holy place and it was originally used by the Balinese people to carry out the tradition of melukat (cleaning themselves).
Over time, Air Terjun Gembleng began to open up to the public and is becoming an increasingly popular tourist destination.
There is no official ticket price to visit the falls, but a donation is welcome. It's up to you how much you'd like to spend but something around 20,000 IDR is acceptable ($1.40).
WHAT TO EXPECT
You can expect to plunge into infinity-style rock pools with the most epic view of the jungle and nearby rice fields. It's truly a picture-perfect hidden gem.
To get to Gembleng Falls, you actually walk up to it, unlike most Bali waterfalls which you walk down to.
There are around 60 shallow and easy stairs that will lead you right to the top.
Pssst! Check out this EPIC Hiking Backpack!
Perfect for shorter day hikes, the Osprey Stratos 24L is a tough pack made from sustainable materials.
With great internal organization, this is all you need for your next adventure, no matter the weather!
To get to the rock pools you need to walk across a suspended wooden bridge and scramble over some rocks.
Watch out and take care because they can be quite slippery, but it's not too far and the view at the end is 100% worth it.
While visiting, keep in mind this is a holy place for Balinese people so treat it with respect and pay attention to politeness, especially when meeting locals. They are sharing their beautiful land with you after all.
The natural infinity pool at the top is where you'll be able to capture the best shots, and of course, be sure to go for a swim to cool off in this freshwater paradise.
Put your explorer's cap on and go for a wander to the higher set of falls, or make your way down to the lower plunge pool. There is so much beautiful nature to find!
TIPS FOR VISITING
At the top you will find a little Warung selling drinks, snacks, beers, and even Arak (local alcoholic spirit), so I recommend bringing some extra cash if you wish to purchase something.
Definitely bring your swimmers, sunscreen, a towel, and shoes you don't mind getting wet or flip-flops.
And the number one thing you can't forget is your camera!
The BEST Affordable Camera For Travel
If you're on the hunt for a professional camera for traveling, check out the Canon G7 X Mark II.
This tiny camera fits in your pocket, captures high-quality photos and videos, and has Wi-Fi so you can instantly transfer to your phone!
SUMMARY
Air Terjun Gembleng is a piece of art, formed by nature, and a perfect little slice of paradise in paradise.
Its incredibly beautiful scenery, as well as the history of the place, give it a very special and magical vibe.
Enjoy the atmosphere and the clear water in the natural jacuzzi while you relax and let your eyes wander over the tropical forest and rice terraces that surround you.
EAST BALI TOUR
Another alternative when planning a visit to East Bali is to book a full-day tour to see all the highlights.
The Best Of East Bali Tour is the most top-rated tour with great reviews and hundreds of bookings.
This tour covers some of the best highlights in East Bali including Pura Lempuyang Temple, Ujung Water Palace, Tirtagangga Water Temple, and more!
WHERE TO NEXT?
Ubud is not too far away from this location and boasts many amazing things to do such as rainforest yoga retreats, traditional arts and crafts, other-worldly rice terraces, raging waterfalls, monkey forests, and much more.
Ubud is the perfect place to immerse yourself in nature for a few days away from the rat race.
Whether you want to unwind and relax or adventure and explore, Ubud offers the best of both worlds.
Click on the links below to discover awesome things to do in and around Ubud:
WHERE TO STAY NEAR AIR TERJUN GEMBLENG
I would recommend spending a couple of days in the small coastal town of Amed when visiting East Bali. From Amed to these beautiful falls, it's approximately a 1-hour drive.
Amed has hundreds of accommodations to choose from so I have narrowed it down to a few of my personal favorite places to stay in Amed to suit the needs of luxury travelers, budget backpackers, and everyone in between.
See the list of accommodations below that I personally recommend:
LUXURY: GRIYA VILLAS & SPA
MID RANGE: BAYU COTTAGES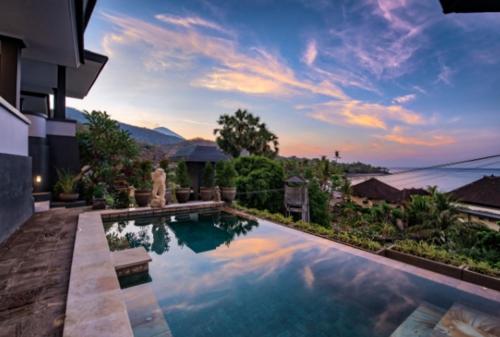 BUDGET: TITI SEDANA HOMESTAY
BEST TOURS IN BALI
WHAT TO PACK FOR BALI
When visiting Bali, here is a list of items I highly recommend bringing with you:
Must-Have Travel Essentials
Keep your cash and other valuables safe with this anti-theft hidden money wallet!
---
The GRAYL GeoPress is the best reusable bottle that allows you to purify water from anywhere!
---
---
---
FINAL THOUGHTS – GEMBLENG WATERFALL BALI
I hope you enjoyed reading this article and if you have any questions, please leave me a comment below this post and I will get back to you as soon as I can!
For a quicker response, be sure to join Jonny Melon's Travel Tribe on Facebook and post your questions or recommendations to our awesome community.
TRAVEL RESOURCES FOR YOUR NEXT TRIP
Whether you're a seasoned traveler or it's your first trip overseas, here are some useful travel resources to help you kick-start your next adventure
THANKS FOR READING
Hey friend, thanks for reading this guide!
Please know this post may contain affiliate links. When making a purchase through one of my links, I earn a small kickback at no extra cost to you and it's a big help to keep the site up and running. Rest assured, I only promote products and services that I personally use and recommend.
Many thanks!