A Fraser Island Day Trip is the best way to explore the largest sand island in the world!
With a speckled past and many different stories about how the island was founded, Fraser Island is now a popular vacation destination.
I have put together this ultimate guide with everything you need to know about a Fraser Island day tour including where to visit, what tours to take, and what to expect when you arrive on the island.
WHERE IS FRASER ISLAND
Fraser Island is located 360km north of Brisbane off Australia's East Coast in Queensland.
The closest towns to Fraser Island would be Rainbow Beach, Hervey Bay, or Tin Can Bay, all very popular destinations for people to stay if they're not staying on the island itself.
Click here to see the location on Google maps.
HOW TO GET TO FRASER ISLAND
BY PLANE:
The easiest and most accessible airport to fly into, whether that be international or domestic would be Brisbane Airport. From here, I'd recommend hiring a car or taking a bus to drive the 360kms north to one of the close-by towns or to the island itself.
BY CAR:
Once you're up the area, getting to Fraser Island is quite easy. You can do this as a foot passenger or by car, however, the best way to see the island is by booking a Fraser Island Day Trip, which I'll get into greater detail further down in this post.
To access the island via car, you're going to head to Rainbow Beach, following signs for 'Inskip'. Beware, if you're going to access the island with your own car, make sure it's a 4×4, there are no paved roads on the island and it's mostly driving on sand.
From Inskip, you'll board one of the many ferries and take the short, 10-minute journey to the island.
FRASER ISLAND FERRY COST:
Considering the amount of time you're on the ferry and the distance you travel, the Fraser Island Ferry is pretty expensive. To board the ferry with your own car and a passenger, you're looking at around $180 AUD for a return ticket (cheapest). If you have trailers etc, then this price is increased.
If you're boarding the Fraser Island Ferry as a foot passenger, the price for this is around $60 AUD for a return ticket.
As I mentioned, the most cost-effective way to access and explore is on board a Fraser Island Day Trip Tour. In doing this you get the tour, the guide, the food as well as the cost of the ferry all for the same price as the Fraser Island Ferry itself. Check out the few points below on 'The Best Fraser Island Tours'.
Need a travel money card?

Wise

offers multi-currency debit cards which can be used worldwide and you'll save hundreds on transaction fees.

Get your Wise card today for free!
FRASER ISLAND FERRY TIMES:
There are three Fraser Island Ferries that take you over to the island. The Fraser Island Venture and the Kingfisher Bay ferries only operate 3-4 service's a day.
The Manta Ray Fraser Island barge service operates two barges daily from 6:00 am to 5:15 pm (the last barge to Fraser Island is at 5:00 pm and the last barge away from Fraser island is at 5:15 pm).
The trip to Fraser Island takes approximately 10 minutes. As this service runs back and forth all day approximately every 30 minutes, there is no need to make a booking.
Arriving on Fraser Island
Have you got travel insurance for Australia? We all know accidents can happen and having World Nomads Insurance will save you thousands of dollars if something goes wrong.

BEST FRASER ISLAND TOURS
If you're planning to head over to Fraser Island for longer than a day and want the ultimate experience, this tour is the one for you. 3 days and 2 nights on Fraser Island, departing from Hervey Bay and exploring everything Fraser Island has to offer.
With this Fraser Island tour, you'll get to see and do everything on the island. From swimming in Lake Mckenzie and exploring all other Fraser Island lakes to swimming in Champagne Pools, walking through the rainforest, and even stopping by the shipwrecks. This 3 Day and 2 Night tour of Fraser Island really leaves no stone unturned.
There are many different package options for this tour ranging from $535-$720 AUD. Check out Klook.com for all booking information and package prices.
This tour is a little more for the adventurers amongst us. Swim, snorkel, hike, and kayak around the untouched, western side of Fraser Island, exploring the more unseen areas and getting off the beaten track.
If you've done Fraser Island before and are looking for something a little more unique, then this is definitely the tour for you. Or even if you've never been on the island but fancy doing something a little different from the norm, then hop on this Fraser Island 1-day tour.
You'll cruise the Great Sandy Strait along the shores of Fraser Island, spotting whales and dolphins. You'll be riding in a pretty cool, amphibious vehicle before enjoying a delicious lunch served on the boat.
At around $130 AUD per person when booking online with Get Your Guide, this is a great option if the other day trip packages don't suit you. This tour will last the entire day with guaranteed humpback sightings between July and October.
WHAT TO EXPECT ON A FRASER ISLAND DAY TRIP
To start your day trip, you'll board the ferry at Inskip (or your chosen boarding point depending on the ferry company). You'll take the short 10-15 minute journey over to Fraser Island before beginning your day.
You'll drive along the shorefront which is actually a registered Queensland Highway all the way around the island. Depending on the tide levels, you'll either continue along the beach or you'll take the high tide road, inland.
The first town you'll pass on the tour is Dilli Village, an old mining town that has since been turned into a campground. For those not doing a Fraser Island day tour, it's possible to camp here on the island.
Fraser Island Discovery Vehicle
Carry on along the beach and you'll reach the most built-up, commercial town on the island, Eurong. It's here you'll have the option to grab something to eat at the shop/bakery, fill up your water bottle or just enjoy the atmosphere before heading deeper inland.
After spending time at Eurong you'll take the sandy, narrow track through the rainforest before reaching the most popular and well-documented location on Fraser Island, Lake Mckenzie.
This has to be the most jaw-dropping part of the island and you'll definitely leave thinking to yourself 'did that actually happen?'.
It's here at Lake Mckenzie that you'll be welcomed to the whitest, softest sand you've ever walked on and the bluest, clearest water you'll ever swim in. This lake is pure rainwater, with high PH levels meaning the acid in the water is great for your skin. Swimming in Lake Mckenzie is quite literally better than any spa day.
Enjoy time spent around Lake Mckenzie Fraser Island, in and out of the warm lake water, and soaking up the sun. Before you know it, it'll be time to move on to your next destination.
Lake Mckenzie Fraser Island
Fraser Island 4WD
After you've spent time at Lake Mckenzie and eaten in the designated areas (you're not allowed food around the lake due to the presence of Dingos), you'll move on through the rainforest. After about an hour's drive, you'll reach your next location on the Fraser Island day tour which is Central Station Rainforest.
Here you'll be afforded the opportunity to take the 35-minute walk through the rainforest, along the Wanggoolba Creek, taking in the breathtaking nature.
With crystal clear waters, palm trees the size of skyscrapers, and a range of animals you'd likely see on 'I'm A Celeb…', this walk is not to be missed. Take the 123 steps upwards at the end of your walk, where hopefully you've planned someone to drive the car around and pick you up.
On the way to the forest
Central Station Rainforest
Depending on the Fraser Island day trip you booked and the time that you have left, from here you can continue to explore the island. Stop off at the famous SS Maheno shipwreck or head straight back, either way, you're looking at a good 1.5-hour drive all the way back to the Fraser Island ferry terminal.
THINGS TO DO IN FRASER ISLAND
LAKE MCKENZIE
One of the best things to do in Fraser Island is to chill out at Lake Mckenzie, soaking up the sun and spending a few hours floating around in the purest water you'll ever see. All whilst it doubles up as the most natural spa treatment going.
EURONG
Another great thing to do is to go shopping in the town of Eurong, enjoy the bakery and grab a drink with friends. This is the largest town on the island and a great place to stop off during your day trip to Fraser Island.
CENTRAL STATION RAINFOREST
Take a walk through the rainforest, marveling at nature right in front of your eyes, walking alongside the most beautiful creek I've ever seen. Beware, this rainforest is home to snakes, lizards, and spiders which you can expect to see on Fraser Island.
SS MAHENO SHIPWRECK
The SS Maheno is the most famous of Fraser Island's wrecks and has become a landmark attraction. Kayak around this shipwreck, take photos and enjoy this incredible location on Fraser Island.
CHAMPAGNE POOLS
Champagne Pools is a swimming spot on Fraser Island, famous for its pools of bubbling water caused by waves crashing against volcanic rock.
SS Maheno Shipwreck Fraser Island
WHAT TO PACK FOR FRASER ISLAND
When visiting Fraser Island, here is a list of items I highly recommend bringing with you;
Lastly, I recommend purchasing an eSIM online in advance and enjoying unlimited data throughout all Australia
OTHER FRASER ISLAND TOURS
FRASER ISLAND 4WD HIRE
If you don't fancy doing a Fraser Island tour and feel brave enough to tackle the island on your own, why not consider a Fraser Island 4WD hire with Aussie Trax. With offices in Hervey Bay or on Fraser Islands Kingfisher Bay Resort, grab yourself your very own 4WD, a map, and instructions on where to go, and head out to explore on a DIY day trip.
Fraser Island 4WD hire prices include vehicle hire, barge transfers, vehicle permits, and standard insurance. With around four of you in one car, you're looking at $159 AUD per person. This is a great way to see a different side of Fraser Island, at your own pace.
FRASER ISLAND ACCOMMODATION
If you're staying longer on the island and searching for where to stay, you only have a few options. A couple of hotels, holiday homes, or camping options are available on the island which I have broken down into the three options with all you need to know about staying on Fraser Island.
Luxury: Kingfisher Bay Resort
This is the first and one of the largest resorts on Fraser Island. Luxury accommodation with a swimming pool, spa rooms, and villas. With large comfortable beds in every room and interconnecting rooms, this luxury resort on Fraser Island makes for the perfect family vacation. Located on the western side of the island, you'll escape some of the tourism traffic at this resort. With Lake Mckenzie just 12km away, hop in your 4WD and head out for the day exploring. You also have a shop just 0.1km from the accommodation.
Mid-Range: Orchid Beach Retreat
Fancying something a little more affordable, this Fraser Island resort is perfect for you and your friends whilst visiting Fraser Island. This holiday home sleeps up to 8 people and is located on the Northwestern side of the island. Again, away from tourist traffic, this resort would be perfect for those navigating the island on their own. With large comfortable beds, sleeping up to 8 people in the home, this resort is great for entertaining a big group of friends when looking for where to stay on Fraser Island. Outdoor areas, a fully equipped kitchen, and private bathrooms are also features of this resort.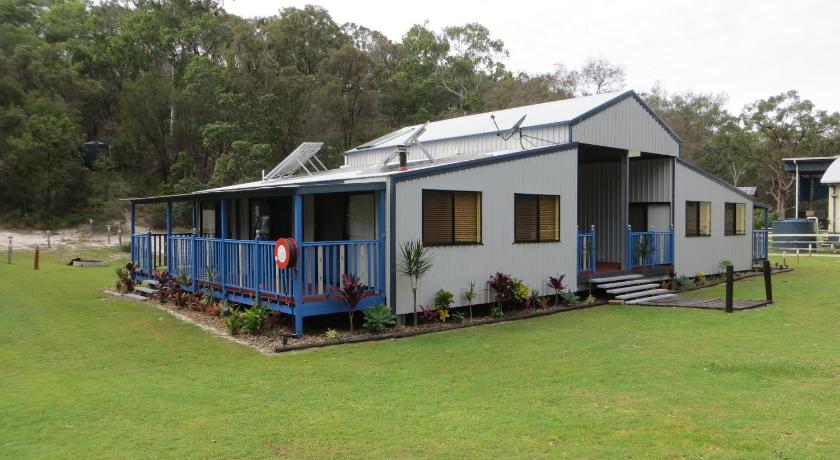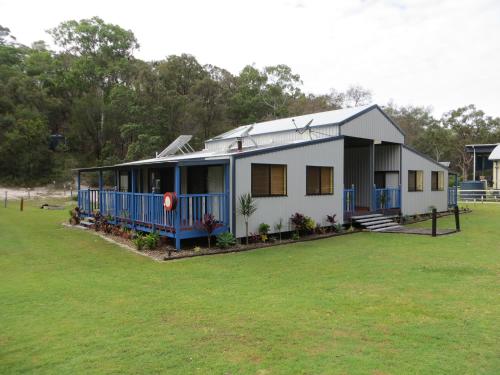 Budget: Dilli Village Campground
The most common and most affordable accommodation option on Fraser Island has to be camping. Most people visiting Fraser Island on their own, tend to be campers. There are campgrounds located up and down the island, with a fair few located on 75 Mile Beach. The closest to the ferry terminal and probably one of the larger campgrounds is Dilli Village. Fraser Island camping costs here can vary, depending on the time of year. The amenities are simple with a toilet/shower cubicle and you must obtain a Fraser Island camping permit (at very little cost) to stay on Fraser Island. I would also like to point out the heavy presence of Dingos on the island, so if you do decide to camp, make sure you keep all food out of sight and out of reach… The Dingos will help themselves!
FRASER ISLAND CAMP INFORMATION
I just want to touch a little bit more on Fraser Island camp information as I said, it's the most common and cheapest way of staying on the island but there are a few things you need to know beforehand.
Camping permits apply for camping on the island. These costs for Fraser Island camping permits are around $6.65 AUD per person, per night. Family rates are also available.

Fraser Island camping permits cannot be purchased on the island. They must be purchased at information stations before getting to the island.

Campgrounds do have Dingo deterrents… but take extra care!

Campfires are prohibited unless using one of the fire rings at certain Fraser Island camp areas.
FRASER ISLAND FACTS
Eliza Fraser was onboard a ship that wrecked onto the island and taken in by the Badtjala people. She later wrote about her experience and from then on, the island was named Eliza Fraser's Island. It was then shortened to Fraser Island before being shortened again to just Fraser Island.
Fraser Island has been renamed once again to K'Gari, meaning Paradise. More and more the term K'Gari is being used and it's expected, that within a few years it'll no longer be known as Fraser Island and instead, be known as K'Gari.
The beach (75 Mile Beach), although it just looks like a beach, is actually a registered Queensland Highway and road rules apply. There are speed limits, road signs, and plenty of vehicles, making this one of the most unique roads in the world.
As I've mentioned before, Fraser Island is the largest sand island in the world and is a UNESCO World Heritage Site.
Dingos have a heavy presence on the island (for anyone who doesn't know, a Dingo is part of the wolf family and looks like a dog). They're thought to be some of the purest Dingos in the world, due to the lack of disturbance from other animals. Although Dingos look like dogs, they're far from it and are believed to be quite vicious at times, due to their wild nature.
MORE AUSSIE TRAVEL GUIDES
The east coast of Australia boasts awesome beaches, lakes, waterfalls, hikes, and many more fun-fuelled adventures waiting to be had.
Click on the links below to see more related posts:
TRAVEL RESOURCES FOR YOUR NEXT TRIP
Whether you're a seasoned traveler or it's your first trip overseas, here are some useful travel resources to help you kick-start your next adventure!
BOOKING.COM – search and book accommodation worldwide
SKYSCANNER – compare and book cheap flights to anywhere
VIATOR – find tickets, tours, and experiences around the world
BOOKAWAY – book buses, trains, and transfers online in advance
RENTAL CARS – search all rental cars in your next destination
GROUP TRIPS – join one of my epic small group trips
TRAVEL INSURANCE – purchase World Nomads travel insurance
TRAVEL MONEY CARD – get a Wise card today for free
Looking for more? Check out my Travel Resources page for further help with your trip planning!
FINAL THOUGHTS
In my opinion. whichever tour you do, whether that be an organized tour or whether you navigate the island on your own, you really can't go wrong.
This incredible island has so much to offer, so many unique factors about it, and really does have some jaw-dropping scenery. From the Fraser Island lakes to the lush rainforests, the 75 Mile beach, and the shipwrecks, this epic little island will never leave you wanting more.
Take a packed lunch or have your lunch provided when booking a Fraser Island day tour, chill out on the beaches or explore the rainforests. One day on Fraser Island sometimes doesn't feel enough. I can't rave about this island enough and highly recommend each and every one of you to book a Fraser Island day tour as soon as possible. It'll definitely be the highlight of your trip to Australia!
I hope you enjoyed reading this article and if you have any questions at all about this Fraser Island Day Trip, please leave me a comment below and I will get back to you as soon as I can.
For a quicker response, be sure to join Jonny Melon's Travel Tribe on Facebook and post your questions or recommendations to our awesome community.
THANKS FOR READING
Hey friend, thanks for reading this guide!
Please know this post may contain affiliate links. When making a purchase through one of my links, I earn a small kickback at no extra cost to you and it's a big help to keep the site up and running. Rest assured, I only promote products and services that I personally use and recommend.
Many thanks!