Copacabana Bolivia is a small yet exciting town that resides on the southeastern end of Lake Titicaca.
When a fellow backpacker I had met at a hostel in Peru recommended I should visit Copocabana Bolivia, I did a quick google search to check it out and I was sold instantly!
I spent two days exploring Copocabana Bolivia and have put together this easy guide of 3 Top Things To Do In Copacabana to help you craft together your own itinerary.
HOW TO GET TO COPACABANA BOLIVIA
The only way to reach this lakeside town is by bus. The most reputable bus company in Peru and Bolivia that I discovered to be the most comfortable and reliable is Peru Hop.
They offer many different bus routes and itineraries throughout Peru and Bolivia and I highly recommend traveling with them.
Puno to Copacabana bus:
If you are traveling from Puno to Copacabana, the Peru Hop bus leaves at 8:30 am and arrives in Copacabana around 1:30 pm, stopping at the Peru/Bolivia border crossing along the way.
La Paz to Copacabana bus:
For travelers departing from La Paz to Copacabana, the bus leaves at 7:00 am and arrives at 11:30 am.
Click Here to visit the Peru Hop website for more information and to book your bus tickets online.
COPACABANA BOLIVIA MAP
Click here to see the location on Google maps.
TOP 3 THINGS TO DO IN COPACABANA BOLIVIA
VISIT LAKE TITICACA
The first adventure you'll want to tick off your list of things to do in Copacabana is visiting Lake Titicaca, which is the largest lake in South America and the highest lake in the world!
From the center of town, it's no more than a five to ten-minute walk to get down to Copacabana Titicaca.
On the lake, there are many different water sports and activities to enjoy including paddle boarding, zorbing, banana boats, and more!
Pssst! Check out this AWESOME travel bag!
The Nomatic 40L is the best travel bag on the market, perfect for weekend trips or month-long adventures!
Featuring multiple compartments for clothes, shoes, laptop, water bottle, RFID-protected pocket, and more.
It's designed to fit the maximum size allowed for carry-on luggage, so you'll never have to spend money on check-in baggage again!
HIKE TO CERRO CALVARIO
My favorite spot in Copacabana Bolivie is the viewpoint at the top of Cerro Calvario.
My friends and I hiked up to the summit of Cerro Calvario for sunset which offers extensive panoramic views over Lake Titicaca, Copacabana, and nearby islands.
From the center of town, the hike to Cerro Calvario takes around forty minutes and there are two ways of reaching the top.
One trail begins at the northern end of Copacabana Bay, next to Flores Del Lago Hostal, and this rocky path leads up the front face of the mountain, emerging at the summit of Cerro Calvario.
This is the trail that I hiked to the top and I found some awesome rock formations along the way that made for a great photo!
The second trail is a much easier option for reaching Cerro Calvario. The trail begins at the end of Sendero al Cerro del Calvario Road and it is a moderate incline up the stone steps until you reach the topmost viewpoint.
At the summit of Cerro Calvario, you can find local vendors selling beers, soft drinks, water, and snacks to enjoy while watching an unforgettable sunset over Lake Titicaca.
The BEST Affordable Camera For Travel
If you're on the hunt for a professional camera for traveling, check out the Canon G7 X Mark II.
This tiny camera fits in your pocket, captures high-quality photos and videos, and has Wi-Fi so you can instantly transfer to your phone!
DAY TRIP TO ISLA DEL SOL (ISLAND OF THE SUN)
According to legend, it is said that Isla Del Sol was the birthplace of the first Incas and more than 80 ruins can be found scattered across the island.
During a day trip to Isla Del Sol, you can discover postcard landscapes, important archaeological sites, and Quechua and Aymara communities that to this day still maintain their ancestral traditions.
Isla Del Sol is the largest island on Lake Titicaca and there are no motor vehicles or paved roads, giving you that sense of feeling of being disconnected from modern civilization.
You can arrange a day trip to Isla Del Sol at one of the many tourist offices upon arriving in Copacabana or book online ahead of time.
I personally booked my Isla Del Sol Tour with Madre Tierra Travel, an adventure tour company that offers dozens of tours throughout South America.
Click Here to book an Isla Del Sol Tour with Madre Tierra Travel.
WHERE TO STAY IN COPACABANA
Copacabana has dozens of accommodation options to choose from, so I have narrowed it down to a few of my favorite places to stay to fit the needs of budget backpackers, luxury travelers, and everyone in between.
See the list of accommodations below that I personally recommend:
The only 4-star hotel in Copacabana! The Rosario Hotel offers spacious rooms with beautiful views over Lake Titicaca.
There is also an in-house restaurant serving fresh trout dishes that are complemented by Bolivian wines.
Perfect place to stay for couples who want to stretch their budget a little and enjoy the best hotel in Copocabana Bolivia.
Hotel Lago Azul has one of the best-rated locations in the area.
With stunning views over the lake, the rooms feature large-sized beds, private bathrooms, and free wifi. A buffet breakfast is also included at Hotel Lago Azul.
The perfect location in Copacabana within walking distance of the main street and the lake.
Enjoy your own double room with a private bathroom and free wifi. The staff are very friendly and happy to assist when needed.
Hostal La Casa Del Sol is perfect for budget backpackers and couples.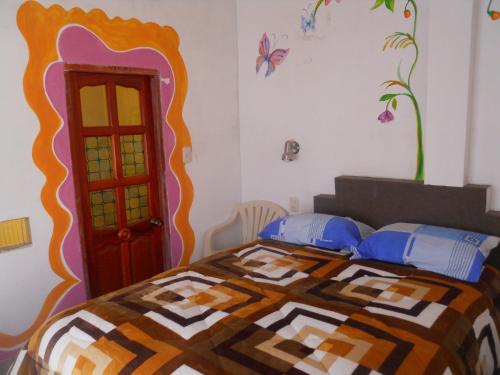 WHAT TO PACK FOR BOLIVIA
When visiting Bolivia, here is a list of items I highly recommend bringing with you:
Must-Have Travel Essentials
Keep your cash and other valuables safe with this anti-theft hidden money wallet!
---
The GRAYL GeoPress is the best reusable bottle that allows you to purify water from anywhere!
---
---
---
MORE CENTRAL & SOUTH AMERICA TRAVEL GUIDES
FINAL THOUGHTS – COPACABANA BOLIVIA
Thanks for reading this article and if you have any questions at all about What To Do In Copacabana, please leave me a comment below and I will get back to you as soon as I can.
For a quicker response, be sure to join Jonny Melon's Travel Tribe on Facebook and post your questions or recommendations to our awesome community.
TRAVEL RESOURCES FOR YOUR NEXT TRIP
Whether you're a seasoned traveler or it's your first trip overseas, here are some useful travel resources to help you kick-start your next adventure!
THANKS FOR READING
Hey friend, thanks for reading this guide!
Please know this post may contain affiliate links. When making a purchase through one of my links, I earn a small kickback at no extra cost to you and it's a big help to keep the site up and running. Rest assured, I only promote products and services that I personally use and recommend.
Many thanks!
PIN IT FOR LATER