Cebu is one of the most popular destinations in the Philippines – boasting epic waterfalls, panoramic viewpoints, whale sharks, island-hopping, and more!
There are countless activities to add to your Cebu itinerary, enough to keep you entertained for weeks if you had the time.
However, it seems most travelers generally spend around 5 days in Cebu so I have put together this 5 Day Cebu Itinerary to help you plan the perfect trip.
Also in this Cebu travel guide, you will find other useful information on how to get to Cebu, where to stay in Cebu, how to get around, and the best time to visit.
OVERVIEW – CEBU ITINERARY
Here is an overview of an ideal 5 Day Cebu Itinerary with my recommendations of places to visit in this order:
Cebu City (1 day)
Moalboal (3 days)
Oslob (1 day)
DAY 1: CEBU CITY
Cebu City is located on the Central East Coast of Cebu Island and I recommend spending the first day here upon arriving and exploring some of the Cebu tourist attractions in the city.
From Cebu Mactan International Airport, it's approximately a 30-minute drive to Cebu City and you can pre-book a transfer from the airport to your hotel.
CEBU CITY TOURS
To maximize your time in Cebu City and to see all of the sites on the first day, I recommend booking a guided city tour online in advance with Viator.
WHERE TO STAY IN CEBU
Cebu City has hundreds of accommodation options to choose from, so I have narrowed it down to a few of the best places to stay in the city.
See the list of accommodations below that I personally recommend.
Luxury: Radisson Blu Cebu City
Radisson Blu Cebu is the best 5-star accommodation in Cebu City!
The hotel is centrally located and features direct access to SM Mall, a large outdoor swimming pool, 3 dining options, and close to the airport.
The rooms offer panoramic views of the city and are fitted with a flat-screen TV, a large memory foam bed, 24-hour room service, air conditioning, spacious living, and a private bathroom.
It's the perfect place to stay for couples, families, or friends.
Mid Range: Cebu Parklane International Hotel
Parklane International Hotel is a very affordable 3-star accommodation located in the heart of Cebu City. It's within walking distance to Ayala Center and other nearby attractions.
Features include an outdoor swimming pool, fitness center with sauna, 3 dining options, and free wifi.
The rooms are spacious and fitted with large comfortable beds, air conditioning, flat-screen TV, work desk, sofa seating, and a private bathroom.
Recommended place to stay for couples, friends, or families.
Budget: Murals Hostel & Cafe
I personally stayed at Murals Hostel on several occasions and can't recommend this place enough! It's centrally located and has a Cafe attached.
There are dorm rooms, private rooms, and capsule-style rooms, perfect for solo travelers, friends, or couples.
There is also a really great co-working space with high-speed wifi!
DAY 2: MOALBOAL
The best places to visit when visiting Cebu are located in the South Cebu region and you'll want to base yourself in the popular town of Moalboal which is located on the South East Coast of the island.
The earlier you leave Cebu City on day 2 the better because there will be less traffic on the roads and you will have some time to start exploring when you arrive in Moalboal.
HOW TO GET FROM CEBU CITY TO MOALBOAL
From Cebu City to Moalboal, the best option is to take the public bus from South Cebu Bus Terminal in Cebu City.
There are hourly departures from Cebu City to Moalboal from South Cebu Bus Terminal starting as early as 5 am.
From Cebu City to Moalboal, the journey time is around 3 to 4 hours on the bus and the cost is 160 pesos.
When you arrive at the bus station in Moalboal it's best to take a tricycle to your accommodation in the tourist area of Moalboal which is a 15-minute drive and the cost is around 100 pesos.
The BEST Backpack For Backpacking!
Less is more with the Atmos AG 50L, the newest arrival in the Osprey backpacking range!
From weekend explorations to month-long expeditions, this EPIC backpack is up to the task and will stand the test of time.
GETTING AROUND SOUTH CEBU
There are a couple of options on how to get around South Cebu and they are by scooter, habal habal (motorbike taxi), tricycle, and jeepney.
You can rent a scooter in Moalboal for as little as 300 pesos per day and make your own way around to all of the South Cebu tourist spots.
If you are not confident driving a scooter, the other option is to ride in a jeepney, tricycle, or habal habal.
WHERE TO STAY IN MOALBOAL
Moalboal has hundreds of accommodations to choose from, so I have narrowed it down to a few of the best places to stay during your visit.
See the list of accommodations below that I personally recommend.
Dolphin House is the best luxury accommodation in Moalboal, located a stone's throw away from the ocean. Features included a pool, a restaurant and bar, free wifi, and ocean views.
There are double rooms, triple rooms, family rooms, and bungalows available at Dolphin House Resort.
It's recommended for families, friends, or couples looking for a luxurious stay.
One of the most recommended places to stay in Moalboal, Pescadores Suites offers double rooms, twin rooms, and a garden villa.
There is an outdoor swimming pool and sun terrace, restaurant, mini-market, table tennis, billiards, board games, karaoke room, and wellness spa.
It's a great place to stay for friends or couples.
The best budget accommodation in Moalboal, centrally located just minutes from the beach and a 1-hour drive to Osmena Peak.
Chief Mau hostel offers dorm rooms and private rooms with free wifi. The owner Trish is super lovely and goes out of her way to make all of her guests feel welcome and comfortable.
There is a shared lounge with hammocks, a billiards table, and an in-house restaurant and bar serving up the best western food in Moalboal.
For solo travelers, couples, or friends on a budget, this is the spot for you.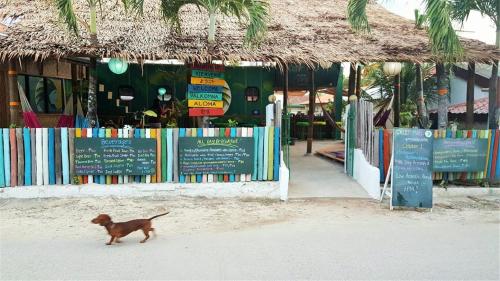 MOALBOAL
Once you are settled into your accommodation in Moalboal, I suggest renting a scooter for the 3 days that you will be here.
As I mentioned earlier, you can rent a scooter for as little as 300 pesos per day from your accommodation or from a scooter rental store in the town.
For your first day in Moalboal, I recommend checking out the many cafes, restaurants, bars, and beaches in the area to get a feel for the place.
It's a buzzing little town and I guarantee you will love it!
SWIM WITH SARDINES IN MOALBOAL
One of the most popular attractions is the Sardine Run in Moalboal.
Swimming with millions of flashing silver sardines as they circulate around you in an almost hypnotic spectacle is a once-in-a-lifetime experience!
The sardines gather just offshore from Panagsama Beach, the main beach in Moalboal.
To go swimming with the sardines all you need to do is rent a mask and snorkel for 100 pesos from your accommodation or from a store in town and swim out just 30-50 meters to where you will find the masses of sardines swimming around.
The sardines move around in spherical shapes known as bait balls to trick their predators and they tend to stick close to the surface where the water temperature is warmer.
They might be intimidating and scary at first but all you need to do is relax and marvel at the sardines as they move around in large schools.
DAY 3: KAWASAN FALLS / OSMENA PEAK / CASINO PEAK
On day 3 of your Cebu Island adventures, I recommend starting the day early at the famous Kawasan Falls and then venturing on to the highest point on the island, Osmena Peak, and finishing off the day at Casino Peak.
KAWASAN FALLS CANYONEERING
Kawasan Falls Canyoneering in Badian is without a doubt the most popular tourist spot in Cebu!
Whether it's your first-time canyoneering or not, the Kawasan Falls experience is not to be missed.
Kawasan Falls is located just 45 minutes drive south of Moalboal. I recommend pre-booking a Kawasan Falls Tour online in advance with Viator to get the best rates.
MY EXPERIENCE AT KAWASAN FALLS
Upon arriving at the Kawasan Canyoneering Headquarters, we met our guide Raul who got us fitted into the required safety equipment such as water shoes, life jackets, and helmets.
We took a ride on the back of a motorbike to the top of the mountain and before we knew it we were completely submerged in the first rock pool.
Soon after, Raul made us sit down at the edge of a one-meter cliff before he gently pushed us backward over a small set of falls into another rock pool below. At this point, I knew we were in for an epic adventure!
We then continued navigating our way through knee-deep water that was as clear as crystal. The water trail took us through some amazing caves and natural rock slides.
There were also numerous cliff jumps ranging anywhere from three meters up to fourteen meters. Do note that if you are afraid of heights you've always got the option to walk around the cliffs instead of jumping.
When you reach the end of the canyon it will bring you to the famous Kawasan Falls.
You can spend as much time as you like at Kawasan Falls as there are about five different levels of waterfalls and several big cliff jumps to keep you entertained.
There are also a few restaurants by the main waterfall to grab something to eat and drink at the end of your adventure.
Check Out This Must-Have Travel Accessory!
When arriving in a new country, not being able to charge your phone and gadgets is a nightmare.
Equip yourself with a Universal Travel Adapter which works in 150+ countries around the world.
OSMENA PEAK
After Kawasan Falls, you can drive up the mountain roads to Osmeña Peak which is most famous for being the highest point on Cebu Island.
There is an allocated parking lot located near the entrance to Osmena Peak where you can park your scooter and the parking fee is by donation.
From the car park, follow the stone path up to the registration office to get your entrance ticket.
The Osmena Peak entrance fee is 30 pesos which includes a guide if you would like one but it's not necessary as the trail is clearly marked and can be easily navigated on your own.
From the jump-off point, the hike to Osmena Peak is a short fifteen to twenty minutes along a narrow, rocky path passing by thinly forested areas and farmer's crops.
At 1,013 meters above sea level, Osmena Peak boasts panoramic views of the coastlines on both sides of South Cebu and of course, the most fascinating hill formations that you will have likely never seen before.
These interesting rocks, hills, peaks, whatever you want to call them are other-worldly and it boggles me as to how they came to be.
From the summit of Osmena, these dominant peaks are seemingly endless as they stretch across the land like the spine of a Stegasaurus dinosaur.
Some say these rolling hills are reminiscent of Chocolate Hills in Bohol as the landscape is quite similar. Though each of these spots is unique to its location.
In the deep valleys below Osmena Peak in Cebu, you can see vividly green fields of farmer's crops and on a clear day, you can spot the neighboring islands of Negros and Bohol.
CASINO PEAK
Next up is the Casino Peak hike, also referred to as Lugsangan Peak. If you are planning to visit Osmena Peak, I highly recommend taking the time to check out Casino Peak as well.
Chances are you might even like this viewpoint better and I guarantee there will be fewer people at Lugsangan Peak, with a view that is equally as amazing!
After you pay the 30 pesos entrance fee, it's a short ten-minute hike to the summit of Casino Peak to where you'll be welcomed with panoramic views of nearby rolling hills and pristine coastline below.
Along the trail, you'll likely see some goats grazing in the long grass and when you reach the plateau at the top, there is a crop field with many rows of cabbages which I later found out belonged to the landowners.
You may think you have arrived at the top when you reach this point of the trek and I also thought the same because the trail isn't clearly marked.
However, continue navigating your way around the rocky outcrop on the right-hand side and you'll find the path to the Casino Peak summit.
The last section of the hike is a bit of a scramble up the rocks where we had to get our hands dirty but it was all worth it when we reached the summit of Casino Peak!
I must admit, I have never seen a viewpoint quite like the one from Casino Peak.
Have you got travel insurance for your trip?!
We all know accidents can happen and having Heymondo Insurance will save you thousands of dollars if something goes wrong.
Heymondo offers low-cost Travel Insurance to keep you covered on all your adventures.
DAY 4: AGUINID FALLS / BINALAYAN FALLS / DAO FALLS / INAMBAKAN FALLS
Day 4 of this Cebu itinerary is an ultimate adventure day to four of the best waterfalls in South Cebu!
I recommend taking off from Moalboal as early as you can and starting the day at Aguinid Falls, which is the furthest waterfall south of Moalboal, and then working your way back up north to the other three waterfalls.
It will be a massive day of adventuring so pack everything you think you might need for the day such as water, snacks, sunscreen, power bank, charged cameras, etc.
AGUINID FALLS
Aguinid Falls is one of the most unique waterfalls in South Cebu, featuring multiple tiers and stunning cascades which make it one heck of an adventure.
Aguinid Falls is not quite as popular as Kawasan Falls just up the road, but the word is spreading quickly about this awesome tourist destination in Cebu that supports eco-tourism.
From Moalboal, it's approximately a 1 hour and 20-minute drive south along the coastline to reach Aguinid Falls.
The entrance fee to Aguinid Falls is 300 pesos which includes compulsory safety equipment (wet shoes, helmet, and life jacket), two guides, and also the tip for the guides.
As I mentioned earlier, Aguinid Falls is a multi-tiered waterfall with eight levels of falls to be exact. Eight freakin' waterfalls, can you believe it?!
Although the locals say there are eight levels of falls, only six levels are currently accessible as they are still working to improve the trail to the higher levels.
This is not your typical waterfall where you take a short trek in, go for a dip and take photos, but rather an epic and very physical adventure that involves jumping, climbing ropes, and navigating your way through the cascading falls.
It took us around two hours to complete the Aguinid Falls tour but that included many stops to take photos. For the average person, it would take around one hour from start to finish.
BINALAYAN FALLS
Binalayan Falls (also referred to as Binalayan Hidden Falls) is one of the best Cebu waterfalls.
Binalayan Falls is located right around the corner from Agunind Falls, no more than a 2-minute drive to the entrance.
The entrance fee is 60 pesos which includes a guide and there is also a 10 pesos parking fee.
The first tier at Binalayan Falls features a shallow crystalline rock pool, a rest area with some make-shift benches and a tire swing hung from a tree.
It's definitely worth taking a short break here in this tranquil little section of the trek.
The main falls at Binalayan Waterfall boast a 50ft tall rock face and the flow of water is divided into three separate streams that fill the basin beneath.
There is a cave behind the falls from which you can climb up and jump from, but it's best to let your guide go first to show you how it's done.
The water is around two meters deep so I wouldn't recommend diving headfirst. I touched the sandy bottom with my feet when I jumped, even with my knees bent.
There is also a range of cliff jumping spots on the left-hand side of the falls, but even this is a bit sketchy due to the pool below being quite shallow.
Only jump from a height you feel comfortable with, even if the guide encourages you to jump from a higher level just say no.
Apart from cliff jumping, you can hang out in the crystalline waters and explore the natural caves behind the falls.
Take Your Photos & Videos To New Heights!
The DJI Mini 3 Pro is the most affordable, user-friendly drone camera suitable for all levels!
This travel-sized drone captures 4K/60fps video, 48MP photo, and has 34 minutes flight time.
DAO FALLS
My visit to Dao Falls in Samboan was low-key one of the best adventures I had in South Cebu.
Dao Falls is around 6km north of Binalayan Falls and it's no more than a 15-minute drive to reach the jump-off point.
So what is so unique about Dao Waterfall? Well, to start with, it's recognized as the tallest set of falls in the Samboan region and secondly, the jungle trail trek to get to the main set of falls is an epic adventure in itself!
The entrance fee to Dao Falls is 60 pesos which includes a guide and the parking fee is an additional 10 pesos.
Trekking to Dau Falls from the parking lot takes around twenty to thirty minutes including stops for photos. It isn't a difficult trek by any means though do note that your feet will get wet along this jungle trail.
In most parts, it requires walking through knee-deep water and I recommend bringing a pair of slip-on waterproof shoes for these sections.
It wasn't long until we were completely immersed in a dense jungle as we followed the canyon trail upstream which seemed to grow narrower the further we advanced.
It was one of the most tranquil trails I have ever hiked along.
Vines cover the canyon walls and blue Gatorade-colored waters cascade seamlessly past as we navigated our way toward Dao Waterfall.
The adventurous hike to Dao Falls, in my opinion, is what makes this location so unique.
There are many turquoise rock pools along the way that are well worth stopping at for a quick dip and this is where you'll likely get your best photos.
When you reach the top you'll be graced with the epic sight of Dao Falls which towers 50-meters tall above the large catch basin.
The pools at the base of the falls aren't quite as blue as the ones on the way up but it is still a worthy spot for a swim to cool off after the hike.
INAMBAKAN FALLS
Last but not least on day 4 is Inambakan Falls in Ginatilan.
Featuring blue Gatorade-colored springs, the jungle surrounds and multiple levels at Inambakan Falls make this one of the most epic tourist spots to explore.
Inambakan Falls is located in the small village of Ginatilan just 20 minutes drive north of Dao Falls. The entrance fee at Inambakan Falls is 50 pesos and an additional 10 pesos for parking.
The hike down to the main falls takes no more than 5 minutes from the jump-off point and the trail winds upstream until it emerges at the base of the 100-foot tall Inambakan Falls.
My favorite feature of Inambakan falls is the milky blue pool of water in the catch basin which gets its color from the limestone cliffs that surround the falls. It seriously looks inviting enough to drink!
Once you've taken a dip in the milky blue waters at the main set of falls, continue hiking along the trail and up the stairs to the next few levels of these Ginatilan Falls.
You can stop in at the second level of Inambakan which features a shallow rock pool right at the top of the main set of falls.
Watch your step on the rocks at this spot as they are very slippery and it's a long way down if you fall.
The level up from here was my favorite because there are several cliff jumping spots into a number of refreshing rock pools.
I did a depth check first before throwing myself off different rocks into the crystalline waters of Inambakan Falls.
Continuing on, I followed the trail up a little higher to the top level of Inambakan Falls which features a large swimming hole and more cliff jumping spots.
The lush jungle that surrounds the area contrasts beautifully with the water and adds to the tranquility of this epic tourist spot.
DAY 5: OSLOB
On the final day of your Cebu itinerary, take an early bus from Moalboal Bus Station and travel south to Oslob which takes approximately 2.5 hours.
The most popular tourist attractions in Oslob are swimming with whale sharks and Tumalog Falls.
There's also an awesome half-day trip you can do from Oslob over to Sumilon Island which I will explain in detail below.
SWIMMING WITH WHALE SHARKS
Swimming with whale sharks is the main tourist attraction in South Cebu. Even though it's a controversial activity, it's also a very unique experience.
The Oslob Whale Shark experience is rated as one of the best places to swim with whale sharks in the Philippines.
Every morning between the hours of 6 am and 12 pm, local Filipino fishermen feed the whale sharks close by to the shore.
Small wooden boats then chauffeur tourists out to where it's possible to jump in the water and swim with the whale sharks.
The Oslob whale shark watching area is no further than 50 meters from the beach. Before you know it you will arrive at the designated spot and the boatman will tell you to jump into the water.
As soon as you dive off the boat you will encounter these beautiful gentle giants face to face just beneath the surface.
Make sure to be mindful of your surroundings when swimming with the whale sharks so that you don't accidentally touch them or kick them by accident as they are not shy and will swim right up next to the boat.
A common question that gets asked is if it's safe to go swimming with whale sharks in Cebu and the answer is Yes, 100%.
Even though whale sharks are the biggest fish in the ocean that can grow up to 32ft and weigh 200 tonnes, they are very humble creatures and there's nothing to be afraid of.
The Cebu whale sharks activity has been controversial since it started. I would much rather see the whale sharks in their natural habitat without feeding them and without crowds of tourists.
However, the community in Oslob seems to be working hard to control and educate the crowds, and limit impacts on the whale sharks.
Capture All Your Adventures!
I'm sure y'all know by now that GoPro's are arguably the best action cameras on the planet!
The new GoPro HERO 11 boasts 5.3K video, 27MP photo, HyperSmooth stabilization, and waterproof up to 10m!
TUMALOG FALLS
Tumalog Falls in Oslob is one of the most popular tourist spots!
A visit to Tumalog Falls is typically combined with the Oslob Whale Shark Tours or you can visit DIY after swimming with the whale sharks.
The Tumalog Falls entrance fee is 20 pesos if you plan to visit without a tour and the opening times are Monday to Sunday from 6 am to 5 pm.
Tumalog Falls is quite unique, featuring a mellow curtain of water falling down the face of a monolithic limestone cliff.
There is a large swimming area at the base of the falls where you can take a dip to cool off.
The color of the water in the basin is that classic milky blue tinge that the Philippines is most famous for!
Tumalog Falls Oslob is surrounded by tall bamboo and mossy walls adding to the jungle vibes that you will find here.
A large cave can also be found on the left-hand side of the falls if you wish to explore deeper and get another cool perspective of Tumalog Falls from inside.
There are change rooms and toilet facilities for guests to use and also a small sari sari store if you wish to buy some water and light snacks.
SUMILON ISLAND
Sumilon Island is a must on everyone's Cebu itinerary just 20 minutes boat ride from Oslob. It's the best day trip or overnight stay you can do when exploring South Cebu.
The only access to Sumilon Island is by boat which departs daily from Mainland Bancogon in Oslob to Sumilon Island at 8:00 am, 9:30 am, and 11:00 am.
The return boat from Sumilon Island to Mainland Bancogo departs at 12:00 pm, 1:30 pm, 3:30 pm, and 5:00 pm.
I recommend purchasing the Bluewater Sumilon Day Pass online in advance with Viator which gives you access to all of the facilities at Bluewater Sumilon Island Resort such as the infinity pool, private beach area, freshwater lagoon, and restaurant.
The Bluewater Sumilon Day Pass also includes other activities on Sumilon Island such as snorkeling, Sumilon sandbar, hiking trails, and return boat transfers from Oslob.
If you wish to spend a night on Sumilon Island, there is only one accommodation on the island and that is the Bluewater Sumilon Island Resort.
This 4-star resort features its very own private beach, a freshwater lagoon, outdoor infinity pool, 2 restaurants, glamping tents, beachside cottages, and private villas!
The Sumilon Island sandbar is the most iconic attraction on the island and the best spot to watch the sunset.
There was only one other couple on the Sumilon sandbar when I arrived and that was it! Sumilon island really proves itself as one of the best-kept Cebu tourist spots.
Sumilon Island sandbar is best visited on low tide when there is more exposed sand, though it's also just as good on high tide in my opinion.
Fine white sand and crystalline waters are what make this sandbar so pristine.
As well as the Sumilon sandbar, you can go snorkeling around the reefs, climb up the ladders for some rock jumping and go for a short hike along the jungle trail to the lighthouse.
WHERE TO NEXT?
Wondering where to head next after your 5 days in Cebu? Well, you have a few options which I have listed below.
OPTION 1: CEBU TO SIQUIJOR
Siquijor Island is a mystical paradise with many awesome things to do including epic waterfalls, white sand beaches, iconic landmarks, awesome cliff jumps, and more!
Siquoijor Island is located right beneath the southeastern tip of Cebu Island and can be easily reached by ferry.
If you are still in Oslob, you can take the public bus south to Liloan and there are only two ferry departures per day leaving from Liloan Port in Cebu at 7 am and 7 pm, bound for Larena Port in Siquijor.
The ferry from Cebu to Siquijor takes approximately 1-2 hours and the cost is around 200 pesos.
OPTION 2: CEBU TO BOHOL
Bohol Island is one of the most popular islands in the Philippines offering a mecca of adventures such as waterfalls, beaches, cave pools, cliff jumping, island hopping, and, of course, the famous Chocolate Hills.
The most common route is the ferry from Cebu to Bohol which takes approximately 2.5 hours and the cost is around 850 pesos.
There are daily ferry departures from the Cebu Pier 1 Ferry Terminal and it arrives at Tagbilaran Port in Bohol.
Once you have booked your Cebu to Bohol ferry ticket online, on the day of travel you can head directly to Cebu Pier 1 Ferry Terminal at least 30-minutes before departure and present the online booking number to the staff at the check-in counter so they can issue you a seat number.
There is also an additional 25 pesos terminal fee that must be paid in cash on the day.
OPTION 3: NORTH CEBU ISLANDS (MALAPASCUA & BANTAYAN)
MALAPASCUA ISLAND
Malapascua is one of my favorite islands in the Philippines and a great spot to visit after your adventures in Cebu.
Malapascua is world-renowned for its incredible scuba diving sites such as Monad Shoal where you can swim with thresher sharks.
I am not a diver myself but I can tell you now that there are many more fantastic things to do in Malapascua other than diving!
The most common route is from Cebu City to Malapascua with the use of the public bus and then a short boat ride to Malapascua Island.
The bus from Cebu to Malapascua operates on a daily basis and departs every hour from the Cebu North Bus Terminal bound for New Maya Port at the northernmost tip of Cebu Island.
The cost of the bus is around 230 pesos and the journey time is 4 hours.
The bus or minivan will arrive at New Maya Port and from here you will need to take an outrigger boat over to Malapascua Island which takes around 30 minutes.
BANTAYAN ISLAND
Bantayan Island is an off-the-beaten-path tourist destination in Cebu.
There are so many epic things to do in Bantayan Island including white sand beaches, saltwater lagoons, mangrove boardwalks, cave pools, old ruins, skydiving, and island hopping!
The most common route is from Cebu City to Bantayan Island with the use of the public bus and then a short ferry ride to Bantayan Island.
The bus from Cebu to Bantayan Island operates on a daily basis and departs every hour from the Cebu North Bus Terminal bound for Hagnaya Port on the northwestern coast of Cebu Island.
The cost of the bus is around 185 pesos and the journey time is 4 hours.
The bus or minivan will arrive at Hagnaya Port and from here you will need to transfer to the ferry to Bantayan Island which takes around 1 hour.
HOW TO GET TO CEBU
Cebu Island is located in the Central Visayas region of the Philippines.
Cebu Island is very close to the neighboring islands of Bohol and Negros Oriental which can be easily reached by plane or ferry.
BY PLANE:
There are daily flights to Cebu Mactan International Airport connecting domestic travelers from many destinations within the Philippines and also welcoming international arrivals from around the world.
BY FERRY:
There are many ferries operating in and out of Cebu Island that can be booked online in advance.
Visit the 12 Go Asia website to search and book all of your transportation within the Philippines and be guaranteed the best rates.
The BEST way to book your travel in Asia!
12Go Asia is the best online platform to find cheap tickets for buses, trains, ferries, airport transfers, and flights all over Asia!
Save time and money on your travels by using 12Go Asia to organize and book all your transportation.
BEST TIME TO VISIT CEBU
The best time to visit Cebu, weather-wise, is between April and July when temperatures are hot and there is barely any rainfall.
This is also high season in Cebu, so expect to see many tourists during these months.
I recommend visiting Cebu during the shoulder months of the high season between November and March which sees a bit of rainfall but usually only lasts for a couple of hours and the rest of the day is sunny.
Try to avoid the typhoon season in Cebu which is between August and October.
CEBU MAP
Click here or on the image below for an interactive map of Cebu.
WHAT TO PACK FOR CEBU
When visiting Cebu, here is a list of items I highly recommend bringing with you.
Must-Have Travel Essentials
Keep your cash and other valuables safe with this anti-theft hidden money wallet!
---
The GRAYL GeoPress is the best reusable bottle that allows you to purify water from anywhere!
---
---
---
BEST TOURS IN CEBU
FINAL THOUGHTS – 5 DAYS IN CEBU
I hope you enjoyed reading this article and if you have any questions, please leave me a comment below this post and I will get back to you as soon as I can.
For a quicker response, be sure to join Jonny Melon's Travel Tribe on Facebook and post your questions or recommendations to our awesome community.
TRAVEL RESOURCES FOR YOUR NEXT TRIP
Whether you're a seasoned traveler or it's your first trip overseas, here are some useful travel resources to help you kick-start your next adventure!
THANKS FOR READING
Hey friend, thanks for reading this guide!
Please know this post may contain affiliate links. When making a purchase through one of my links, I earn a small kickback at no extra cost to you and it's a big help to keep the site up and running. Rest assured, I only promote products and services that I personally use and recommend.
Many thanks!