Casino Peak (also referred to as Lugsangan Peak) is one of the best adventures to be had in the South Cebu region in the Philippines.
It's a short ten-minute hike to the summit where you'll be welcomed with panoramic views of nearby rolling hills and pristine coastline below.
Casino Peak often gets forgotten about when people visit the mountainous region of Mantalongon as the more popular Cebu tourist spot, Osmena Peak, is located just a five-minute drive down the road.
If you are planning to visit Osmena Peak, I highly recommend taking the time to check out Lugsangan Peak as well. Chances are you might even like this viewpoint better and I guarantee there will be fewer people here, with a view that is equally as amazing!
WHERE IS CASINO PEAK?
Casino Peak is located in the Dalaguete mountain region in South Cebu, Philippines.
Click here to see the location on Google maps.
Dalaguete is 100km southwest of Cebu City and public buses run every hour on a daily basis from Cebu South Bus Terminal to Moalboal, Oslob, and Dalaguete. The cost of the bus is around 150 pesos.
It's best visited from the nearby beach towns of Moalboal or Oslob, which is between 50km – 60km away and approximately 1.5 hours drive.
HOW TO GET TO LUGSANGAN PEAK
The best way to reach Casino Peak Cebu (Lugsangan Peak) is to rent a scooter in Moalboal or Oslob and make your own way up to the hillside city of Mantalongon in the Dalaguete region.
There are many scooter rental stores located in Moalboal and Oslob where you can get your hands on some wheels for around 400 pesos per day with a full tank of gas.
The majority of the roads in this region are tar-sealed though I came across many washouts and potholes along the way which I had to slow right down for.
These mountainous roads are very windy with a lot of blind corners so I highly recommend purchasing travel insurance. Safety first!
Note: I recommend loading the pin location of Casino Peak Hiking Trail on Google maps before you make tracks out here as the phone network coverage up in the mountains is very weak and you may lose signal.
'Maps Me' is a great offline map application that you may want to consider downloading from the app store which would work best in scenarios like this.
Another option is to take the public bus from Cebu City to Mantalongon, a small city located on the top of the mountain and the journey time is around three to four hours depending on traffic.
From the bus station in Mantalongon, you can hail a habal-habal (motorbike taxi) and kindly ask the driver to take you to the jump-off point which is a short 5km up the road. The cost of a habal-habal is around 100 pesos.
Alternatively, you can rent a car for the time you plan to spend in Cebu and travel around the island at your own pace.
BEST TOURS IN CEBU
ARRIVING AT CASINO PEAK CEBU
When you arrive at the Google maps pin location, you'll see a local farmer's house and a small bungalow with a sign that reads 'Lugsangan Peak Information Desk' which is the official ticket office and entrance to the trail.
The entrance fee is only 30 pesos and there is no fee for parking your scooter or car.
I had a chat with the owners and said, "It's pretty awesome that Lugsangan Peak is located in your backyard"! They laughed and said, "Yes it would seem that way but the land is owned by the government, though we get a small cut of the pie to manage the ticket stand and maintain the trail".
The man and her wife are really lovely people and they pointed us in the right direction of the trailhead to begin our hike to the peak.
Lugsangan Peak Information Desk
CASINO PEAK HIKING TRAIL
As I mentioned earlier, the hike to reach the top only takes around ten to fifteen minutes depending on your level of fitness. It's not the hardest or longest hike in the world, but it is quite steep and strenuous.
The hiking trail consists of grass, dirt, and jagged rocks so I would recommend wearing closed-in shoes for this hike. I, however, learned the hard way and slipped over a few times in flip-flops, instantly regretting not having a good pair of walking shoes with me that day.
Along the trail, you'll likely see some goats grazing in the long grass and when you reach the plateau at the top, there is a crop field with many rows of cabbages which I later found out belonged to the owners I had met at the beginning.
You may think you have arrived at the top when you reach this point of the trek and I also thought the same because the trail isn't clearly marked.
However, continue navigating your way around the rocky outcrop on the right-hand side and you'll find the path to the summit.
The hiking trail
Almost at the top
WHAT TO EXPECT AT THE SUMMIT
The last section of the hike is a bit of a scramble up the rocks where we had to get our hands dirty but it was all worth it when we reached the summit!
I must admit, I have never seen a viewpoint quite like this one. These fascinating hill formations are otherworldly and it boggles me how they came to be.
The distant peaks are seemingly endless as they stretch across the land like the spine of a Stegasaurus dinosaur.
There is a narrow ridge along the top of the peak that you can walk across but do so at your own risk. It's quite a big drop if you were to accidentally slip up.
The weather wasn't the best when I visited and it actually rained for about ten minutes when I was on the summit. Regardless of the shitty conditions, I still thoroughly enjoyed the adventure and it was an experience I will never forget!
Lugsangan Peak Cebu
Endless peaks across the land
The ridge walk
WHERE TO STAY IN MOALBOAL
Moalboal has hundreds of accommodation options to choose from, so I have narrowed it down to a few of the best places to stay to fit the needs of budget backpackers, luxury travelers, and everyone in between.
See the list of accommodations below that I personally recommend:
Luxury: Dolphin House Resort Moalboal
Dolphin House is the best luxury accommodation in Moalboal. A stone's throw away from the ocean, this accommodation offers a swimming pool, restaurant and bar, free wifi, and ocean views. There are double rooms, triple rooms, family rooms, and bungalows available at Dolphin House Resort. Snorkeling, diving, activities, and bike rental can also be organized at reception. Best place to stay for families, friends, and couples.
Mid Range: Pescadores Seaview Suites
One of the most recommended places to stay in Moalboal. For less than $40 a night, Pescadores Suites offers double rooms, twin rooms, and a garden villa. There are an outdoor swimming pool and sun terrace, restaurant, mini-market, table tennis, billiards, board games, karaoke room, and wellness spa. Great place to stay for friends and couples.
Budget: Chief Mau Hostel
The best budget accommodation in Moalboal! Centrally located just minutes from the beach, Chief Mau hostel offers dorm rooms and private rooms for as little as $8. The owner Trish is super lovely and goes out of her way to make all of her guests feel welcome and comfortable. There is a shared lounge with hammocks, a billiards table, and an in-house restaurant and bar serving up the best western food in Moalboal. There is free wifi throughout the property. Perfect for solo travelers and friends.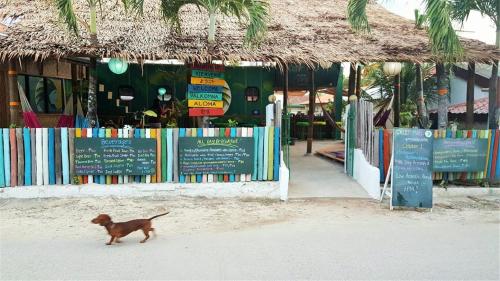 WHAT TO PACK FOR THE PHILIPPINES
When visiting the Philippines, here is a list of items I highly recommend bringing with you;
If you're interested in taking awesome photos and videos on your travels, this is the camera gear that I use and recommend;
GoPro HERO10 – the most popular camera on the planet for action-packed adventures.
Canon EOS R – perfect for traveling, this is the most affordable, compact camera on the market.
DJI Mini 3 Pro – take your photos and videos to new heights with this user-friendly drone camera.
TRAVEL RESOURCES FOR YOUR NEXT TRIP
Whether you're a seasoned traveler or it's your first trip overseas, here are some useful travel resources to help you kick-start your next adventure!
BOOKING.COM – search and book accommodation worldwide
SKYSCANNER – compare and book cheap flights to anywhere
VIATOR – find tickets, tours, and experiences around the world
BOOKAWAY – book buses, trains, and transfers online in advance
RENTAL CARS – search all rental cars in your next destination
GROUP TRIPS – join one of my epic small group trips
TRAVEL INSURANCE – purchase World Nomads travel insurance
TRAVEL MONEY CARD – get a Wise card today for free
Looking for more? Check out my Travel Resources page for further help with your trip planning!
FINAL THOUGHTS
I hope you enjoyed reading this article and if you have any questions, please leave me a comment below this post and I will get back to you as soon as I can.
For a quicker response, be sure to join Jonny Melon's Travel Tribe on Facebook and post your questions or recommendations to our awesome community.
THANKS FOR READING
Hey friend, thanks for reading this guide!
Please know this post may contain affiliate links. When making a purchase through one of my links, I earn a small kickback at no extra cost to you and it's a big help to keep the site up and running. Rest assured, I only promote products and services that I personally use and recommend.
Many thanks!
PIN IT FOR LATER