Canawa Cold Spring in Candijay, in my opinion, is the best cold spring on Bohol Island in the Philippines.
It's a popular spot for the Filipino locals to hang out though you won't see many tourists here, which can be a good thing sometimes.
Here is my complete guide including how to get there, entrance fees, and what to expect when you arrive.
WHERE IS CANAWA COLD SPRING?
Canawa Spring is located in the Candijay region in East Bohol.
Click here to see the location on Google maps.
The springs are best visited from the tourist area of Anda in East Bohol. It takes approximately 50 minutes to drive from Anda to the cold spring.
HOW TO GET HERE
The best way to reach this awesome cold spring is by scooter.
There are limited scooter rental stores located in Anda but I know of one place where you can get your hands on some wheels for around 500 pesos per day.
His name is Joey and he can be contacted by phone on +639123982873 or Facebook Bernaldez Joey.
If you are staying in the main tourist area of Panglao, it's a 115km drive that takes approximately 2.5 hours to reach this cold spring.
Have you got travel insurance for your trip?!
We all know accidents can happen and having Heymondo Insurance will save you thousands of dollars if something goes wrong.
Heymondo offers low-cost Travel Insurance to keep you covered on all your adventures.
CANAWA COLD SPRING ENTRANCE FEE
The entrance fee to Canawa Cold Spring Candijay is 20 pesos.
There is a small parking lot at the entrance to the cold spring and you'll find a ticketing booth here to pay the entry fee.
The BEST reusable water bottle for travel!
The GRAYL GeoPress is a top-rated reusable water bottle perfect for backpacking, hiking, and traveling.
It allows you to purify water from anywhere and keeps you safe from all waterborne diseases.
Get a GeoPress today and never buy single-use plastic bottles again. Mama Earth will thank you for it!
WHAT TO EXPECT AT CANAWA COLD SPRINGS
As I mentioned earlier, Canawa Cold Spring is a more popular spot for the locals as opposed to tourists and it's set up to accommodate families and larger groups.
There are two main springs at Canawa, one is a man-made pool with concrete walls and a somewhat dam-like structure, and the other is a natural pool that is almost completely surrounded by lush trees.
The natural pool at the back is far more beautiful than the man-made pool that you see when you first arrive.
So don't be deterred by this concrete section, just be sure to keep wandering along to discover the enchanting blue pool at the back.
A long rope stretches from one side of the cold spring to the other, so you can use this as an aid if swimming isn't your strong point.
There is also a high tree branch above this natural pool that can be climbed and used as a jump-off point into the spring.
Be sure to check the landing is clear of debris before doing any tree jumping into the pools.
A small snack shop can be found at the entrance to Canawa Spring if you would like to buy something to eat and drink before heading down.
There isn't much in the way of food options in Candijay so either pack your own lunch or suffice with a bag of crisps.
Canawa Cold Spring Bohol is definitely worth a short visit while you are exploring the Candijay region.
The BEST Affordable Camera For Travel
If you're on the hunt for a professional camera for traveling, check out the Canon G7 X Mark II.
This tiny camera fits in your pocket, captures high-quality photos and videos, and has Wi-Fi so you can instantly transfer to your phone!
OTHER POINTS OF INTEREST IN CANDIJAY
You can combine Canawa with two other epic locations that are definitely worth checking out while you're in Candijay and they are Candapdapan Rice Terraces and Can-umantad Falls.
You can visit all three of these Bohol attractions in one day making it the perfect day trip from Panglao or Anda.
WHERE TO STAY IN ANDA
Anda is located in east Bohol and has hundreds of accommodation options to choose from.
I have narrowed it down to a few of the best places to stay to fit the needs of budget backpackers, luxury travelers, and everyone in between.
See the list of accommodations below that I personally recommend.
LUXURY: AMUN INI BEACH RESORT & SPA
Amun Ini Beach Resort is the best 5-star accommodation nestled amongst palm trees in Anda. Featuring a private beach, swimming pool, restaurant and bar, and ocean views!
The rooms are air-conditioned and fitted with a flat-screen tv, sitting area, mini-bar, en suite bathroom, and balconies with sea views.
Amun Ini offers free snorkeling and kayaking equipment and breakfast is also included for all guests. Recommended for couples, families, and friends.
MID RANGE: PARKLANE BOHOL RESORT & SPA
Parklane Resort & Spa is a great location in Anda just 10 minutes drive from town and offers beachfront accommodation, a private beach, 3 swimming pools, a restaurant and bar, and a wellness spa.
There are double rooms, family rooms, and deluxe suites available, each with a flat-screen tv, air conditioning, private bathroom, balcony with ocean views, and coffee/tea making facilities.
Best place to stay for families, couples, and friends.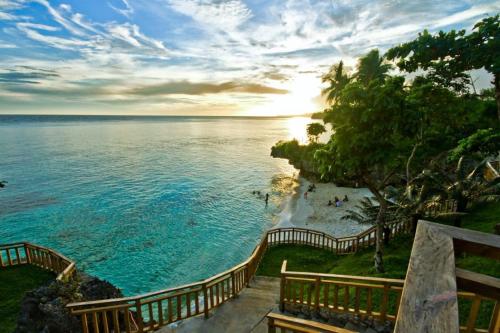 BUDGET: ANDA DIVERS ENJOY GARDEN RESORT
The cheapest accommodation in Anda, perfect for solo travelers and friends.
Anda Divers Enjoy Garden Resort features an in-house restaurant and bar, an outdoor swimming pool, and beautiful gardens.
Choose from a double room or deluxe double room which is spacious with air-conditioning, private bathrooms, free wifi, and a seating area with a desk.
BOOK A BOHOL TOUR
Another great way to see all of the best Bohol tourist spots is to book a Bohol Countryside Tour. 
This particular tour is the top-rated tour in Bohol with great reviews.
I can't recommend this amazing tour enough, especially for first-timers to Bohol!
The Bohol Tour includes the following:
Chocolate Hills Bohol
Bilar Manmade Forest
Bohol Tarsier Sanctuary
Loboc River Cruise with lunch
Baclayon Church
WHAT TO PACK FOR THE PHILIPPINES
When visiting the Philippines, here is a list of items I highly recommend bringing with you.
Must-Have Travel Essentials
Keep your cash and other valuables safe with this anti-theft hidden money wallet!
---
The GRAYL GeoPress is the best reusable bottle that allows you to purify water from anywhere!
---
---
---
FINAL THOUGHTS – CANAWA COLD SPRING CANDIJAY
I hope you enjoyed reading this article and if you have any questions at all about Canawa Cold Spring Candijay, please leave me a comment below this post and I will get back to you as soon as I can.
For a quicker response, be sure to join Jonny Melon's Travel Tribe on Facebook and post your questions or recommendations to our awesome community.
TRAVEL RESOURCES FOR YOUR NEXT TRIP
Whether you're a seasoned traveler or it's your first trip overseas, here are some useful travel resources to help you kick-start your next adventure!
THANKS FOR READING
Hey friend, thanks for reading this guide!
Please know this post may contain affiliate links. When making a purchase through one of my links, I earn a small kickback at no extra cost to you and it's a big help to keep the site up and running. Rest assured, I only promote products and services that I personally use and recommend.
Many thanks!