Buley Rockhole is a stunning location featuring cascading rock pools and lush forest surrounds making it a perfect place to refresh after a day of exploring Litchfield National Park.
In this guide, I have included all the information you're going to need on where it's located, the best time to visit, and everything you can expect at Buley Rock Hole when you arrive.
Want cheap flights to Darwin? Check out CheapOair to book now and travel for less!
Have you got travel insurance for Australia? We all know accidents can happen and having World Nomads Insurance will save you thousands of dollars if something goes wrong.

WHERE IS BULEY ROCKHOLE?
Located in the Northern Territory of Australia, Buley Rockhole lies within Litchfield National Park, approximately 140 kilometers south of Darwin and it makes for the perfect day trip away from the hustle and bustle of the city.
Click here to see the location on Google maps.
From Darwin, head south along State Highway 1, onto Route 30, and then into Litchfield National Park itself.
Once you're inside Litchfield National Park, this location is easily accessible just simply follow the signs and head on down to this incredible swim spot.
BEST TIME TO VISIT
Luckily you have the convenience of Litchfield National Park being open all year round, meaning you can visit the rock hole whenever you like.
However, there are a few seasons and times of day I would suggest to ensure you get the best possible experience.
Being that it's a location of water and if you're a keen swimmer, then it's obvious to say spring/summer is the best time to visit.
Baring in mind, if you head out in the height of summer, the sun is going to be at its strongest, and in some parts there is no shelter, especially in the upper pools.
If you do plan on visiting in the summer, then make sure you pack plenty of drinking water and sunscreen.
Swimming is banned during the wet seasons for health and safety reasons, so if you're wanting to take a dip in the pools, avoid visiting during this time.
It's a very popular tourist destination, so I would advise visiting in the early morning to avoid the crowds.
Cooling off in the natural pools
Buley Rockhole Litchfield National Park
ARRIVING AT BULEY ROCKHOLE LITCHFIELD NATIONAL PARK
When you arrive, you will be welcomed to a large car park with plenty of free spaces for everyone.
After the long drive, you also have the amenities to freshen up in the onsite public toilets before taking the short 5-minute walk from the car park, down the sealed pathway to reach the rock pools.
There is also a barbecue and picnic area where you can spend time in the sun, relax and absorb the scenic bush surrounds before heading down and floating around the stunning rock pools.
If after arriving you decide this place is just too perfect to leave, there are also a series of campgrounds dotted around the area within Litchfield National Park for you to pitch up and stay the night.
Additional fees do apply if you wish to camp and it's best to book online in advance.
The bottom pool
The main pool
WHAT TO EXPECT AT BULEY ROCKHOLE
Quite simply put, you can expect a day full of relaxation and pure joy. If you're a bit of a water baby, then this is the perfect place for you.
With a selection of cascading falls and around a half dozen rock pools, you're spoilt for choice. Float around and soak it all up, let the water roll over your shoulders, and see away a few hours bobbing around in the pools of Buley Rockhole Litchfield National Park.
The deepest rock pool is around 2 meters deep, with all the pools being lined and based with rocks.
Some of the rocks can be quite difficult and slippery to navigate when wet, however, there is plenty of dry, flat rocky areas dotted around for you to lay down your belongings.
If you're feeling a little overwhelmed by the invertible summer sun, there is plenty of shaded areas beneath the trees.
Fancy something a little more challenging? There are short walks dotted around for you to explore the dense bushland, as well as the Tabletop Track and the tricky four-wheel drive tracks.
Aerial shot of the pools
Refreshing dip in the main pool
Crystal clear rock pools
WHERE TO STAY IN LITCHFIELD
There are dozens of accommodation options in Litchfield, so I have narrowed it down to a few of the best places to stay to fit the needs of budget backpackers, luxury travelers, and everyone in between.
See the list of accommodations below that I personally recommend:
MID-RANGE: LITCHFIELD MOTEL
MID-RANGE: LITCHFIELD TOURIST PARK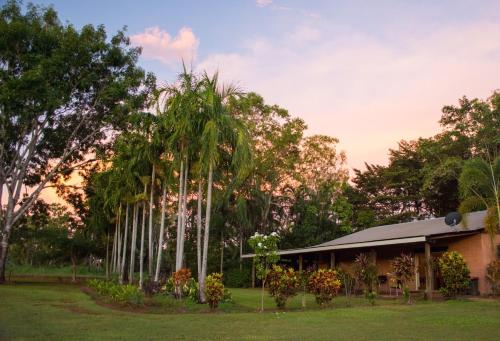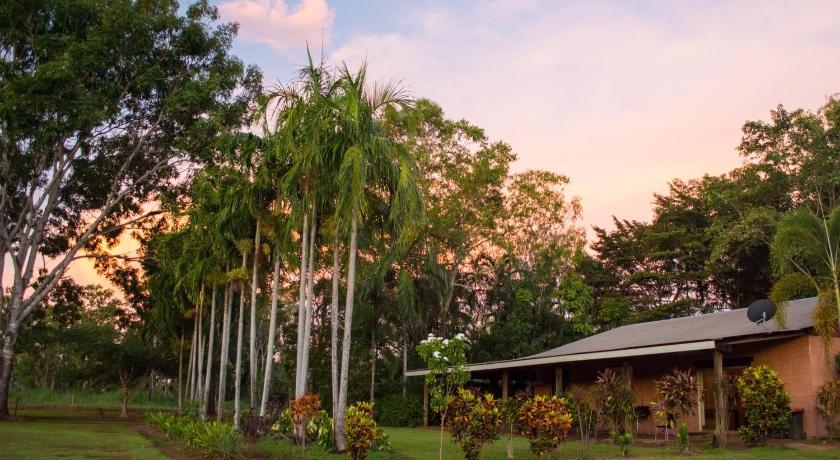 BUDGET: BATCHELOR HOLIDAY PARK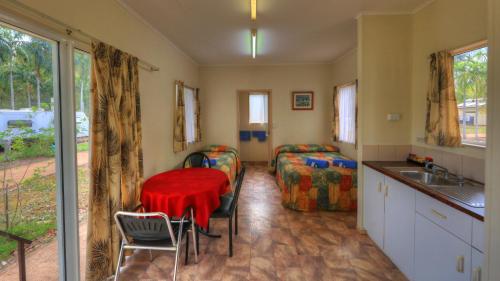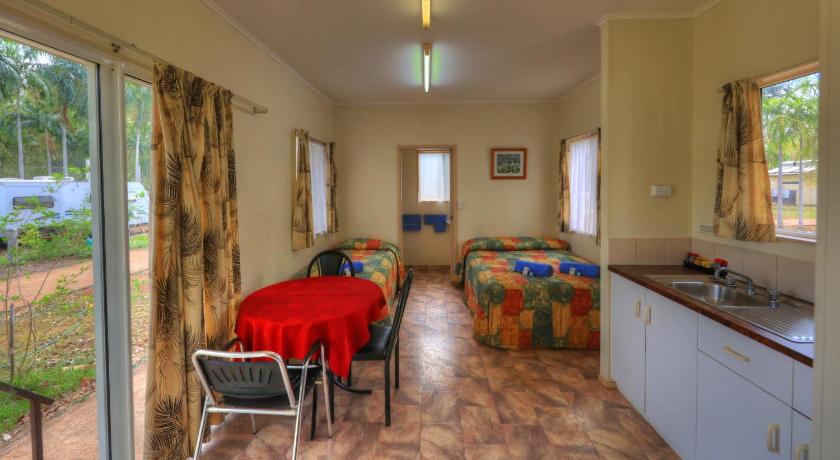 MORE AUSTRALIA TRAVEL GUIDES
The coastline and hinterland areas along the east coast of Australia boast countless beaches, lakes, waterfalls, hikes, and many more fun-fuelled adventures waiting to be had!
This is what Australia is all about and what I love to share with you in my destination guides.
Click on the links below to see more related posts:
LONELY PLANET AUSTRALIA
One of the best books to take on your trip is the Lonely Planet Australia Guide!
BUY NOW ON AMAZON → LONELY PLANET AUSTRALIA
JOIN MY FACEBOOK COMMUNITY
Do you have any questions about this awesome location?
Join my Facebook Community and send me a message at any time for a quick response!
ONLINE ENGLISH TEACHING
Do you want to travel full-time and get paid along the way?
Teaching English online is one of the easiest and most flexible jobs out there! Become a Digital Nomad, choose your own hours, and work remotely from anywhere in the world by teaching English online. All you need is a laptop, good WiFi connection, a TEFL certificate and you're good to go!
MY SHOP
Before you go from this post, don't forget to check out My Online Shop.
I've got a wide range of products for sale and I'm sure you'll find something that will come in handy during your travels.
FINAL THOUGHTS
This beautiful location is the perfect stop-off on your epic NT adventure. Spend the day floating around the rock pools, explore the bushland or simply use this as a refresher stop on your tour of the Litchfield National Park.
Either way, a visit to these rock pools is guaranteed to fulfill your expectations and be the perfect destination to provide you with a great day out.
If you have any questions, please leave a comment at the bottom of this post and I will get back to you as soon as I can.
Happy Travels!
This trip was in association with NT Tourism and Backyard Bandits.