Besakih Temple is the Mother Temple of Bali and is known locally as Pura Besakih.
The temple is called that way due to the origin of the word Pura which is a Balinese Hindu temple.
This massive temple complex dates back to 1007 AC, and it survived a huge and devastating volcanic eruption in 1963 which sadly killed hundreds of people.
Being the largest and holiest temple of Bali, it consists of 86 temples and there is no doubt you will have a great time exploring it.
I have put together this complete guide to visiting Pura Besakoih Bali including how to get here, the best time to visit, things to do when you arrive, and much more!
QUICK ANSWERS: BESAKIH TEMPLE BALI
Let's first discuss the essentials you should know before coming, from the location to how to get there and everything in between.
BEST BESAKIH TEMPLE TOUR
The best way to visit is to join a Tour of Besakih Temple!
It includes round-trip transportation, a visit to Besakih Great Temple, the Gates of Heaven, Tirta Gangga Water Temple, and more!
WHERE IS BESAKIH TEMPLE?
Located at the foot of Mount Agung volcano in East Bali is where you can find the majestic Pura Besakih.
Click here to see the location on Google maps.
From the main tourist hubs of Canggu, Seminyak, and Kuta, it's approximately a 2.5-hour drive. If you happen to be staying in Ubud, it's a shorter distance which takes around 2 hours.
I recommend spending a few days in the small coastal town of Amed when visiting Besakih Bali.
HOW TO GET TO PURA BESAKIH BALI?
The best way to get to Besakih Mother Temple is by car or by scooter.
You can rent a scooter from the main tourist areas of Canggu, Seminyak, Kuta, or Ubud and make the drive out to East Bali at your own pace.
Don't feel confident riding a scooter? Another great option for getting around Bali is to hire a private car and a driver for the day and experience all that the island has to offer.
Includes:
Experienced driver and guide
Hotel pick-up and drop-off
Drinking water
Petrol
BESAKIH TEMPLE ENTRANCE FEE?
The Pura Besakih entrance fee is 60,000 IDR per adult (90,000 with the shuttle, which I personally do not recommend, unless you're tired of walking around).
The fee is to be paid at the ticket booth at the entrance of the temple and this includes access to all temples which constitute the site.
The entrance fee also includes a sarong which is used to cover your legs and is mandatory to enter the temples.
WHAT IS THE BEST BESAKIH TEMPLE TOUR?
The best tour you can join to see the Besakih Temple is the Best Of East Bali Tour which includes Lempuyang Temple (The Gates of Heaven), the Water Temple of Tirta Gangga, and hotel transfers from Besakih Temple to Ubud and other parts of Bali.
It's the most top-rated tour with great reviews and hundreds of bookings!
TIPS FOR VISITING THE MOTHER TEMPLE BALI
It's a good idea to bring cash with you in case you feel like purchasing some drinks, snacks, or souvenirs during your visit to the temples.
There are typically local women selling sarongs in the parking lot, but you do not need to buy one as a sarong is included in the entrance fee.
However, feel free to buy your own sarong, as it is a unique piece to have, and you'll also be helping the locals make a small profit which goes a long way here in the villages.
There are many guides that you can book online or outside the temple, however, they can be expensive and most of them are not local guides.
So my recommendation is that you wait until you get inside because there will be plenty of local guides who do not ask for any money for their time.
However, a small tip to your guide is appreciated, something around 50,000 IDR is usually recommended.
BEST TIME TO VISIT PURA BESAKIH?
Besakih Temple Bali is open all year round, so you will be able to visit at any time during your visit to the Island of Gods.
Although the temple is open 24/7 for worshipers, the opening time for other visitors is Monday to Sunday, from 8 am to 6 pm.
With an annual average temperature of 27 degrees, the days can be very warm, so my advice to you, if you want to enjoy your time exploring the temples, aim to get there by 8 am or later in the afternoon around 5 pm because the temperatures are nice and also because these hours are usually not too busy.
Do not forget to bring your camera with you and take some unique Besakih Temple photos!
The BEST Affordable Camera For Travel
If you're on the hunt for a professional camera for traveling, check out the Canon G7 X Mark II.
This tiny camera fits in your pocket, captures high-quality photos and videos, and has Wi-Fi so you can instantly transfer to your phone!
WHAT TO EXPECT AT PURA BESAKIH TEMPLE
Besakih Mother Temple Bali is enveloped by Mount Agung which boasts breathtaking views of the mountains and its unique nature.
Just the views of the island from the temple are already more than enough to guarantee that your visit here will be well worth it.
There are more than 70 holistic ceremonies throughout the year, so chances are high that you will be able to attend one while visiting the temple.
While at the temple, you can also expect that there will be a lot of walking as there are at least 86 temples to explore on the side of the hill, the main and largest one being the Pura Penataran Agung.
One interesting fact is that each temple has its own holistic meaning and represents something different, so even if you decide not to have a local guide, you should do some reading to make your time at the site more enjoyable and didactic.
Another thing worth knowing is that April hosts the Pura Besakih Temple ceremony Odalan which is an unforgettable experience.
Have you got travel insurance for your trip?!
We all know accidents can happen and having Heymondo Insurance will save you thousands of dollars if something goes wrong.
Heymondo offers low-cost Travel Insurance to keep you covered on all your adventures.
FACILITIES AT THE TEMPLE
Pura Besakih Bali is equipped with toilet facilities and a large parking lot to accommodate visitors arriving by car or scooter.
You'll also find a number of warungs (small local restaurants) which are usually small family-owned businesses.
The warungs are located at the entrance which is perfect if you wish to purchase some snacks before or after exploring the temples.
There are also a number of retail stores where you can buy some unique souvenirs for yourself or a gift for a loved one.
However, be aware that these can be overpriced, so be sure to put your bartering skills to the test!
THINGS TO KNOW BEFORE YOU GO
Because this temple is a sacred religious site, you have to know that there are some common rules for visiting that you must respect and abide by;
Your legs must be covered to enter the temple
No kissing is allowed as it's a Hindu temple
No drones are permitted
With all of the above, there is no excuse for you not to experience Pura Besakih Temple while visiting Bali.
This huge temple is the most important in Bali's history, and you will be amazed by its beauty.
If you decide to rent a guide, you will learn more about the history of the temples and how they survived throughout the years.
Visiting and exploring Besakih Mother Temple is without any doubt the most authentic way for you to immerse yourself in the Balinese culture.
Be sure to add this place to your Bali itinerary, I promise you will not regret it!
WHERE TO NEXT?
Ubud is not too far away from this location and boasts many amazing things to do such as rainforest yoga retreats, traditional arts and crafts, other-worldly rice terraces, raging waterfalls, monkey forests, and much more.
Whether you want to unwind and relax or adventure and explore, Ubud offers the best of both worlds.
Click on the links below to discover awesome things to do in Ubud:
WHERE TO STAY NEAR BESAKIH MOTER TEMPLE
I would recommend spending a couple of days in the small coastal town of Amed when visiting Bali Besakih Temple.
From Amed, it's approximately a 1.5-hour drive to the temple.
Amed has hundreds of accommodations to choose from so I have narrowed it down to a few of my personal favorite places to stay in Amed to suit the needs of luxury travelers, budget backpackers, and everyone in between.
LUXURY: GRIYA VILLAS & SPA
MID-RANGE: BAYU COTTAGES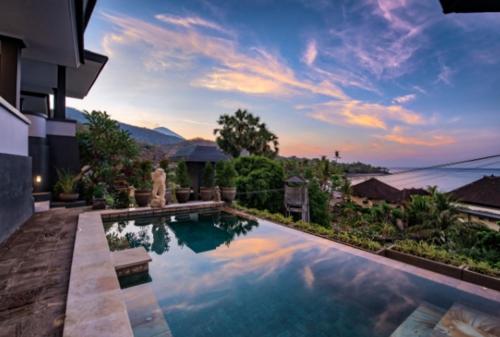 BUDGET: TITI SEDANA HOMESTAY
BEST TOURS IN BALI
WHAT TO PACK FOR BALI
When visiting Bali, here is a list of items I highly recommend bringing with you:
Must-Have Travel Essentials
Keep your cash and other valuables safe with this anti-theft hidden money wallet!
---
The GRAYL GeoPress is the best reusable bottle that allows you to purify water from anywhere!
---
---
---
FINAL THOUGHTS – PURA BESAKIH TEMPLE BALI
I hope you enjoyed reading this article about Besakih Great Temple and if you have any questions about Besakih Mother Temple, please leave me a comment below this post and I will get back to you as soon as I can!
For a quicker response, be sure to join Jonny Melon's Travel Tribe on Facebook and post your questions or recommendations to our awesome community.
TRAVEL RESOURCES FOR YOUR NEXT TRIP
Whether you're a seasoned traveler or it's your first trip overseas, here are some useful travel resources to help you kick-start your next adventure!
THANKS FOR READING
Hey friend, thanks for reading this guide!
Please know this post may contain affiliate links. When making a purchase through one of my links, I earn a small kickback at no extra cost to you and it's a big help to keep the site up and running. Rest assured, I only promote products and services that I personally use and recommend.
Many thanks!