Agnes Water and Seventeen Seventy are two of the most unmissable destinations on the east coast of Australia in the Gladstone Region, Queensland.
Located at the very southern end of Australia's Great Barrier Reef, this destination is nothing short of PARADISE and boasts many fun-fuelled activities suited for all sorts of travelers and for people of all ages!
I recommend spending anywhere from 2 days to 1 week exploring and enjoying all that Agnes Waters and 1770 has to offer.
In this guide, I have included a BIG list of 17 AWESOMEThings To Do In Agnes Water and Seventeen Seventy Australia to help you plan your trip.
WHERE IS AGNES WATER?
Agnes Water and Seventeen Seventy is approximately a 1.5-hour drive north of Bundaberg and a 1.5-hour drive south of Gladstone on Australia's East Coast
Click here to see the location on Google Maps.
HOW TO GET THERE
It's best to have your own vehicle to visit as public transportation options are few and far between.
Another great option for traveling along the east coast of Australia is to rent a campervan that comes fully equipped with a double bed, fridge, gas cooker, kitchen utensils, lots of storage, and many more great features.
Car Rental – Search, Compare & Save!
Discover Cars are one of the world's largest online car rental platforms with vehicles in 10,000+ locations.
Find the right car, in the right place, for the best price guaranteed!
BEST TIME TO VISIT AGNES WATER
This stunning destination in Queensland sees glorious sunshine almost all year round.
If you want the best of the best conditions weatherwise, I recommend visiting between May and October (Autumn, Winter, and Spring) which is less busy and most ideal for beach bumming, coastal walks, and water sports.
Summer in Australia is between December and February which sees hotter temperatures, some rainfall, and more tourists.
All that aside, it's still a great time to visit during this time.
17 AWESOME THINGS TO DO IN AGNES WATER & 1770
It's best to start your adventures in the main town and work your way from Springs Beach in the south and then follow the coast to the north to where you'll end up at Bustard Bay Lookout, the northernmost tip of 1770.
I will go into greater detail about each of the locations below, but here is an overview of 17 Awesome Things To Do In Agnes Water & 1770 that you will find in this post:
See the sunrise at Springs Beach
Take a photo in the Paperbark Forest
Explore Chinamans Beach
Visit the museum
Walk the Discovery Trail
Learn to surf
Grab a coffee at Holidays Cafe
Go kayaking in 1770
Check out the Captain Cook Monument
See the view from Wave Lookout
Spot whales from Bustard Bay Lookout
Watch the sunset in Seventeen Seventy
Have a BBQ by the beach
Try Stand-Up Paddleboarding
1770 LARC tour
Enjoy a meal at The Tree Restaurant
Stroll along the 1770 Foreshore
SEE THE SUNRISE AT SPRINGS BEACH
To kick off your adventures, I highly recommend visiting Springs Beach, especially at sunrise!
Located just 10 minute's drive from the center of town, Springs Beach is far away from the crowds and boasts golden sands, awesome waves for surfing, and a rocky headland that can be reached via the Red Rock walking trail.
From the turn-off point on the main road, it's a short and bumpy dirt road to reach the Springs Beach parking lot, and from here it's a 5-10 minute walk through the forest via a wooden boardwalk to get to the shoreline.
You could easily spend an hour or two at this magnificent beach, soaking up the sun, lazing on the soft sands, and taking a refreshing dip in the ocean. Not a bad way to start the day if you ask me!
Click here to see the location on Google Maps.
Pssst! Check out this AWESOME travel bag!
The Nomatic 40L is the best travel bag on the market, perfect for weekend trips or month-long adventures!
Featuring multiple compartments for clothes, shoes, laptop, water bottle, RFID-protected pocket, and more.
It's designed to fit the maximum size allowed for carry-on luggage, so you'll never have to spend money on check-in baggage again!
TAKE A PHOTO IN THE PAPERBARK FOREST
Next on this list of things to do is the Paperbark Forest Boardwalk which is rated one of the top attractions in the region by locals and travelers.
Conveniently located on the opposite side of the road from Springs Beach, you can easily hop on over after a swim at the beach to explore this beautiful Paperbark Forest.
Click here to see the location on Google Maps.
The 400m circuit trail is a short 10-minute walk and features stepping stones and wooden boardwalks that will lead you through an enchanting forest of towering Paperbark Trees and lush native ferns.
Have your camera ready to get some happy snaps as this is one very special and rare forest that you don't get to see every day!
The BEST Affordable Camera For Travel
If you're on the hunt for a professional camera for traveling, check out the Canon G7 X Mark II.
This tiny camera fits in your pocket, captures high-quality photos and videos, and has Wi-Fi so you can instantly transfer to your phone!
EXPLORE CHINAMANS BEACH
Chinamans Beach is one of my favorite beaches in 1770 and for sure not to be missed during your visit.
Located just 5 minutes from the center of town along Springs Rd, take the turn off on the left-hand side, drive over the hill and be in complete awe as you catch your first glimpse of Chinamans Beach.
Click here to see the location on Google Maps.
Glistening white sands, turquoise waters, vibrant Pandanus trees, and an almost endless stretch of shoreline are just some of the awesome things you can expect at this epic beach.
If you're a keen fisherman, there is a rocky outcrop on the beach's northern end, perfect for throwing a line in.
If fishing isn't you're thing, you can stroll along the beach, relax in a hammock beneath the Pandanus trees or take a refreshing dip in the ocean to cool off.
Chinamans Beach is also dog-friendly as long as they're kept on a leash, so feel free to bring your pooch with you for some fun in the sun!
VISIT THE MUSEUM
For all of you history lovers, a visit to Agnes Water Museum might be right up your alley!
Centrally located next to the Visitor's Center, the admission fee is only $3 for adults and kids enter free.
It may seem small on the outside, but what you will find on the inside of the Museum is a large number of interesting artifacts including journals, charts, logs, and a model of HM Bark Endeavour commanded by none other than Lieutenant James Cook himself.
It's truly a step back in time that showcases the history of the area and I guarantee you won't regret paying a short visit to this iconic attraction.
Museum Opening Hours:
1 pm – 4 pm on Monday, Wednesday, Thursday, Friday, and Saturday
10 am – 1 pm on Sunday
Closed on Tuesdays
WALK THE DISCOVERY TRAIL
The Discovery Trail is another one of the top things to do in Agnes Water.
Be sure to throw on a hat and pack some drinking water as you prepare to embark on this beautiful nature walk.
The trailhead can be found next to the museum and it's an easy walk suitable for all visitors.
Click here to see the location on Google Maps.
A short 30-minute return walk, the Discovery Trail features a winding track that will lead you through beautiful bushland and eventually emerges at a lookout point that boasts spectacular sweeping views of the beaches.
LEARN TO SURF
Ever wanted to learn how to surf?
Well, learning to surf in Agnes Water is the perfect place to start. With surf lessons available every day of the week, there really is no excuse to not give it a try!
Lazy Lizard Surf School offers a personalized method of teaching that caters to people of all ages, abilities, and experiences.
I guarantee you'll feel completely safe in the hands of qualified surf coaches who will help you build your confidence and potential to one day be able to surf on your own!
Call Lazy Lizard Surf School on 0488 177 000 to book or alternatively, head over to their website for more information – lazylizardsurfschool.com.au.
If you're already an experienced surfer, Lazy Lizard Surf School also offers surfboard rental. Give them a call or simply head into their shop located on Jeffery Crt to rent a board.
GRAB A COFFEE AT HOLIDAYS CAFE
After all the adventures thus far, head on over to Holidays Cafe to grab a coffee, relax, unwind and recharge your batteries!
With a prime position on the beach, Holidays Cafe offers not only coffee but a range of other items including fresh juices and healthy meals to satisfy your needs.
Holidays Cafe is open 7 days a week and they don't mind sandy customers wandering in off the beach to come and enjoy their epic oceanfront location!
Click here to see the location on Google Maps.
Forget plastic SIM Cards… Get an eSIM!
Say hello to eSIM – a virtual SIM card pre-loaded with mobile data so you can get online and stay connected around the world.
OneSimCard is the best eSIM for travel, with low-cost data packages available in 150+ countries.
Simply buy online, install it on your smartphone, and you're good to go!
GO KAYAKING IN 1770
One of the most popular things to do in 1770 is renting a kayak and taking to the waters to explore the beautiful coastline, discover secluded beaches, and visit unique sandbars on low tide.
1770 Liquid Adventures offers both guided kayak tours and kayak hire, so whichever you prefer to do, these are the options.
If you decide on a guided kayak tour in 1770 (which is something I highly recommend) you can choose from the Sunset Tour, Family Tour, Nature Tour, or the Private Group Tour, each offering an unforgettable experience on the water.
If you wish to explore the beautiful Seventeen Seventy on your own, you can rent a single kayak for $20 p/hour or a double kayak for $30 p/hour.
Call 1770 Liquid Adventures on 0428 956 630 to make a booking or head to their website for more information and book online in advance – 1770liquidadventures.com.au
CHECK OUT THE CAPTAIN COOK MONUMENT
Agnes Waters and 1770 is, in fact, the birthplace of Queensland, and you can stand at the exact same spot where one of Captain Cook's crew carved the date, 24th of May 1770, on a tree near to where they first anchored and came ashore.
The tree is no longer there but in its place is a stone monument that commemorates Cook's landing and his first venture on dry land in what is now called Queensland.
There is a parking lot located next to the Captain Cook Monument, which provides easy access for your visit, and this is also the starting point for the Round Hill Creek walking trail if you're keen on a little coastal adventure.
Click here to see the location on Google Maps.
SEE THE VIEW FROM WAVE LOOKOUT
Next up on this list of things to do is see the incredible view from Wave Lookout!
Located on the 1770 Headland, you can park your car in the free parking lot and wander down the trail to reach Wave Lookout which overlooks a secluded beach and the coastline to the south of Seventeen Seventy Queensland.
Click here to see the location on Google Maps.
It's also possible to access the beach beneath Wave Lookout via a steep walking trail; be super cautious and take your time getting down to the shoreline.
Once you step foot onto the golden sands, look up and marvel at the enormous cliff surrounding and you can even go for a swim in the ocean, providing the conditions are calm.
In that case, don't forget to take your microfibre towel to dry off after a dip!
Take Your Photos & Videos To New Heights!
The DJI Mini 3 Pro is the most affordable, user-friendly drone camera suitable for all levels!
This travel-sized drone captures 4K/60fps video, 48MP photo, and has 34 minutes flight time.
SPOT WHALES FROM BUSTARD BAY LOOKOUT
Once you've seen the view at Wave Lookout, continue along the trail to the Bustard Bay Lookout which sits at the end of 1770 Headland.
It's a short 350-meter walk to reach Bustard Bay Lookout and from here you can enjoy sweeping views to the north and south of Seventeen Seventy.
Click here to see the location on Google Maps.
Also, be sure to keep a sharp lookout to spot humpback whales showing off their acrobatic skills during their annual migration along this stretch of coastline.
Whales can be seen from the Bustard Bay Lookout between the months of June and November each year, so if you wish to add this experience to your list of things to do, be sure to visit during this time.
WATCH THE SUNSET IN SEVENTEEN SEVENTY
If you time your visit to Wave Lookout and Bustard Bay Lookout in the afternoon, I highly recommend sticking around this area for sunset.
It is said that 1770 is one of only four places on the east coast of Australia where you can witness the sun setting over the ocean… pretty cool huh?!
I personally parked my campervan in the parking lot at 1770 Headland one afternoon, pulled out the camp chairs, and toasted the sunset with a nice cold glass of Rosé.
It was the best way to end an epic day of adventures.
HAVE A BBQ BY THE BEACH
I am guessing you're planning on spending more than one day exploring this region, so why not enjoy a BBQ with your friends and family right down on the beach in 1770!
It's best to grab some food supplies from Foodworks in the main town before driving along the coast to 1770.
One spot I can recommend for a beach BBQ is a spot called Air Sea Rescue Park, which has everything you need, including electric BBQs, fresh running water, picnic tables, beach access, and close to toilet amenities.
Cook up a storm, crack a beer, and I'm sure you'll make friends with some of the locals in no time!
Click here to see the location on Google Maps.
TRY STAND-UP PADDLEBOARDING
For all of the adventure seekers out there, this one is for you. Stand-Up Paddleboarding is a must-try if you've never tried it before!
Similar to the kayaking activity in 1770, you can book a Stand-Up Paddleboarding tour or rent your own and explore the waters of Seventeen Seventy.
If you opt for a guided tour, you have the choices of a creek tour, sunset tour, dog lesson, or surf lesson.
For those of you who wish to venture out on your own, the Stand-Up Paddleboard rental prices are as follows;
1 hour – $25
2 hours – $35
4 hours $50
24 hours – $70
Call 0421 026 255 to make a booking, or for more information head to 1770sup.com.au
1770 LARC TOUR
The LARC tour in 1770 is truly a unique experience and one of those things you just have to try!
If you don't know what a LARC is, don't worry, as I had no clue what it was either when I first arrived. Basically, it's a large off-road vehicle that can drive on land and in the water.
You may or may not have seen anything like it before but they are incredible machines, to say the least.
Jump on board the pink-colored, amphibious-like LARC and explore the secluded sandbars and beaches in the Southern Great Barrier Reef, visit remote areas of the national park and check out the Bustard Head Lighthouse.
Choose from a number of different LARC tours including the Paradise Tour, Afternoon Cruise, LARC + Lunch, or the Goolimbil Walkabout.
Call +61 7 4974 9422 to make a booking, or for more information and to book online in advance you can visit their website here – 1770larctours.com.au
ENJOY A MEAL AT THE TREE RESTAURANT
Located right on the beachfront in 1770, The Tree Restaurant & Bar, also known as 1770 Beach Hotel, offers hearty meals, ice-cold beers on tap, and spectacular views of the ocean!
With the customer's best interests in mind, The Tree Restaurant provides healthy food, a unique style of cooking, and all-around 5-star service.
Whether you want to enjoy a morning coffee, a bite for lunch, or an evening meal, The Tree Restaurant is the perfect place to go for any occasion.
Call 07 4974 7446 to make a booking, or head to their website to book online in advance – 1770beachhotel.com.au
STROLL ALONG THE 1770 FORESHORE
Last but not least on the list of awesome things to do in Seventeen Seventy Australia is taking a nice and easy stroll along the 1770 Foreshore!
Begin the walk from Air Sea Rescue Park and follow it along the water's edge of Round Hill Creek, past the 1770 camping ground, and up the hill until you reach the Captain Cook Monument.
As you stroll along 1770 Foreshore, keep an eye out to spot the local wildlife such as pelicans and seagulls, marvel at the swaying yachts anchored in the bay, and most of all enjoy the tranquil serenity that 1770 is best known for!
WHERE TO STAY IN AGNES WATER
There are a number of accommodation options to choose from so I have narrowed it down to a few of the best places to stay to fit the needs of budget backpackers, luxury travelers, and everyone in between.
See below for a list of accommodations that I personally recommend:
LUXURY: PAVILLIONS ON 1770
MID-RANGE: CAPTAIN COOK HOLIDAY VILLAGE 1770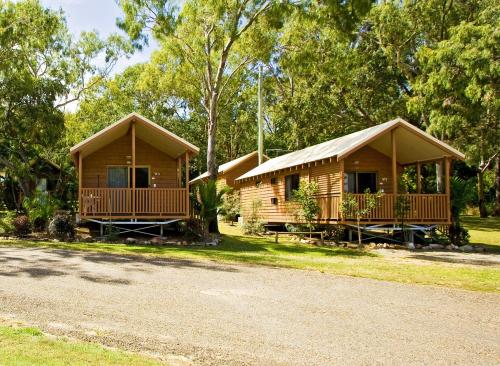 BUDGET: BEACHSIDE 1770 YHA
CAMPING GROUNDS
Camping in this region is another great option for accommodation during your visit.
Whether you're traveling in a campervan or looking for a cabin to stay in for a night or two, there are plenty of affordable accommodation options to suit all types of visitors.
The two main campgrounds are;
Agnes Waters Caravan Park
1770 Camping Ground
Both campgrounds are located right on the oceanfront and close to all activities and amenities.
Click here to search availability and rates at Agnes Waters Caravan Park.
Click here to search availability and rates at 1770 Camping Ground.
WHAT TO PACK FOR QUEENSLAND
When visiting Queensland, here is a list of items I highly recommend bringing with you:
Must-Have Travel Essentials
Keep your cash and other valuables safe with this anti-theft hidden money wallet!
---
The GRAYL GeoPress is the best reusable bottle that allows you to purify water from anywhere!
---
---
---
FINAL THOUGHTS – AGNES WATER
I hope you enjoyed reading this article and if you have any questions, please leave a comment below and I will get back to you as soon as I can.
For a quicker response, be sure to join Jonny Melon's Travel Tribe on Facebook and post your questions or recommendations to our awesome community.
TRAVEL RESOURCES FOR YOUR NEXT TRIP
Whether you're a seasoned traveler or it's your first trip overseas, here are some useful travel resources to help you kick-start your next adventure!
THANKS FOR READING
Hey friend, thanks for reading this guide!
Please know this post may contain affiliate links. When making a purchase through one of my links, I earn a small kickback at no extra cost to you and it's a big help to keep the site up and running. Rest assured, I only promote products and services that I personally use and recommend.
Many thanks!