Planning on doing the Acatenango Hike in Guatemala? This is the only guide you'll need!
The Acatenango Volcano hike is an epic 2-day and 1-night adventure that I guarantee will be the highlight of your trip to Guatemala.
Not only will you be rewarded with an incredible 360-degree view at the summit of Volcán Acatenango, but you'll also get to experience a close encounter with the neighboring and very active Volcán de Fuego.
I have put together this complete guide including an overview of the Acatenango trek, where to book, what to expect, and things to know before you go.
ACATENANGO HIKE OVERVIEW
Day One is approximately a 5 – 6 hour hike from the starting point to base camp, on Day Two it's a further 1-hour hike to the summit for sunrise and followed by a 3 – 4 hour hike back down again.
These hiking times vary depending on your level of fitness and previous hiking experience.
In saying that, the Acatenango hike is suitable for the common traveler with a sense of adventure and a love for the outdoors.
I even saw people walking their dogs along the trail, so you've honestly got nothing to worry about!
THE ITINERARY
Before I go into more detail, see below for a brief overview of the hike:
DAY 1
9:00 am / Hotel pick-up and a 1-hour shuttle transfer to the trailhead
10:30 am / The hike begins with rest breaks every 15-minutes
1:00 pm / 30-minute stop for lunch
4:00 pm / Arrive at camp and high-fives all around
4:30 – 7:00 pm / Sit around the campfire and marvel at Volcano Fuego
7:00 pm / Dinner is served with hot drinks
9:00 pm / Time to get some rest in your tent
DAY 2
4:00 am / Early rise for the final 1-hour hike to Acatenango summit
5:00 am / Enjoy the sunrise and sweeping views at 3, 976 meters
6:00 am / Back to camp for breakfast
8:00 am / Begin the hike back down to the bottom
11:00 am / Hike complete and shuttle back to Antigua
12:00 pm / Arrive back at your hotel for a hot shower
WHERE TO BOOK YOUR ACATENANGO HIKE
There are countless tour agencies and hostels in Antigua that offer overnight tours to Acatenango, though it can be quite overwhelming trying to decide which company to book with, and most importantly, not getting ripped off.
I highly recommend booking online in advance on the Get Your Guide website to be guaranteed the best rates.
The cost of hiking Acatenango is around 690 Quetzal ($90 USD) which is very affordable and great value for money!
The Acatenango tour includes the following:
Experienced, professional guide
Hotel pick-up and drop off
Sleeping bag, tent, and mattress
Breakfast, lunch, dinner, and hot drinks
What you will need to bring:
Medium-sized backpack to carry personal items
Drinking water
Extra snacks, sunscreen, toilet paper, and a flashlight
Warm clothes and comfortable hiking shoes
WHAT TO EXPECT AT VOLCAN ACATENANGO
As I mentioned earlier, hiking Acatenango was the highlight of my trip to Guatemala and unlike any other adventure I have been on.
Camping on the side of a volcano, overlooking another volcano that frequently erupts is something you don't get to experience every day!
Volcan de Acatenango is an impressive mountain in itself, though the main attraction of this hike is being able to get up close and personal with the nearby Volcan de Fuego.
Witnessing a volcano spewing lava, rocks, and smoke from its vent is a very unique experience that I am sure you will never forget. So pack your bags and get ready to hike!
Have you got travel insurance for your trip?!
We all know accidents can happen and having Heymondo Insurance will save you thousands of dollars if something goes wrong.
Heymondo offers low-cost Travel Insurance to keep you covered on all your adventures.
THE MORNING OF THE HIKE
After a hearty breakfast at your hotel on the morning of the Acatenango hike, you'll be picked up from your hotel at 9 am.
Pile into a minivan with your fellow hikers to make the 1-hour drive to the trailhead, stopping for a few minutes at a convenience store on the way.
This is where you can buy the necessary drinking water and any additional snacks you may want.
Remember the less weight you have in your backpack, the less strenuous the hike will be, so don't go buying up the whole store haha!
Before the hike begins, the guides will give everyone a quick briefing on the itinerary and what to expect along the way.
There is also a local woman at the entrance selling lightweight walking sticks for 10 Quetzal which comes in handy on the steep trail, especially on the way back down.
Do note that during the night and at the summit of Acatenango, temperatures can reach below freezing so you will want to make sure you are well-equipped with warm clothing.
Pssst! Check out this EPIC Hiking Backpack!
Perfect for shorter day hikes, the Osprey Stratos 24L is a tough pack made from sustainable materials.
With great internal organization, this is all you need for your next adventure, no matter the weather!
THE ACATENANGO TRAIL
The trail consists mainly of dirt, gravel, and make-shift stairs cut into the mountainside. If you have a decent pair of walking shoes or boots with good grip you shouldn't have any slip-ups.
For the most part, the trail is shaded, though the last 1 hour of trekking, you'll be exposed to the sun when traversing across the backside of the volcano to reach base camp.
There is no easing into the Acatenango hike, the trail is steep right from the get-go so make sure to have a little stretch beforehand.
The first 20 minutes of the hike runs alongside some cornfields where you can say hello to the local harvesters and enjoy sweeping views of the region.
Shortly after, you'll be completely immersed under a canopy of lush forest.
Every 500 meters or so the guides will stop the group for a short break to catch their breath and rehydrate.
There are also several sheltered huts on the way up to plonk your butt and give your legs a rest.
Believe me, anywhere you can sit down for a minute and take your backpack off you should use this opportunity to do so.
At 1:00 pm everyone stops for around 30 minutes to have lunch. Again, if you have any dietary restrictions you will be catered for.
Also along the trail are a few epic viewpoints that are worthy of stopping at for a quick photo.
Be sure to keep your eyes peeled to spot Lake Atitlan and its surrounding volcanoes which can be seen off in the distance on a clear day.
The BEST Affordable Camera For Travel
If you're on the hunt for a professional camera for traveling, check out the Canon G7 X Mark II.
This tiny camera fits in your pocket, captures high-quality photos and videos, and has Wi-Fi so you can instantly transfer to your phone!
ACATENANGO BASE CAMP
At around 4:00 – 4:30 pm you'll finally arrive at base camp and catch the first glimpse of the erupting Volcan de Feugo which seems just a stone's throw away.
Apart from marveling at this incredible mountain from across the valley, you can hear its loud groans and feel its powerful energy through the earth beneath your feet. It is truly something else!
You can set your belongings down inside your tent and roam around the area to capture some photos of the erupting Fuego Volcano or simply sit around the campfire, while the sun sets.
The guides will also cook dinner which is served around 7 pm.
The base camp sits high above the clouds boasting the most incredible volcano views and watching the sunset on this day was one that I will not soon forget!
Our guides said that between 8:00 pm and 9:00 pm is when Volcan de Fuego is most active and they weren't wrong!
Every 5 minutes or so, Fuego would erupt throwing spurts of blazing hot lava high into the air before landing on the slope and flowing down the mountainside.
I'll say it again, it's definitely not something you get to see every day!
We all stayed up as a group watching these eruptions in awe while sitting around the campfire. The darker the night sky got, the brighter the flames of Fuego became.
It wasn't until around 9:30 pm that everyone was tucked into bed, ready to wake again at 4:00 am for the final 1-hour push to reach the summit. Don't forget to set your alarm!
HIKING TO THE SUMMIT
At around 4:00 am the last leg of the journey begins to reach the summit of Volcán Acatenango in time for sunrise.
Again, the trail doesn't ease you in at all, it's very steep right from the get-go and it's very cold in the morning so be sure to rug up.
It's recommended to have a flashlight or head torch to aid you in the dark for the final scramble to the top. This section of the hike consists of loose rocks and it's quite narrow in some areas.
Our group beat record time hiking from base camp to the summit in just 1-hour! For other groups behind us, it took them around 1 hour and 15 minutes.
Reaching the highest point at 3, 976 meters was a huge accomplishment for all of us and it was high fives all around.
The air is thin and it's freezing cold at the top but the spectacular 360-degree views of the region, complemented by the sun rising above the horizon is most rewarding!
We spent around 30 minutes at the very summit of Volcan Acatenango, taking photos and marveling at the phenomenal landscape that lay before our eyes.
I could have spent hours up there if the temperature wasn't below freezing!
The hike back down to base camp takes around 45 minutes and you'll get to chill for about an hour around the campfire whilst having breakfast, tea, and coffee.
THE HOME STRETCH
After a hearty breakfast, it's time to make the home stretch back to the starting point of the Acatenango trek.
Even though it's all downhill, you will be surprised how much your legs will get a workout on the descent. It's a real leg-burner!
The way down is along the exact same trail you came up on and it takes around 3 hours with rest stops.
The temperatures will start to rise the lower you get on the mountain so feel free to stop at any time to de-layer out of your warm clothing.
Before you know it the trek will come to an end and a refreshing lemon drink will be waiting on arrival to quench your thirst.
Tipping your guides at the end of the trek is not necessary but a small amount will go a long way. From here a minivan will transport the group back to Antigua.
All in all, hiking Acatenango is not easy due to its steep trails, though it's one of the most rewarding adventures to be had in Guatemala!
In my experience embarking on this trek, I can't recommend it enough! 
The service was flawless, the guides were fantastic, it was great value for money and I think I can speak for our entire group here and say that we all felt completely satisfied!
If you're looking for the ultimate adventure, look no further than a 2-day and 1-night trek to the summit of Acatengango Guatemala – I guarantee you won't regret it!
ACATENANGO VOLCANO MAP
WHERE TO STAY IN ANTIGUA
There are hundreds of accommodations in Antigua Guatemala, so I have narrowed it down to a few of the best places to stay to suit all types of travelers.
See the list of accommodations below that I personally recommend:
Luxury: El Convento Boutique Hotel
Mid Range: Selina Antigua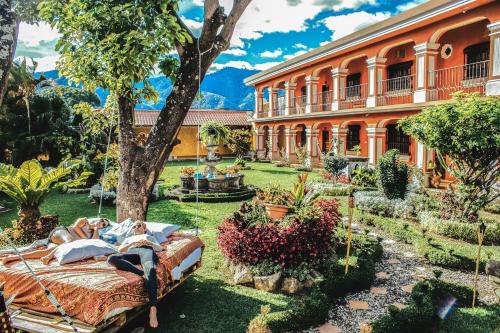 Budget: Hotel Casa El Calvario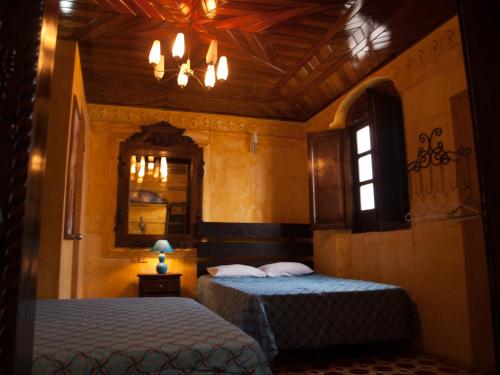 WHAT TO PACK FOR GUATEMALA
When visiting Guatemala, here is a list of items I highly recommend bringing with you:
Must-Have Travel Essentials
Keep your cash and other valuables safe with this anti-theft hidden money wallet!
---
The GRAYL GeoPress is the best reusable bottle that allows you to purify water from anywhere!
---
---
---
FINAL THOUGHTS – ACATENANGO VOLCANO
I hope you found this article useful and f you have any questions, please leave me a comment at the bottom of this post and I will get back to you as soon as I can.
For a quicker response, be sure to join Jonny Melon's Travel Tribe on Facebook and post your questions or recommendations to our awesome community.
TRAVEL RESOURCES FOR YOUR NEXT TRIP
Whether you're a seasoned traveler or it's your first trip overseas, here are some useful travel resources to help you kick-start your next adventure!
THANKS FOR READING
Hey friend, thanks for reading this guide!
Please know this post may contain affiliate links. When making a purchase through one of my links, I earn a small kickback at no extra cost to you and it's a big help to keep the site up and running. Rest assured, I only promote products and services that I personally use and recommend.
Many thanks!
PIN IT FOR LATER